The BE Hive is a unique space for spiritual exploration in the heart of Hollywood. Alexandra Roxo talks plant meds and conscious entrepreneurship with founder Tamara Edwards…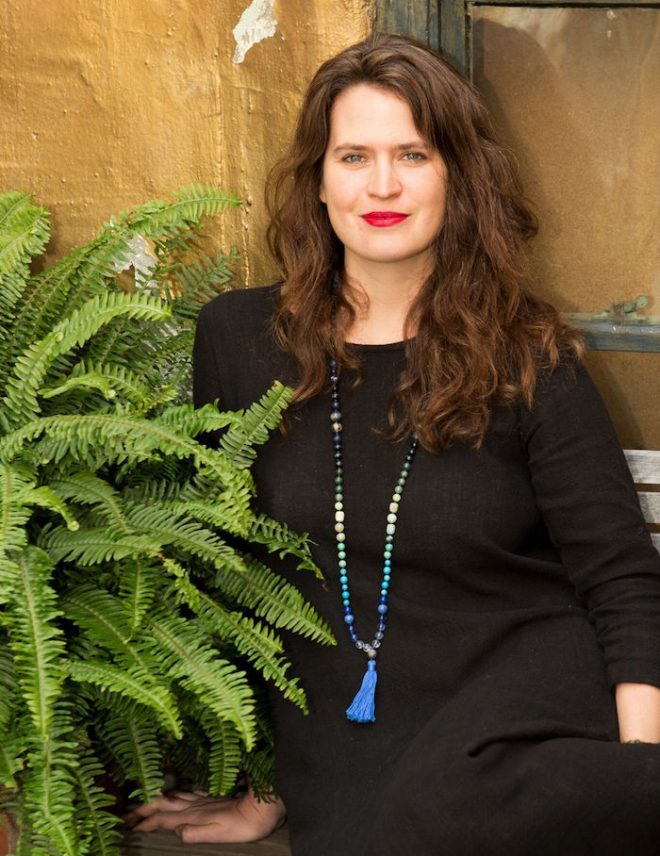 Part of mine and Ruby's mission with Moon Club is to meet people who are killing it at business but with a foot on the ground and an eye on the cosmos. People whose work is also of service to humanity. Which led me to Tamara Edwards, founder of The BE Hive in LA, a new space that combines wellness and workshops with co-working space and even accommodation. I love it so much, I now work out of there twice a week!
I decided to ask Tamara about the why and the how behind the project, because I know first hand that creating a business from the ground up is so so much work! As such, us spiritual entrepreneurs absolutely have to stick together, share, and inspire each other, as we create a new paradigm around money, community, and work.
ALEXANDRA ROXO: What's your background and what led you to this work?
TAMARA EDWARDS: I grew up in a meditating household. My dad is an M.D and a practicing Ayurvedic physician and learned Transcendental Meditation (TM) from Maharishi Mahesh Yogi in the 1970's, which allowed me to witness first-hand the transformational power of meditation from a very young age.
Over three years ago, my own practice led to me I founding The BE Society, a nomadic meditation group that gathers in myriad locations globally. And in 2016 I opened The BE Hive, an Urban Sanctuary in Hollywood, where groups and individuals can meditate, stay, and engage in other consciousness related activities and services. Now, alongside my career as a film producer, I travel internationally sharing meditation with private individuals, companies and even film crews.
AR: Oh dang. No wonder I like you. We both work in film and are conscious businesses owners. Amazing! So, how did the idea for the BE Hive come about?
TE: The idea came during a stay in a beautiful empty NY Soho loft. This particular space inspired the vision, but the concept was a natural evolution of The BE Society. The BE Hive is our sanctuary, a sustainable, eco-friendly sacred hub for practitioners to facilitate deep healing and share ancient knowledge and tools for expanding consciousness in a fresh way. There's also a focus on plant medicine.
AR: What makes it different than other spots in LA?
TE: Blending hospitality, community and plant medicine healing has not been done like this before. Our current physical space is also the oldest building in Hollywood. We have 15 + rooms to play with. We are the only space in LA that provides accommodation with a strong intention for expanding consciousness, building community, creating deep connection, facilitating healing, and providing transformational tools.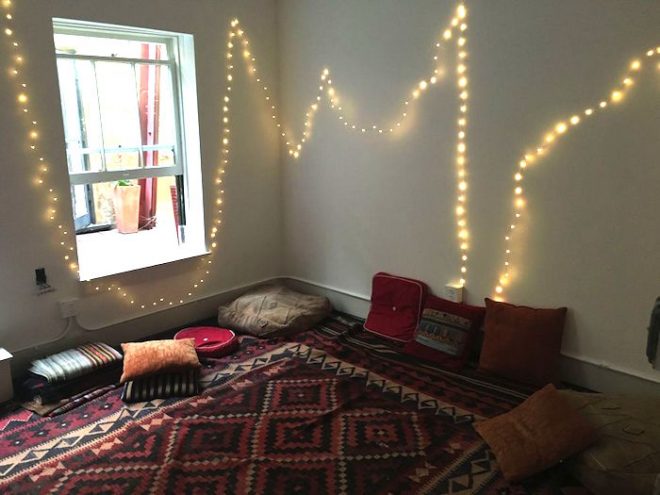 AR: Why the plant medicine focus, and how does this fit with your other offerings?
TE: BE Hive is about expanding consciousness using all tools available—including yoga, meditation, tea, sound, food, science, design, space, movement and plants. I personally study plant medicine, and profound studies have been done over centuries on the power of plant teachers like Ayahuasca as facilitators in healing humans and creating harmony on this planet. Yoga, Meditation and Ayurveda are also ancient and powerful technologies for enlightenment. I see all of these modalities as the master teachers. We are simply here to hold sustainable space for the knowledge to be shared and to blend them into a digestible format for the communities that gather here.
AR: Why is this kind of programming so important in these times?
TE: I believe this kind of healing is what our global family needs and is craving in order to deepen our connection to our souls and our planet. We curate specifically to address these needs. Each workshop leader is brought in intentionally because we have researched and experienced their work and feel guided to share their teachings. Each of these people are providing ancient concepts around nature, culture and gathering, in a fresh, accessible way. We are all about big visions that serve the planet!
AR: What's in store for The BE Hive in 2017?
TE: We are taking everything to the next level. Expect solar powered energy, urban bee hives, rain barrels, a vertical garden, custom plant products, an amazing array of wellness services facilitated by the best practitioners around, and a new membership program.
AR: How can we go from learning about different spiritual practices to making real changes in the world?
TE: This requires PRACTICE! It's such a blessing to receive teachings, insights, guidance, and epiphanies. However these things have no merit unless they are paired with intentional action. I ask myself daily—am I talking the talk, or am I walking the talk? How am I or am I not in integrity in this moment? Am I here now or am I here now-ish? 😉 As Gandhi said, the best thing we can do to see the change we wish to see in the world is to BE the change we wish to see in the world. Practice mastery of the self, and the action needed will come effortlessly.
AR: Do you have advice for female entrepreneurs? How did you get your start?
TE: My main advice to anybody is to meditate. Why? Meditation connects us to our soul, which enables us to access our intuition. Our intuition is our most advanced technology. It is our internal GPS system. It helps us to discover our purpose and to trust in ourselves. Being an entrepreneur is all about taking risks, following your gut, and taking leaps into the unknown. We have to learn how to trust ourselves and to continue trailblazing forward. Doubt is our roadblock.
QUICK FIRE Qs
What's your sign? Capricorn in Western Astrology, Sagittarius in Vedic
Your mantra? I must do what I am afraid to do
Your fave food in LA? Paleo Bread with sprouted almond butter from Erewhon!
Your fave LA retreat or getaway? Sleeping in my friend's Lotus Belle in Topanga
On December 25th 2016 Kitchari Kitchen sponsored by The BE Hive, Groundworks, & Sweat Theory will be feeding the homeless Christmas morning food and chai from 10am—12pm. Volunteers and donated gifts are welcome. Do discover more about upcoming workshops at The BE Hive visit Thebehive.us