The Virgo New Moon Eclipse is an invitation to refine and redesign your world from the inside out, says Sandra Sitron. Artwork: Anastasia Borowska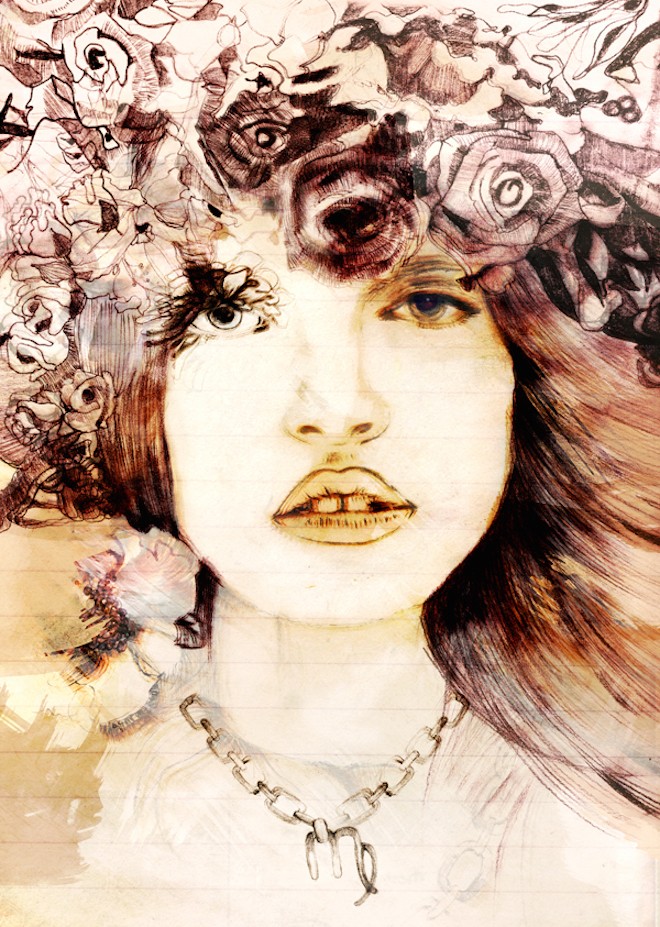 We have a New Moon Solar Eclipse at 9 degrees Virgo on Thursday, September 1st at 5:03 am ET
The New Moon is a chance to start fresh. And THIS New Moon coincides with a Solar Eclipse, which also speaks to new beginnings. At the time of a Solar Eclipse, we collectively experience a massive reset. If we want to follow the flow of this energy, it is a time to be quiet and feel into where we are ready to make a fresh start.
Occurring in Virgo, the cosmos suggests that this fresh start may be in the area of Self-Improvement. Virgo refines, refines, and refines some more. And Virgo practices. With each new approach Virgo makes practical adaptations and adjustments. Because Virgo is an Earth sign, the focus here is on improving anything that is of the material world. Our health. The environment. The work that we do to sustain ourselves.
I have the sense that this Virgo New Moon Eclipse as being like the moment just before conception. No plans have been made. The DNA has not yet been arranged. We are in the space between breaths; a moment that is at once empty and full of promise. Virgo is so practical, so earthly, and so full of thoughts. This New Moon offers a chance for the thoughts to stop and a door to open. So where does the doorway lead?
As you ponder this question, allow yourself as much space as you need. Know that you can change everything or nothing. Give yourself the gift of agency and of vision. Start asking yourself questions and writing intentions. Know that anything is possible. When you write an intention, imagine how it would feel if that intention were actualized. Muster up this feeling with high-emotion and sit with it momentarily.
These questions may help prompt Virgo New Moon intentions…
– What adjustments do you want to make in your habits?
– What adjustments do you want to make in your schedule?
– What adjustments do you want to make in your work?
If your body could talk, what would IT say to you? What does your body need? Write a letter addressed from your body to yourself. And now ask…
– What is the smallest change you can make to improve your health?
– What would support you most in creating positive changes in your life?
– What is one thing you can easily shift to make your life more efficient?
– What is one thing taking up your time and energy that is not a priority? Can you change it?
***
The Stellium in Virgo
The concentric circles of a ripple in water.
The Moon joins the Sun, North Node, Jupiter and Mercury, all clustered in the sign of Virgo. A grouping of planets and points like this is called a Stellium. A Stellium creates a powerful focus of energy. This energy says: In this fresh start we reflect (Mercury Retrograde,) we expand (Jupiter) and we align with our purpose (North Node). Underlying all of this, we are making practical adjustments that bring us closer to our Earthly ideals (Virgo).
The symbol of the ripple in water shows us how powerful and focused this energy is. What intention caused the ripple in the water? How far will it reach? For there to be a ripple in water, the water must be still. Virgo energy is hardly ever still. Mutable Virgo energy is represented by the spiral—continuous adjustments to thoughts and actions. Part of Virgo medicine is the practice of mindfulness. Stilling the waves of the mind through meditation is a critical piece in the Virgo story. This stellium helps us create mindfulness and set focused new intentions for reflection, expansion and alignment with purpose. Then we can watch the ripples change our lives.
***
The New Moon is in a T-Square with Mars, Saturn and Neptune. A T-Square is an aspect pattern (two squares and an opposition), that looks like an arrow in the sky. It is tension that provokes action. By design, it helps us motivate. The stimulus to motivation is the challenge.
The New Moon Square Saturn and Mars
An arrow flies into the wind.
The arrow in flight is us being brought to emotional action. We can no longer deny our needs. We can no longer deny who we are. We must come to some sort of confrontation with the wind. We are moving through the wind and yet it pushes against us, restricting and blocking. Through the restriction we grow stronger. We need the restriction. We need the confrontation. We need to move through it so that we can finally see the truth.
The New Moon Opposite Neptune
A jigsaw puzzle falls to the floor.
We see the truth but then it vanishes. Or we create a picture of the truth and then realize that it was not real. We need to look and look again. We need to pick up the pieces and decide how they fit together. Maybe they create a different picture than the one we thought we saw. We need to do the work of fitting the pieces together one by one so that we can move toward the big picture that we desire.
This aspect tantalizes us with fantasy. Fantasy is how we manifest what we desire. Yet fantasy is also a construction of our subconscious. If we fantasize without practicing mindfulness, we will falter. If we create stories that are based on unexamined and outdated subconscious beliefs we will be continuously starting the puzzle from scratch.
***
So in the dark of this Virgo New Moon eclipse, sit and quiet your mind. Create a fantasy that reflects your truth. This will be your vision. Put it together piece by piece. Watch as the arrow gains strength and speed. Watch as the ripples of your intentions cause positive change. Pause in this moment before conception, practice stillness, and then use the below mantra for your sign to practice the art of refinement.
Aries :: Aries Rising
"My habits feel healthy and mindful. I enjoy efficiency in my daily life."
Taurus :: Taurus Rising
"I am a conscious creator. I live a joyous and abundant existence."
Gemini :: Gemini Rising
"I create a warm and loving nest. I nurture myself and I feel supported."
Cancer :: Cancer Rising
"I am curious and playful."
Leo :: Leo Rising
"I feel abundant and easeful. I believe in my inherent worth."
Virgo :: Virgo Rising
"I fan the fire of my individuality. I am just as I need to be. All is well."
Libra :: Libra Rising
"I am always connected because all of life is connected."
Scorpio :: Scorpio Rising
"I encourage my hopes, dreams and aspirations. I envision a bright future for the collective."
Sagittarius :: Sagittarius Rising
"I align easily with my purpose. I am moving forward."
Capricorn :: Capricorn Rising
"I seek new philosophies."
Aquarius :: Aquarius Rising
"I trust that I am safe to feel my feelings."
Pisces :: Pisces Rising
"I am supported in relationship."