Shine your light to illuminate a collective effort and your manifestations will bloom…is the message for the Aquarius Full Moon, says Sandra Sitron.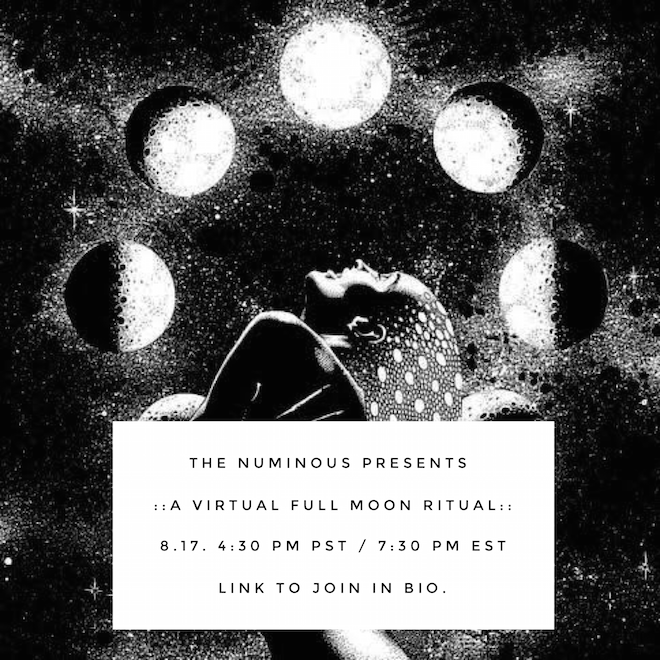 We have a Full Moon Lunar Eclipse in Aquarius on August 18th at 5:26 am ET
A Full Moon happens when the Sun and Moon oppose each other. They face off, and the Sun's full light shines on the Moon's surface. This week, the Sun is in Leo and the Moon is in the opposite sign, Aquarius. This is a time of higher energy. All of the Moon's emotional and intuitive power is amped up by the force of the Sun. It's a time to act.
Think back to the seed intentions you set at the New Moon on August 2nd. Now you are harvesting some of those intentions. The next two weeks will be about reflecting on what you've learned and readying your soil for the seeds of the next New Moon, in Virgo on September 1.
A note about this Full Moon Eclipse
Is this an Eclipse, or isn't it? In star-gazing circles there is some debate as to whether or not this counts. Because there are many different ways to calculate eclipses, some sources are listing this as an eclipse, yet others are not, including NASA. Earth's shadow gets verrrrrry close to the Moon, but the shadow won't be visible from Earth. I think that this Full Moon will feel like an Eclipse—meaning it will feel like a massive reset.
As such, this is time for change. A time to pull the plug and then plug back in. To close the book on a chapter. To start with a fresh perspective.
Use this powerful energy to fire up your body, mind, and spirit, and experience cathartic release. Cleansing actions are recommended now. Sweat. Cry. Dance. Take a salt-water bath. Laugh until you can't breath. Spin in circles. Run. Howl at the Moon. Breathe. Get it all out!
***
THE MOON AND ITS MESSAGE
"Waving a sparkler."
Celebration. This Full Moon is helping you communicate what's in your heart. So shine forth unapologetically, for all of us. The Aquarius Full Moon points us to a picture of the future—one in which humans are connecting through their gifts. Sharing, collaborating, working together. Individuality is healthfully elevated, not in a narcissistic way, but in a balanced and beautiful way.
This Full Moon can deliver this understanding directly into our hearts, if we are ready for it. If we have prepared the channel to receive the download. "Believe in the future" says this Aquarius Full Moon. Believe in your own light. Believe in the power of the collective. Give freely. Receive freely. Commune. Shed all of the stories that make you smaller than you are.
***
MOON SEXTILE URANUS AND INCONJUNCT BOTH MERCURY AND JUPITER
"An acrobat on a tightrope juggling fire."
This acrobat is busy. Multitasking. A Yod (the shape formed by these aspects together) is like that too, as it is a combination of two very different types of energy. And what we have here are actually two Yods, so there is even more going on.
A Yod is an aspect pattern that looks like a narrow triangle. Because of this it's also called "the Finger of God." This moniker brings to mind the feeling of this aspect. It is a feeling of fated expectation. But this strong sense of expectation can be uncomfortable, when the outcome has not yet been realized. The planet at the tip of the pointing finger is called the Focal Planet. In this Yod there are actually two Focal Planets together, mindset Mercury and expansive Jupiter…
MERCURY AND JUPITER CONJUNCT IN VIRGO
"The acrobat practices on the tightrope."
With both Focal Planets in Virgo, this energy says: practice your craft, improve, do it well, and make it perfect. But, don't, whatever you do, get caught up in worrying about potential problems. Don't allow your mind to get stuck in a critical mode of thinking. Don't be judgmental of yourself or anyone else. If you do, you will fall off your tightrope. If you look down, or allow anxious thinking to overtake you, you will drop the fire you are juggling. So stay present. Stay in the moment so that you can accomplish this impressive acrobatic feat.
Mercury and Jupiter are Inconjunct the Moon and Uranus. An Inconjuct is "almost there, but not quite." So it's a little frustrated. It doesn't know what to do, exactly. But it knows it wants to do something. The Yod joins this frustrated energy with a pleasing and harmonious sextile between the Moon and Uranus. The message: you may not know how, just yet, but you can create a new and unexpected path for yourself.
It is tenaciously pushing you through frustration and toward your desired outcome. It is urging you past the risk and into the glory.
You will need to focus on the details. But by staying conscious of your emotions and staying open to inspiration, you will make it through.
SUN TRINE URANUS
"A clear radio signal."
Uranus' inspired thinking is coming through loud and clear. This is epiphany energy. Keep your mind open to new possibilities. How do you keep your mind open? Focus on the vision. Don't overthink. Turn the radio dial to receive the signal and wait to see what comes through.
VENUS TRINE PLUTO
"A rare flower in bloom."
The plant has stored up enough energy to create a rare and beautiful blossom. It has worked through obstacles and circumstance and allowed a cycle to come to completion. And it did so naturally. It did everything in it's own perfect time. It let itself blossom. And it will let itself fall away. It moves gracefully through the cycle of life and death. This is exactly what Venus Trine Pluto offers you. The beauty of the cycle. The beauty of blooming in your own perfect time. Allow the process.
IN SUMMARY
This is a moment to commune with others and share your light. Push through frustrations to glory. Allow inspiration. Allow the process.
***
FULL MOON ACTIONS BY SIGN
Leo :: Leo Rising
Communicate something important to you to someone else.
Virgo :: Virgo Rising
Meditate. This is best action that you can take right now. You are in an especially productive frame of mind, so settling your mind and raising your vibration through meditation will make you unstoppable.
Libra :: Libra Rising
Give something. And ask the Universe to help you receive something.
Scorpio :: Scorpio Rising
Nest. Pay extra attention to your home space.
Sagittarius :: Sagittarius Rising
Mingle. Get out into your neighborhood and connect with your peers.
Capricorn :: Capricorn Rising
Do something luscious and sensual. Eat a beautiful meal. Get a massage. Do something that feels good.
Aquarius :: Aquarius Rising
Celebrate! It's not often that we stop to be appreciative of ourselves. Take a moment to be ecstatic. Mark this moment in your favorite way.
Pisces :: Pisces Rising
Do some dream journaling. This is your time to connect with your inner symbolism and intuition.
Aries :: Aries Rising
Find out what everyone else thinks.
Taurus :: Taurus Rising
Work. This may be a big vacation time, but for you, this time period is best spent working.
Gemini :: Gemini Rising
Travel. Take a vacation. If you aren't able to get away, explore a different way of thinking.
Cancer :: Cancer Rising
Create a letting-go ritual for yourself. Close a chapter.
To book a private readig with Sandra email her at [email protected] or visit www.strongeyeastrology.com