Chances are you've heard about smudging, the act of burning sacred herbs to transmute negative energy. Here, modern shamanic practitioner Marika Messager explains the process in detail and provides a step-by-step basic smudging ritual.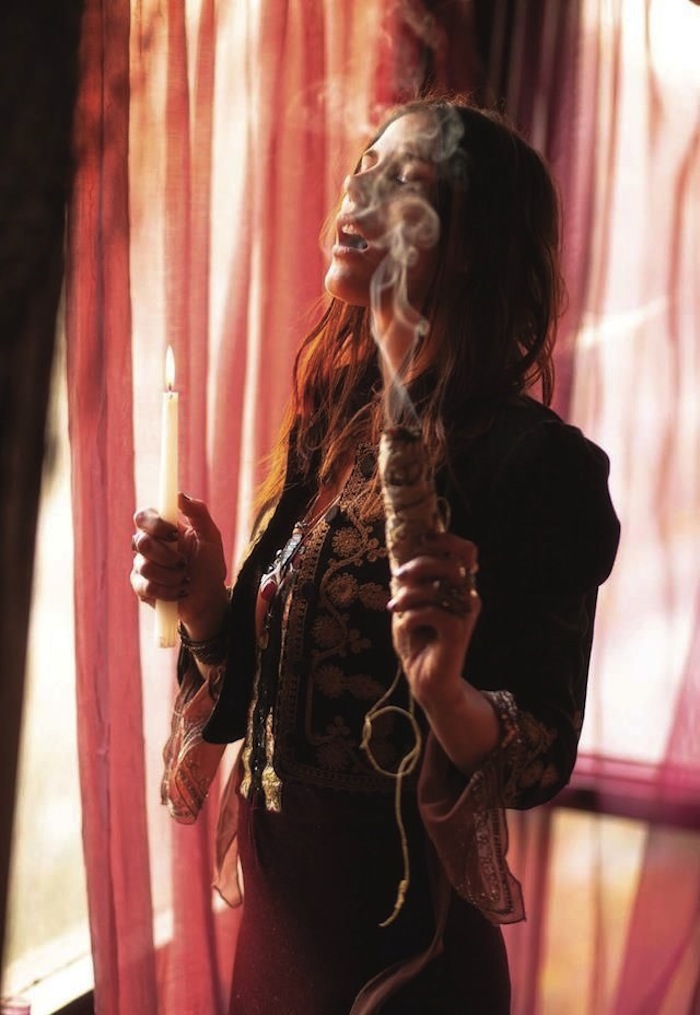 WHAT EXACTLY IS SMUDGING?
Smudging is the common name given to the Sacred Smoke Bowl Blessing, a powerful cleansing technique from the Native American tradition – but essentially it refers to the art of cleansing your self and your environment using simple ritual and ceremony. Our homes, objects and bodies do not consist of purely physical matter; they also vibrate with subtle, invisible energy. Cleansing a space or our bodies with techniques such as smudging clears away all the emotional and psychic "garbage" that may have gathered, perhaps over hundreds of years. It's like spiritual spring-cleaning.
SO HOW DOES IT ACTUALLY WORK?
Smudging calls on the spirits of sacred plants to drive away negative energies and put you back into a state of balance, peace and harmony. It is the psychic equivalent of washing your hands before eating – and used as an essential preliminary to almost all Native American ceremonies. And the apparent benefits are steeped in science – when burned, sage and other herbs release negative ions, which research has linked to a more positive mood.
OH! HOW SO?
The aroma of sage, for example, increases the oxygen supply to the brain, producing a relaxation of muscle tension. In addition, the smoke from some herbs actually changes the molecular structure of air and energy, producing a cleansing effect. As the sense of smell is connected very powerfully to instinct and memory, the burning of smudge sticks has been found to be a very effective aromatherapy agent, especially when combating feelings of depression, anger, fear, frustration, resentment, and grief.
YOU MENTIONED NATIVE AMERICAN TRADITION – WHERE DID THE TRADITION ORIGINATE?
Smudging is a North American ritual, but is not exclusive to this area and has been practiced all over the world. In some cases, smudging is linked to the use of incense – as incense, like a smudge stick, is a natural object that is burned for a specific purpose. The history of incense itself goes back thousands of years to Egypt.
Most traditional cultures, from the Zulus to the Maoris, from the Chinese to the Balinese, have age-old forms of cleansing and blessing ritual. Even the West retains relics of it – the incense wafting through a church is cleansing the atmosphere just as surely as the medicine man's bowl of sacred smoke, or smudge. The church bells that ring out on Sunday morning were also originally intended to purify the whole parish through sound and lead the community from everyday space into worship – just as the Shaman's drum can lead us on sacred journeys into the world of the spirits.
IN WHAT SITUATIONS SHOULD YOU CONSIDER SMUDGING YOURSELF OR YOUR SPACE?
Smudging is both a ceremonial and an every day practice, so some smudging rituals are performed on a daily basis. Others are reserved for special or ceremonial occasions. As well as a way to clear one's energetic field, smudging is often used to cleanse apartments and houses before they're sold, before you move in, or whenever you feel the need to clean your environment. It's also good to clean any objects you interact with regularly, like your computer or phone, while smudging can also be used to cleanse or protect crystals.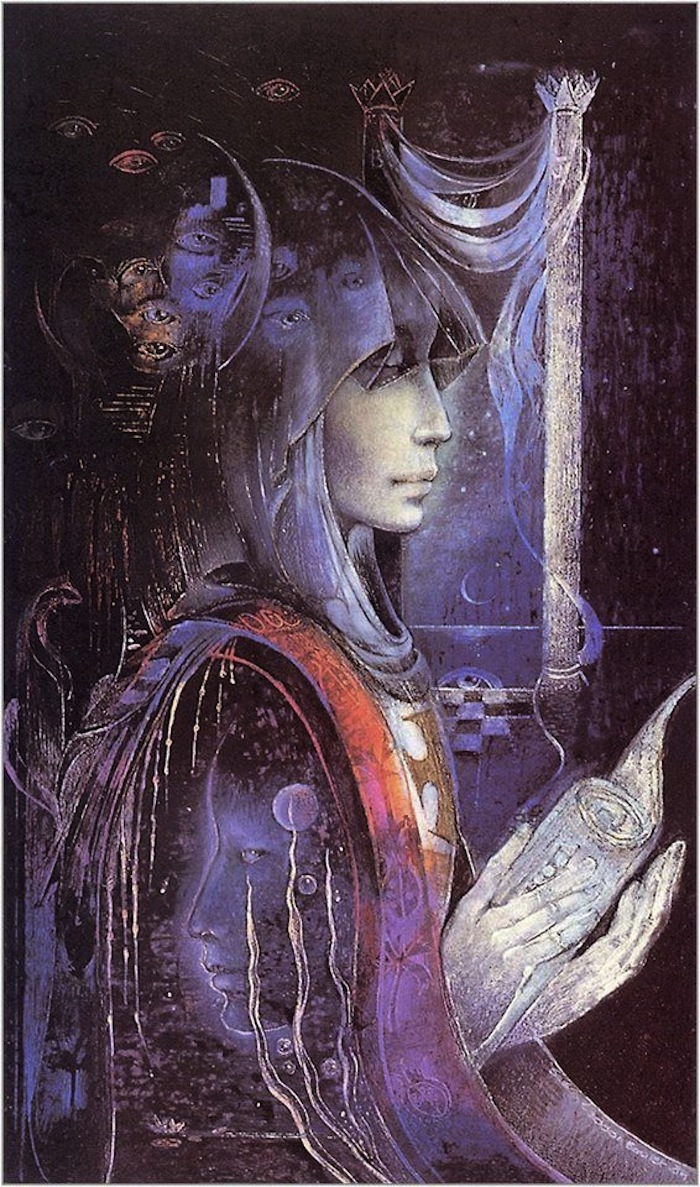 SO WHAT ARE THE DIFFERENT THINGS YOU CAN USE TO SMUDGE WITH?
A smudge kit usually consists of four of five pieces, each representing one of the four or five elements (Earth, Fire, Water, Air, and sometimes Spirit or life energy):
A shell (abalone shell is most often used) to represent Water
Unlit herbs to represent Earth
Lit herbs to represent Fire
Smoke to represent Air
Sage is one of the most popular plants used for smudging, as the smoke carries an amazing fragrance that lifts the spirits. Even though sage grows abundantly in many locations, the most commonly used sage for burning and ceremonies is desert sage, or white sage.
The smudge sticks you find in witchy stores are most commonly made of sage and sweet grass, both of which play an important role in the smudging process. Sage is used to evacuate the negative energies, spirits and influences, while the sweet grass will gather new and positive energies. Other herbs used for smudging are cedar, juniper and lavender, and plain tobacco is also sometimes used by Plain Indian tribes.
Palo Santo wood from the rainforests in Ecuador was also considered by many to be a Holy Wood, and burning Palo Santo has been used by the Incas since ancient times as a spiritual remedy, for purifying, and cleansing.
AND WHAT ARE THEIR DIFFERENT PROPERTIES?
Sagebrush (confusingly, the "sage" used in most smudge sticks, is not culinary sage but sagebrush): transforms energy and brings change.
Sage (the culinary herb): brings wisdom and is calming and healing.
Sweetgrass: attracts positive energy.
Lavender: restores balance and creates a peaceful atmosphere. Lavender also attracts loving energy and spirits.
Cedar: deeply purifying, especially for clearing negative emotions and for healing and as a way to attract positive energy. Also used to bless a home before taking residence there, a tradition dating back to the Northwest and Western Canadian Native Americans, and believed to aid clairvoyance, revive the tired mind, body, and spirit, and stimulate contact with other worlds.
Mugwort: stimulates psychic awareness and prophetic dreams. It also banishes evil spirits.
Juniper: used to purify and create a safe and sacred space.
Yerba Santa: used to purify and to set and protect boundaries.
Rosemary: a powerful healer that brings clarity to problems.
WHAT CAN YOU USE IN EMERGENCIES (WHEN YOU DON'T HAVE ACCESS TO THE ABOVE FOR EXAMPLE)?
Visualisation is a very efficient technique that can be used anytime. For example, simply visualise that you are filling the room with clear white light that is removing all negative energies as the light is flushed out of the room. You can also use essential oil of sage or Paolo Santo on yourself or to spray in the room.
AND WHAT ABOUT SMUDGING A SPACE WHERE YOU'RE NOT ALLOWED TO BURN THINGS?
You can steep appropriate herbs or essential oils in water, creating a tincture to sprinkle or spray the area with. Placing Himalayan salt near a windows and then throwing the salt away will also disperse negative energies (ideally put the salt into the earth). Sound cleansing, using a gong or crystal sound bowl, is also very effective.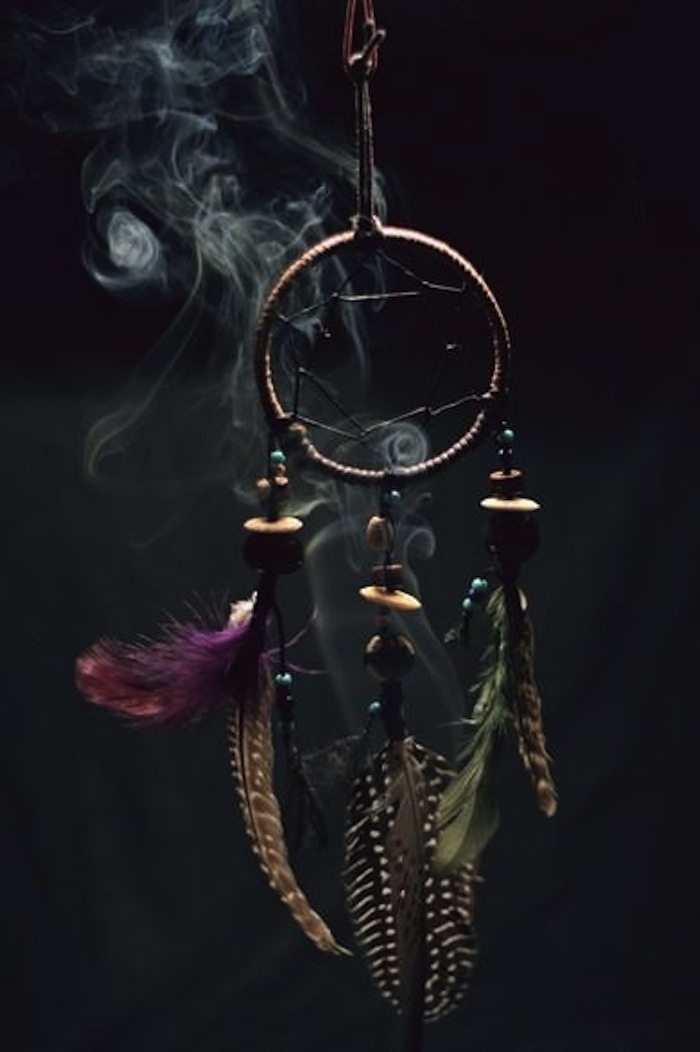 :: SMUDGING RITUAL: THE BASICS ::
Before you begin your smudging ritual, center yourself, holding the intention to drive away all negativity from your energy and purify your soul.
Put the herbs in a receptacle (ideally an abalone shell), light them and gently blow out the flame so that the herbs continue to smoulder.
You can also hold the herbs in one hand. Bear in mind that you will only need a few leaves to create enough smoke.
If you are smudging with Paolo Santo, all you need to do is light one side of the wood and hold the other side.
Now, take some smoke in your hand and bring it over your heart, keeping the intention to clear your energy. Then bring some smoke over your eyes, your third eye and your head.
You may wish to repeat the same process with your throat, solar plexus, sacral and root chakras, and finally your legs and feet (including the soles of your feet).
As you smudge, visualise yourself being surrounded by gentle, loving energy. Breathe in positivity, courage and love. Connecting with each smudged area and the feelings you wish to release or attract will empower your ritual (i.e: letting go of self abuse and bringing empowerment while smudging your solar plexus, or releasing grief and calling for unconditional love while smudging your heart).
If smudging a space, use a fan (ideally made of bird's feathers) to drive the smoke into all corners of the room, again, holding the intention to purge the place of negative energy and invite in purity and light.
Find out more about Marika Messager and her work at Marikamessager.com