Do you know how to work with your spirit guides? Ruby Warrington gets a lesson in life's celestial helpers from spirit-guide-whisperer Rebecca Campbell…
It happens fairly often among my Numinous circles that somebody will casually drop into the conversation that they've been working with their "spirit guides." At which point I'll nod and be like, "that's rad, dude" – because, conceptually, I'm totally down with the idea that there are benevolent Universal forces working on our behalf all the time, and that we get to choose how and when we interact with them. That's called "creating your own reality," right?
But then I meet Rebecca Campbell, an Aussie author, mystic, coach, and co-founder of The Spirited Project, who insists that our guides are actually more like real entities – angels, I guess – who are just kind of hanging out, polishing their wings, until we call them into action. Learn to work with them, and they can offer assistance in every area of life – in fact; "no request is too big or too small, too specific or too broad," she says.
It's a pretty out there idea, even for me. And I (obviously) embrace a LOT of out there ideas. But I LOVE the concept (I'm already picturing my guides like a kind of spiritual Spice Girls, with the dance routines and everything), and so I asked Rebecca for the full low down. Here's what she had to say…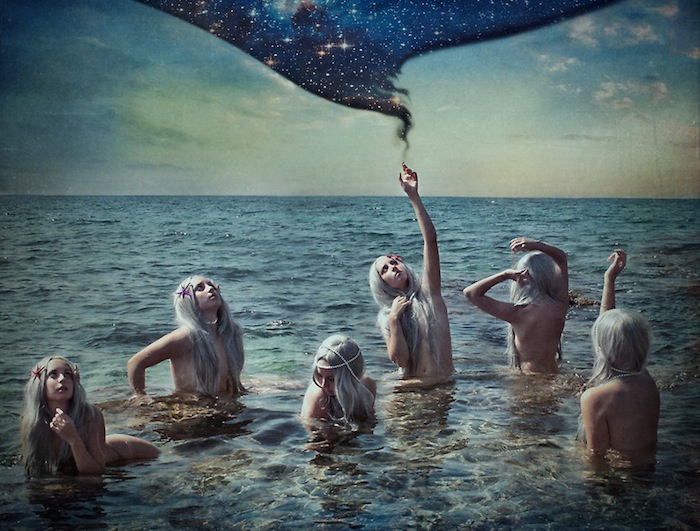 So does every individual on the planet have their own spirit guides?
Yep, everyone has their very own team of spirit guides who are completely devoted to their growth. I like to think of them as a group of amazing cosmic beings who have our back no matter what. But because of free will, in order to receive their support, first we need to ask. Asking is super simple (like, you can do it right now).
For general guidance:
"Hey spirit guides…I am open to receiving your loving guidance in all areas of my life. Thank you, and so it is."
For more specific guidance:
"Hey spirit guides…I am open to receiving your guidance surrounding (insert specific request here). Thank you for guiding and supporting me."
The thing about spirit guides is that they're always there – we just don't notice them. When you're devastated by a terrible break up, they're there. When you're looking for a spot to park your car, they're there. If you're trying to make a difficult decision, they're there. They're by your side right now. What do you want their help with right now? Go on, ask them right now!
Okay, but first I need to know how they actually do their work?
Our spirit guides work with us through signs, people, nature, synchronistic events and our intuitive senses (inner seeing, inner knowing, inner hearing and inner feeling).
So the best way to start working with your spirit guides is to ask them for a sign. When I first started working with my guides I asked them to send me a light peach feather to prove to me that they were really there. Within half an hour I had received two peach feathers, which was pretty amazing – and what I needed to open my mind and heart up to noticing the support they could offer me. (nb: I tried this last night by asking for a blue crystal – nothing yet. I'll keep you posted. Update: two hours later I was working out and found a mini crustal on the studio floor – but it was mauve. Close!)
The more you work with your spirit guides, the stronger the connection gets. It's just like working out – you can't expect to have a six-pack like J-Lo if you only do one sit up.
Okay, so is there one team of spirit guides working for us all, or are they individual for each person?
Everyone has their own team of spirit guides, which are assigned just to them. We are born with spirit guides and also recruit them as we go about our life.
I find that most people have around six spirit guides in their "inner circle." These are the guides who are completely unique to us. Some spirit guides have had lifetimes here on earth (often appearing as "people" e.g. an American Indian teacher, a Tibetan monk, an inspirational business leader etc.) – while others may just appear as beings of light.
I believe that our purpose on Earth is twofold:
1. Evolve as a soul (learning, growing and raising our vibration)
2. Be the light (light up the world by following what lights us up)
Our spirit guides are assigned to us to help us do both these things. The more we allow and receive their guidance and support, the easier our path becomes.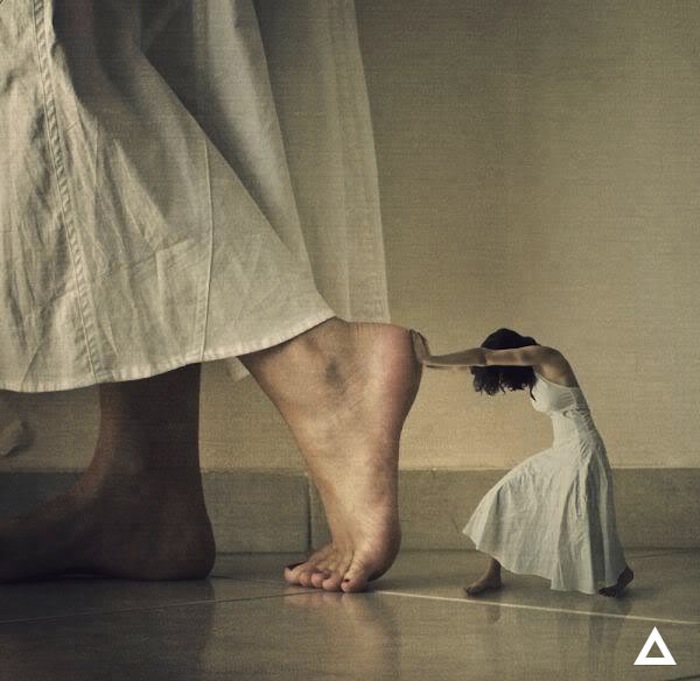 I like the idea of us being "assigned" out guides at birth – how does this happen?
Your soul recruits your spirit guides based on your unique soul calling and the path you are here to walk. Your guides are perfectly suited to your highest calling, and waiting to guide you as much or as little as you wish. No matter what you're facing, their presence means you always have the support around you to make it through.
I believe that we are born with one main guide (also known as a Guardian Angel) who stays with us throughout our lives – and by the age of 18-25 most people have recruited their spirit guide "posse."
We can recruit more guides as needed though. For example, while writing my book Light Is The New Black I recruited two light beings and a new teacher guide to help me – in exactly the same way as I used to call on famous ad men to help me present my creative ideas in a way that would most resonate with the client when I worked in advertising.
What if I'm still having a hard time getting my head around the concept…
What holds most people back from developing a relationship with their spirit guides is their need for hard core visual "proof" that they exist. For a long time, I was waiting for my spirit guides to ring my doorbell and chat to me over a bottle of vino (clearly that never happened).
I wanted to know their hair color, their favorite movies and where they grew up. But the moment I Iet go of any need for them to appear in a certain way and just opened myself up to the possibility and trusted, the more my relationship with my guides grew and the more evidence of their presence I received in other ways.
Everyone's experience with their spirit guides is personal, and because they work in the subtle realms, it takes practice to sense them. We are all six sensory beings, but we need to work our intuitive muscles each day to strengthen our intuitive connection with them.
Most people experience their guides through their predominate intuitive sense: Clairvoyant (clear seeing), Clairaudient (clear hearing), Clairsentient (clear feeling) and Claircognizant (clear knowing).
Can you give us some tips to start working with them on a regular basis then?
1. Start asking them for guidance…right now
2. Thank them for guiding you – they love a bit of positive reinforcement!
3. Ask them to send you a sign (e.g. a feather, a butterfly, elephants…whatever you fancy)
4. Keep a little notebook by your bed, and jot down any experience you might have had with them and any signs you spotted throughout the day. The more your book fills up, the more you will notice their support
5. Before you go to sleep ask your spirit guides to come to you in your dreams. The moment you wake up, note down any experiences you may have had with them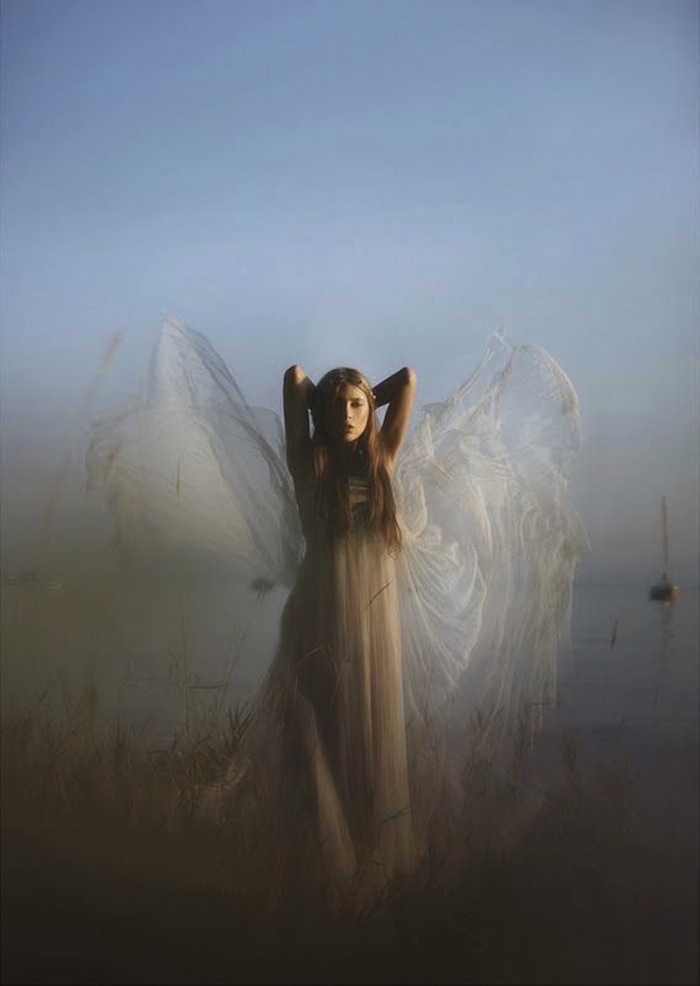 I'm almost convinced – can you share any amazing experiences you've had working with your guides?
These days I speak to my spirit guides every day – but my favorite story of working with my guides happened earlier this year, when I'd handed in my book proposal to Hay House (twice) but hadn't heard anything.
One of my spirit guides is a woman (spirit) named Charlotte. Charlotte appears as a terribly English high society lady from the 1920's who wears big dresses, hats and gloves. A gifted gossip, with her fingers in all the most influential pies, Charlotte is here to help me get my message out there and name spoken about in the right circles. Knowing that getting some publicity might increase my chances of being published, I called on Charlotte her for help and then surrendered it.
That same day I was connected with a journalist – and one week later she was commissioned to write a story, "Like a Prayer", for the UK's Sunday Times Style Mag (which also happened to feature the who's who of Hay House authors, as well as The Numinous).Two weeks later, I got the phone call from Hay House offering me a deal!
When I went into Hay House to meet the team for the first time, the Publicity Officer mentioned that she'd seen the Sunday Times article and asked who my publicist was. Without thinking I responded "my spirit guide Charlotte!" Now, I've sat around a lot of boardroom tables in my life, but that was the first one that I was able to casually drop the name of one of my spirit guides and credit them for their work. I love it!
For one-on-one guidance on connecting with your guide, Rebecca Campbell offers spiritual mentorships and readings. Alternatively, you can attend one of her regular group workshops in London.