With her Numinous Tarotscopes for May 2019, Bess Matassa has a personalized audio reading for each sign …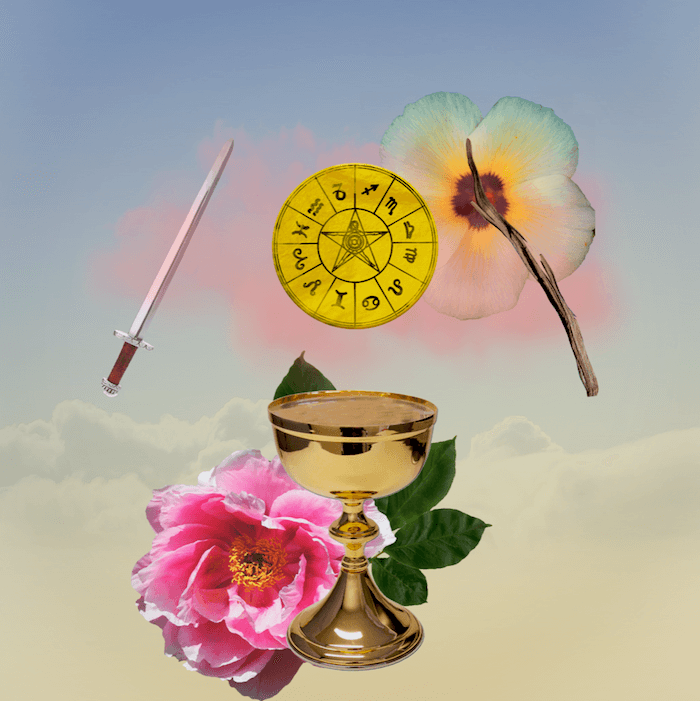 MAY CARD FOR THE COLLECTIVE: 4 of Pentacles Rx
The symbolic "ski lodge" of the Tarot, 4 of Pentacles energy asks us to hunker down with the resources on hand, sealing up energetic leaks and finding sanctuary inside solid boundaries.
Which relationships, projects, and emotional patterns have left you feeling out in the cold? What would feel warmer, more magnetic, and more fitting of the fiercely resilient being you were born to be? May 2019 brings a month for turning towards what truly nourishes us.
Ruled by Capricorn, this card comes through during an astrological season when we are being beckoned towards greater authority over our lives overall, as we divine what is truly essential for our evolution. Try to see each moment as an opportunity to "seal the deal," literally moving closer to what feels best in your bones.
Read on for the card, mantra, and cosmic audio reading for your sign …
///
TAURUS OR TAURUS RISING: Knight of Wands Rx
"A shake of the hips shakes off shame."
///
GEMINI OR GEMINI RISING: High Priestess Rx
"Shutting off the static tunes me in."
///
CANCER OR CANCER RISING: 2 of Cups Rx
"My softness is my human right."
///
LEO OR LEO RISING: 10 of Cups
"I am ready and willing to get closer to what's here."
///
VIRGO OR VIRGO RISING: The Emperor Rx
"I am a vital part of my own natural process."
///
LIBRA OR LIBRA RISING: Page of Swords
"I wield my clarity with curiosity."
///
SCORPIO OR SCORPIO RISING: Page of Cups Rx
"What may seem silly is a source of strength."
///
SAGITTARIUS OR SAGITTARIUS RISING: 5 of Cups Rx
"Syncing up with my instincts uncovers what's vital."
///
CAPRICORN OR CAPRICORN RISING: Death Rx
"Sloughing off old skin can be a sweet sensation."
///
AQUARIUS OR AQUARIUS RISING: 5 of Pentacles Rx
"Inside the feeling of emptiness is the fullness I crave."
///
PISCES OR PISCES RISING: King of Pentacles Rx
"The person I'm becoming is already here."
///
ARIES OR ARIES RISING: Judgment Rx
"Letting life move through me is a brand new way to be."
///
Learn more about Bess and her work, book a reading, and check out all her personalized Astro + Tarot offerings HERE.