The 2019 Taurus New Moon is an invitation to accept exactly who, and where, you are, and to give your body exactly what it needs, says Sandy Sitron …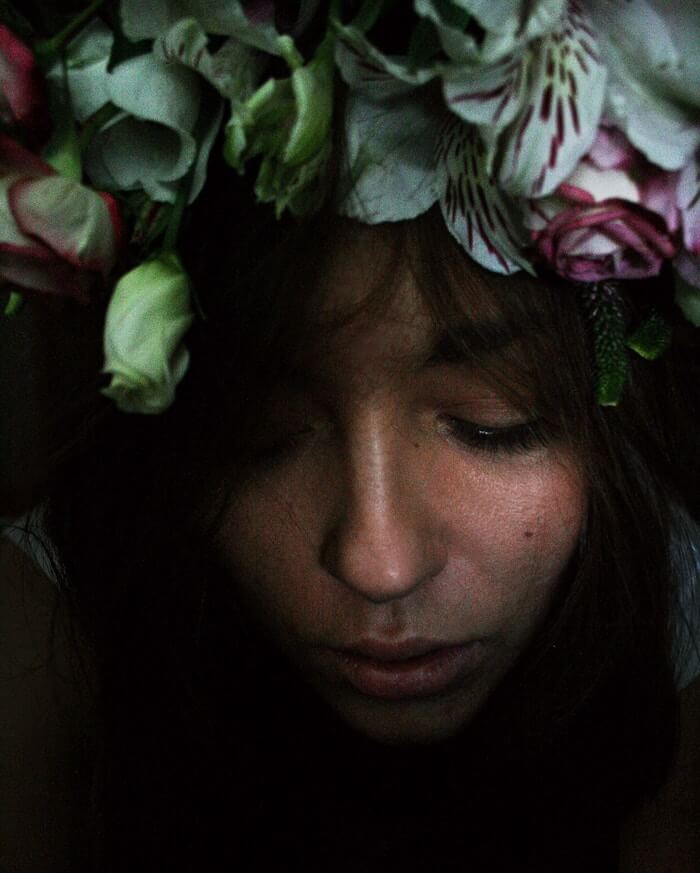 New Moon // May 4 2019 // 6:47 pm ET // 14 degrees Taurus
A frog sits motionless. A tiny glistening teacher, poised in the shadows. It moves only slightly, to catch a wandering fly. And then it returns to froggy meditation. Settled and grounded. Present and alert. Waiting without being stifled by a conscious sense of time.
This amphibious zen master holds the message of the 2019 Taurus New Moon: Be present and connect with the abundance that is all around you.
On Saturday May 4th we have a New Moon at 14 degrees Taurus. When the Sun and the Moon line up in the same sign, it represents a cosmic new beginning. This is a chance to set intentions — on a New Moon the soil is very fertile so your intentions can take root and bloom brightly.
The 2019 New Moon in Taurus sets up perfect conditions for you to begin to get settled and present in your body. To be with yourself and love yourself and from that stable center connect with the abundance that is inherent in nature. Instead of seeing the glass as half empty, see the glass morph into a wellspring of continuous potential and life force.
Taurus is the second sign of the zodiac, representing the physical body, the container that houses the effervescent spark of life. Placing your attention on the subtle sensations that you feel in your body can help you be more gracious with yourself. Feel the sensation of your socks against your toes. Stretch and breathe deeply. Drink in the sight of a flowering tree. Listen to the spontaneous rhythms of your environment.
The call to action is to create space within yourself to be with yourself. Taurus is the least judgmental of the Earth signs.
It wants you to simply revel in yourself.
Since Taurus rules the body and the senses, start with your physical sensations by accepting your body. Accept what you have built for yourself. Accept your current state of being, whatever it is. From this place of acceptance you can recharge both spiritually and realistically.
Taurus holds stabilizing and receptive energy which says, "You don't have to do or go or push, you just have to be." It is from this slow place of simply being that you create the space to receive abundance. There is a balance of action and receiving in nature. When you can create this balance within yourself you activate true pleasure."
So much of our lives are spent striving. Responsibilities in the world ask you to leave yourself and attend to things that are out there. But that energy will get you nowhere right now. If you try to reach too far out of yourself, you will topple like an overgrown tomato plant! When we are scattered and ungrounded we can't get much done.
That doesn't mean that you can't still have goals. In fact, with this New Moon making a supportive trine to goal oriented Saturn, the wisdom is that the more that you embody your current state of being, the stronger the foundation for your future development. You can get closer to who you want to be by accepting who you are now.
This message is repeated everywhere in nature, but almost nowhere in society. So you will have proactively prioritize self-acceptance. Begin to …
Ask for your energy back.
Ask to become reacquainted with yourself.
Slow down and be gentle with this body that you are now.
Caress this body that you have, attentively.
Be with yourself in a new way.
Meet yourself where you are.
///
2019 Taurus New Moon trine Saturn
A beanstalk.
Grounded and still climbing. How high can the beanstalk climb? Does it ever feel as if it's gone too far? Does it ever have a build up of resistance and start procrastinating or self-sabotaging? No. And neither will you. From your secure and stable foundation, you are being assisted. You can climb without fear that you are not enough. Instead, just continue to build upon what you've already done. Rather than judging yourself, focus on your dreams for the future. Be grateful for what you have and don't look down. Just keep going step by step. It can be so simple.
///
2019 Taurus New Moon sextile Neptune
Glittery confetti.
There is a chance to live in a more magical world. A place in which you're the honored guest at the surprise party of your dreams. This supportive aspect is a subtle reminder that it can be easy to interrupt monotony. Imagination and intuition are your avenues to deeper enjoyment of your life, and to finding a whole new world in your everyday reality.