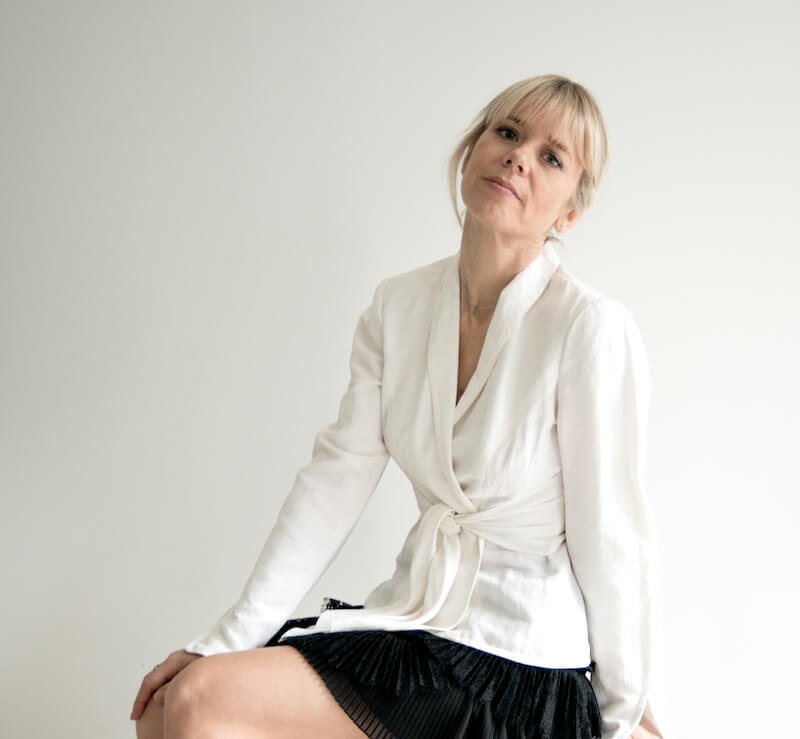 Last week I had the honor of an audience with a 350-year-old tree. Anchoring the island of Vieques to the ragged, rustic Puerto Rican coastline, the landmark Ceiba tree (or Tree of Life) stands solid as a rock, its elephantine grey trunk rooted as firmly into the earth as Everest. Since reading Richard Powers' The Overstory, I've developed a newfound understanding of trees as living beings, possessing perhaps unsurpassed wisdom on what it means to sustain oneself over decades, if not centuries, of evolutionary change. And this majestic, great, great, great, great, great, great Grandmother Ceiba (below), is no exception.
It wasn't like I came to her with a bunch of questions. Rather, sat in the circle of her presence, the gentle Caribbean trade-winds lapping at our skin, a few drops of rain curling my hair into salty tendrils in the cool, quiet shade of her branches, she took the lead and spoke to me. And this is what she said: "Slow down, my love, and look at me. This is how you do it. You focus on doing ONE THING and doing it really well."
Wow. First of all, could she get any more Capricorn season?! It was as if the tree had looked the all-knowing part of my own being in the eye and delivered the one piece of advice I needed to wrap up what has been a year of intense anxiety, instability, procrastination, and self-doubt.
As I wrote here, 2019 was the year I crashed and burned, right where my type-A personality collided with an increasingly frantic media landscape, leading to me taking a four-month Numinous "sabbatical" over the summer. I followed up with this post, detailing what had been going on behind the scenes: writing, publishing, and promoting three books in as many years, launching two podcasts, coming to terms with my discomfort with being a "public figure," while simultaneously trying, and failing, multiple times, to turn The Numinous into a sustainable (meaning rent-paying) business.
And what follows here—thanks to the wisdom of a 350-year-old tree, some Capricorn New Moon Eclipse clarity, and a dose of end-of-decade reflection—can be read as the culmination of what, it turns out, has been a year-long process of reconnecting with why I'm here.
///
The last time I experienced this level of burnout—the kind that grabs you mid-stride, pins you to the wall, and forces you to drop everything you're doing "or else"—was in 2007. Which, incidentally, was also the last time Jupiter was in Sagittarius and transiting my ascendant. I was working for a free daily newspaper at the time (these were the days before all media was free, more on which in a bit), and had four pages per day to fill with "copy" to balance out the ads. Since the paper relied solely on advertising for revenue, our journalistic integrity was also severely compromised—and soon I'd coined a new term for this constant churn of throwaway content: churnalism.
This was also the last time I threw my hands in the air, dramatically stated something along the lines of "I CAN'T FUCKING DO THIS ANY MORE!", quit my job, and took a summer off (which this time also included taking a break from my marriage). I had no backup plan, no family money or savings to fall back on, and my decision defied all logic. But as it turned out, that was the point. My leap into the unknown led to the luckiest and least foreseeable opportunities of my career to date. Within months, I was being paid fat wads of cash to edit the coolest magazine in Ibiza—a gig which also led, in a roundabout way, to me landing a job as Features Editor at the UK Sunday Times Style magazine.
My disillusionment with writing for fashion magazines is well-documented in my first book, Material Girl, Mystical World. But what had not registered fully with me until this year, is that the vast majority of what we used to call journalism has, in fact, morphed into churnalism. Since all media outlets now operate primarily on the advertising-as-revenue model, including and in fact precipitated by the advent of social media, a constant stream of throwaway content is now required to balance out the ads. Enter the era of click-bait, listicles, and bait-and-switch newsletter subject lines, all of which are designed to grab your attention for long enough for somebody to sell you something.
Which has got what, exactly, to do with what the 350-year-old tree told me about reconnecting with my life purpose?
Here's the thing. I went into journalism because I love to write. Meaning, writing gives me more satisfaction per minute of effort expended than anything else. But there's a big difference between the kind of writing I love—the kind where I get to make meaning out of the world I see and, hopefully, provide insight and inspiration for others with my words—and … the constant churn of throwaway content that's become a requirement of running an online platform. Which, if I am going to take the Ceiba tree's advice, means focusing on writing going forward, and taking a step back from making content for content's sake.
///
When I launched The Numinous in 2012, it was because I wanted my own "magazine" where I could write about the things I really cared about.
My readership grew organically, and somewhere along the way (possibly during my brief friendship with Gabby Bernstein) I absorbed the idea that I should start sending out a regular newsletter as this would become my "most valuable audience" (meaning, the readers most likely to buy stuff from me). Instagram also took off, and I learned that posting "the kind of content your readers love" (note: this is not the same as "the content I love making") a minimum of three times per day was how I'd grow my following there. The implication this time being that these "followers" would make my platform more appealing to advertisers, who would then pay for whatever scraps of your attention I could use my words to wangle their way.
Not that I ever capitalized on these audiences (meaning: your attention) in a meaningful way, as it turns out that I have absolutely zero interest in or aptitude for what is essentially network marketing (as detailed, again, here). Granted, the content-for-content's sake has been part of the "platform building" that helped me land my first and subsequent book deals (oh, I also have many thoughts on the fact that you have to have a platform to get a book deal these days, too. I'll expand on them another time). But in terms of actual "capital" (i.e. rent money) we were wayyyy off the fabled and much lauded "six-figure salary" promised by the digital marketing gurus.
And in the meantime, it turns out I only have so many words in me per day. Which meant all the words I now found myself churning out for the newsletter and the socials, were eating into the supply I needed to write about the things I really cared about. To the point, right before my sabbatical, where every time I sat down to write a post or a caption or an event description or even an email, it felt like I was scraping the dregs of my soul. Like I was literally spent, done, ALL THE FUCK OUT, when it came to words.
For somebody who has always written for a living, this was devastating. Maybe I wasn't really a writer after all; or was just a dried-up old ink-well who couldn't keep the pace with changes in digital media. Maybe I'd simply reached the bottom of my "good ideas" barrel, and it was time to reconsider the second career as an author I'd thought was only just taking off.
Or … perhaps it was time to LISTEN TO THE TREE and apply the age-old (for a good fucking reason) adage of quality over quantity, take a long hard look at all the places I was leaking my writerly energy, and make some adjustments accordingly. I'm going to go with the latter.
///
Sadly, in the first instance, this means cancelling the Numinous subscription I launched JUST LAST MONTH. Oh man, I'm so embarrassed about this! The idea was that I'd get enough subscribers to cover paying a social media manager, freeing me up to focus on … writing. But just 45 (beautiful, generous) humans signed up (and if you were one of these 45, know that I praised the Goddess and sent multiple blessings of thanks to each and every subscriber)—roughly one fifth of the number I needed to make it work.
Which is where I could beat myself up, again, for my lack of marketing savvy, and let my self-esteem get eaten away by doubts about my "likeability," and the quality of my content. But what this experiment has actually shown / confirmed for me, is that … running an online business is … just not for me! Is NOT the "one thing" the Ceiba tree was telling me to focus on, and to focus on doing really well, if I want to create lasting security for myself going forward.
Because that one thing is writing. And not just any writing, but the kind of writing that requires lengthy periods of contemplation. That is is the result of weeks, if not months, of reading and research, and the assimilation of multiple ideas, instinctual hits, and incidental discoveries. The kind that keeps me semi-awake at night, searching my subconscious for just the right sentences to make sense of whatever Big Idea is currently romancing me. None of which is possible when I am churning out words to keep algorithms, and advertisers, and subscribers, happy.
For example, this post took me a good six hours to write. Plus editing time. Six hours which have also been preceded by several weeks, if not months, of reading, thinking, noticing, and mental-note-taking on the subject of "why the fuck am I so burned out."
Which means this post is also the result of applying the insights of Jaron Lanier's 10 Arguments for Deleting Your Social Media Accounts Right Now to my own life; of finding, and reading, Gail Sheehey's 1992 book on menopause, the emphasis being on pause, on the beach in Vieques; of listening to Lisa Taddeo describe the 8-year process of writing her book Three Women on Elizabeth Day's How To Fail podcast; of an hour-long phone-call discussing the kind of careers we want by the time we're in our seventies with Alexandra Roxo; of the lasting imprint of a passing comment from a coaching client on how "not everybody who wants to be an entrepreneur also wants to run a business"; of noticing the panic / disgust I felt on discovering Gary Vee's post on How to Create 64 Pieces of Content in A Day; and of paying actual attention to the teeny nips of tension that grip my shoulders each time I sit down to compile another newsletter or Instagram post.
The kind of focus it takes to put all of that into a post like this, is the kind of focus I think the Ceiba tree was talking about. It's the kind of focus it takes to write books (and to help other people write theirs with my "book doula" work). The kind of focus that digital media is the thief of, and which it takes practice and patience and quiet and resistance to cultivate.
Alllll of which is to say, I will still be creating "content" on The Numinous … just maybe 3 or 4 times a year. And that this content will look more like books, and promo for books, mine and other peoples, as THIS is the one thing I'll be focussing on going forward. Turns out my 2020 intention is to be more like the tree (and Lisa Taddeo), in the name of my own majesty, and ultimate sustainability.
///
For more information about my book doula work and publishing with The Numinous contact [email protected]