As Neptune goes direct and the Sun moves into Sagittarius, it's the perfect time to instigate a conversation with the divine. And your journal is the place to start, says Katie Simpson.
Almost 18 years ago, I bought my first journal. It was a small back hardbound book covered in pictures of Mickey Mouse designs. I've since journaled for self-care, self-expression, and so much more.
In the past year, my journal has provided a surprising new benefit: it's become the space where I have dialogues with the Divine. This began on more intense days, such as in the build up to a New or Full Moon ritual. But now I can have these conversations during lunch breaks, late nights, or days when I am sick.
To be clear, these conversations don't require any mind-altering substances. The most I have in my system may be a cigarette or a glass or two of wine. And my most profound conversations with the divine occur when I'm completely sober.
Journaling and talking to God both happen in my journal but look very different. When I'm journaling, I write my thoughts down as they come. With the Divine, it's a written conversation. It sounds and looks like two different people having a discussion. I will write something, and then She responds. The best way to explain it is like the old written notes we used to pass in class. Only I am both one of the writers and the messenger.
These dialogues are a gift, but not one that's unique to me. I believe that with a little time and effort, you can have these kinds of conversations as well. Here are a few practices that have helped me commune with the Divine through the written word.
:: The faces of God ::
As a religious studies major in college, I learned a lot about the different faces of God. For example, in Hinduism, you could see Kali, Goddess of destruction, and Sarasvati, Goddess of wisdom, as two separate entities. Or they could represent two different aspects of the same Divine Feminine.
So often in the Judaea-Christian West, we focus on God as a judge, ruler, or father figure. But for many women, it's difficult to connect with this. Personally, I connect best with Jewish idea of the Shechina. She is the feminine, the maternal presence, that I see when I reach out to God. And as such, she is the one who communicates with me on the page.
To begin a dialogue with anybody, you need to feel a connection with them. It's the same with the Divine. Perhaps you need God to be a fierce warrior. Or perhaps you prefer the idea of God as Sophia, or wisdom.
There's no wrong answer. So think back to which icons, saints or experiences really made the divine manifest for you. Is there a pattern? What images and ideas do you gravitate towards now? Exploring this is a great start to feeling a connection with the Divine.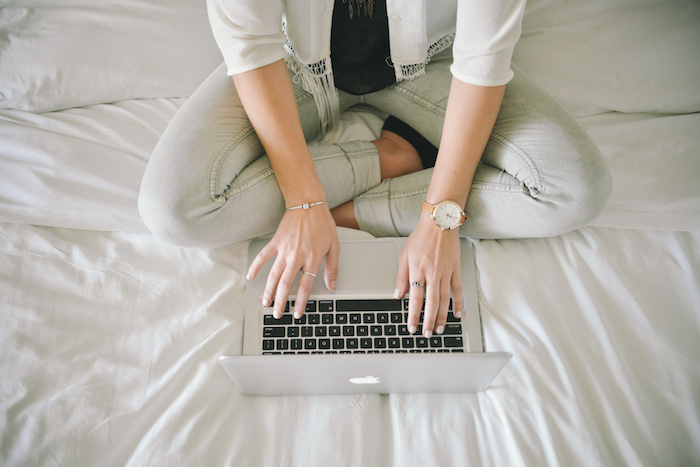 :: The inner God block ::
For me, God has never just picked up the pen on her own and started writing: she writes through me. Which means that before the Divine can show up on the page, I have to make space for her – space beyond the doubt, the criticism and the disbelief around God, that so many of us have developed.
To give her space, a free-writing practice is critical. Each morning, I sit down and write three pages, either typed on my computer, or in a hardbound journal. No editing, no second guessing, just writing. Have I perfected this practice? No, but showing up helps me be honest on the page. This way, when the Divine does decide it's time for a chat, I don't fight it. I just keep writing.
This practice does take time: I've been doing it for over two years now. A couple glasses of wine could be a faster way to muting the inner critic. However, drugs are only a quick fix. Taking the time to show up and write will prepare you to have a dialogue with God, whether it's 8am or 8pm.
:: Just ask ::
My dialogues with the Divine don't start off in a complicated way. In fact, they usually begin with a vulnerable honesty.
"I'm so scared of telling him, what will happen?"
"I'm feeling so tired today, I just want to rest in your arms."
I don't believe there's one right way to start chatting with God. For me, it's about being simple and direct. My dialogues began by me being honest about where I was and what I needed – while the maternal Shechinah simply listened, and held me.
It's very rare that God reaches out to me or begins the dialogue. In fact, I probably wouldn't have had any dialogues with God if I hadn't started the conversations. Why? I wouldn't have even known I was hearing the Divine.
And what YOU need when chatting with God could look and sound completely different. However, it is up to you to show up. It's up to you to say you want the conversation, and in fact it's critical that you ASK for it. The Divine is all around us, waiting. It's up to us to show we're ready for a deeper connection.
:: Say Thanks ::
I've seen it time and again in human relationships. Want to mess something up? Take a person for granted. Believe that your employee will simply continue producing great work and never leave – and just watch that relationship ferment into a bitter and moldy fruit.
The Divine doesn't need gratitude. However, simply assuming that you can continue to have dialogues with God won't do, since becoming proud and assuming of this connection is a surefire way to destroy the dialogue.
Being in the presence of the Divine should always feel like a gift. As such, showing good manners and saying even a quick thank you after the fact can help. There are other ways to show your appreciation: donate money to your favorite charity; give a loved one a call and tell them you love them; pick up some trash from your park.
Divine dialogue has become a gift that helps me be the best version of myself, for others and for myself. Whether you find God on the blank page or in the woods, know that it is your birth right to have time and space directly with her. But taking time to discover what aspects of the Divine resonate with you, and then actually asking for that relationship, are fundamental to creating and sustaining this connection for the long haul.