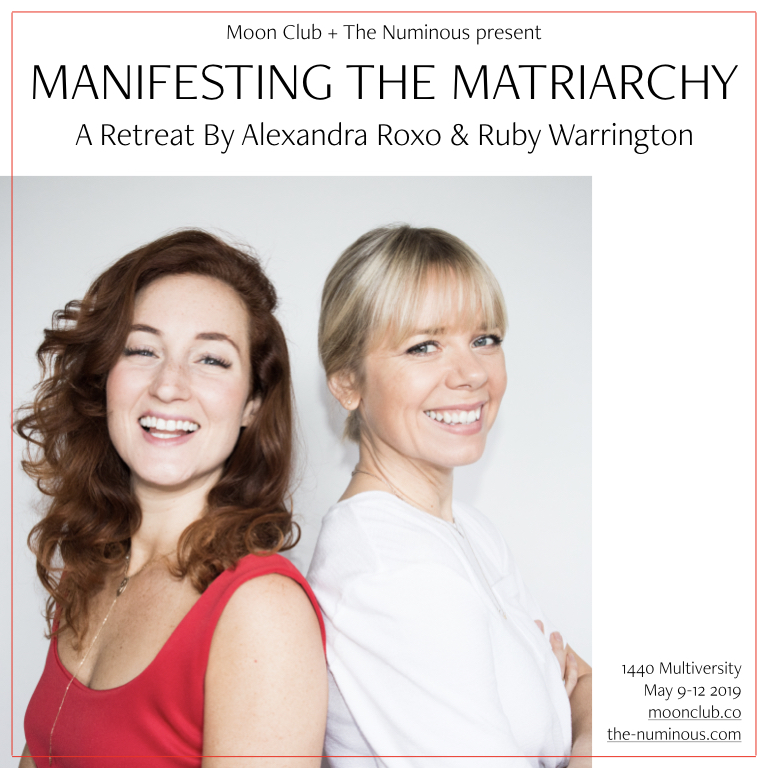 Manifesting The Matriarchy Retreat
May 9—12 2019
Join Ruby Warrington and Alexandra Roxo for a very special Mother's Day weekend retreat.
In astrology, the Moon represents the Universal Mama—the feminine principal that connects us to our intuition, to our needs and the needs of others, to our empathetic, nurturing self, and to the cycles of nature. As we collectively seek to dismantle patriarchal hierarchies and heal our relationship with our Mother Earth, evoking these qualities is more important than ever—in business, in relationships, and for ourselves. In this carefully curated weekend of workshops we'll use astrology, embodiment work, writing, ritual, and storytelling to:
– Gently unpack your "mom stuff" and tend to any fractures in your connection to your biological mother.
– Learn how to feel more at home in your body, exactly as it is.
– Identify your unique emotional needs, and find ways to deeply nurture and care for yourself.
– Learn how to mix emotions with business and tools for feminine leadership.
– Embody the intuition, connection, expansion, and power of a more "lunar" life.
1440 Multiversity, Santa Cruz, CA. Click HERE for more info + to reserve your spot.