A-gender trendsetter and spiritual mentor Andre J shares how a lifetime of fearless self-expression has been the ultimate self-love practice …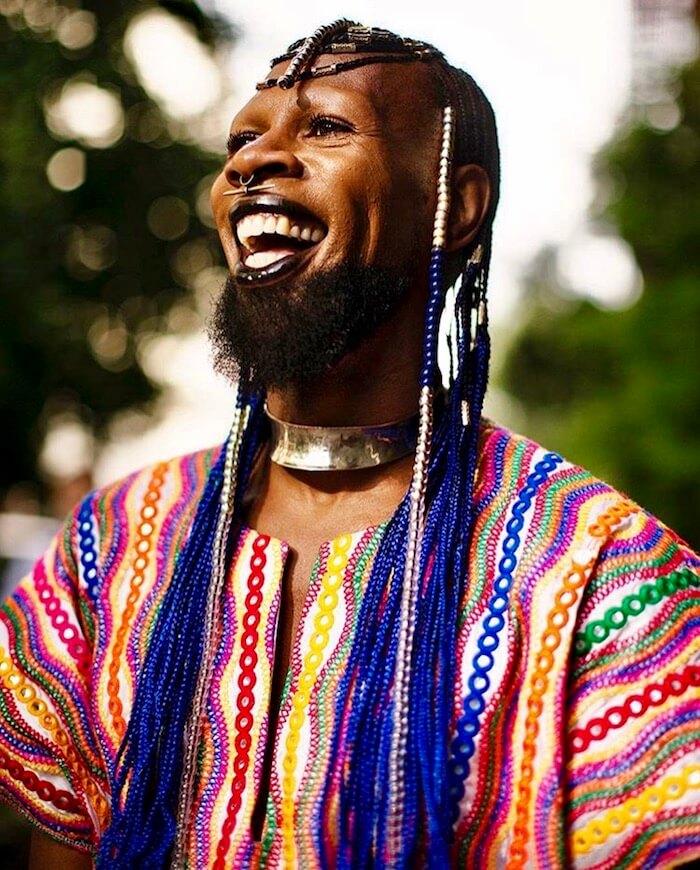 I was raised by a single parent in the Projects of Newark, New Jersey. Our building was a shambles and the hallways had a foul odor, but the interior of my apartment was always spotless. I was a late baby, my mother was in her forties when she had me, so I was truly conceived out of love. However, I'm also an incest survivor, molested repeatedly by my older male cousin for years.
Raised by my mother I had feminine tendencies, and growing up I was called a fag and a sissy. When you live in the Projects, it's easy to become engulfed by this air of unhappiness. People are always nipping and pulling things apart, because unhappiness only breeds more unhappiness, or hopelessness. But that was not my story.
I didn't see people the way that they saw me. I only saw them through the eyes of love, because that's what I received at home, despite the abuse I suffered from my cousin.
It was aged around 10 that I remember catching sight of my reflection in the bathroom mirror, and the words just fell from my mouth, effortlessly: 'Andre, I love you.' In that moment that I understood the importance of loving myself.
It was almost like the Universe was saying to me, 'Baby, you have a choice. Either you will be an evil man, probably a pedophile yourself, a repeat offender. Or you are going to find an inner peace within yourself, and you are going to take this journey, and you are going to live your best life."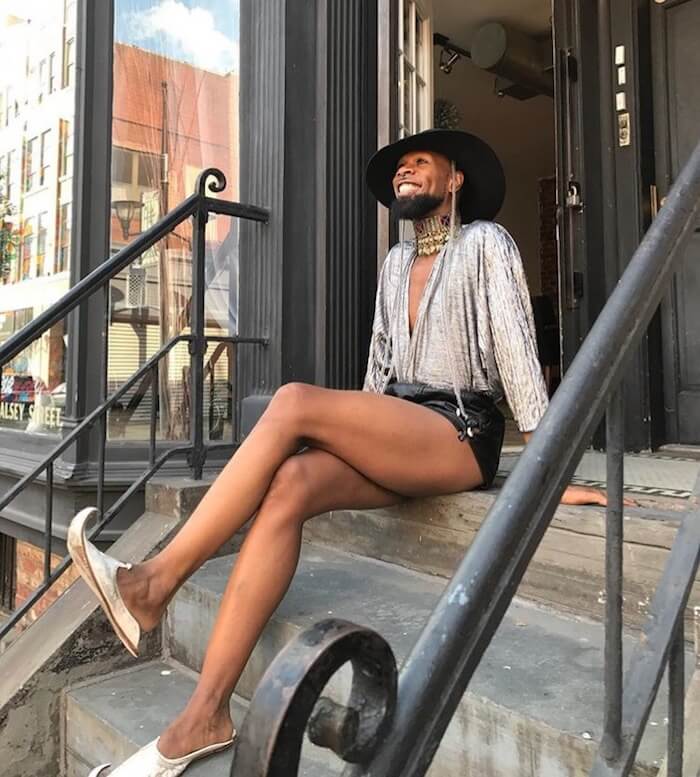 I always had great style, even as a kid. My first job was in corporate America, and I would wear a twill blazer that fit really well, with high-waisted pants and snakeskin shoes. An ascot around my neck. But it was working at Patricia Field, in sales and then as the PR director, that Andre J came about, with the facial hair and the women's garments.
It's what the Native Americans call "two spirits," to identify beings that embody a balance of masculine and feminine. It's only Western culture that tells us that these things are taboo, that gives us these labels and names.
There was one point in my life where there was no one, in New York City or in the world, who actually looked like me. I had created a whole new idea of beauty. The British stylist Joe McKenna saw me and put me in V magazine. Then I was cast by Bruce Weber for the cover of French Vogue.
But I wasn't trying to get on the cover of a magazine. Dressing the way I do is truly just about me expressing myself. And what I have found, is that to stick out like a sore thumb no matter where you are, walking down the street, or taking the subway to the airport, takes courage. It takes strength, it takes tenacity, and it really takes self-love.
You don't really notice how many people are on the street, until all eyes are on you, yelling at you from a taxi cab, coming at you from every angle. 'The fuck?' 'Oh my God.' 'Faggot.' 'Sissy.' 'Your father must hate you.' 'You must have disappointed your mother.'
To still walk with dignity, peace, and courage, and kindness—instead of building thick skin, it actually really softened me, because it taught me how to love others. It was because I was so happy and so free, that BS coming from some strangers didn't matter.
And I began to realize, not only are you not free, you're a hater, and I feel like I really just need to give you a hug! I saw that the fear was not of me, it was of whatever was going on within themselves. As I learned in the projects, if someone is unhappy, they want you to be unhappy too.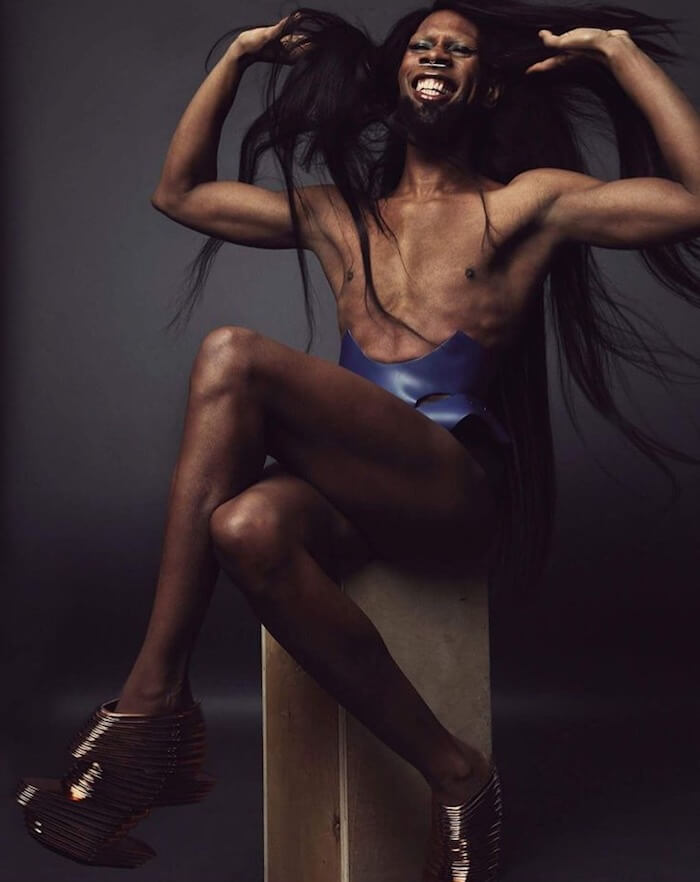 My journey has led to me working with LGBTQ youth, who are not getting acceptance from their families. A lot of them cannot look at themselves in the mirror. When they do, often they will sob, to the point where they have no control. And if there are eight kids in the room, and that one child is crying, we rise and we console this individual, and build a community around them. Because schools are not teaching how to build community.
To see everyone console this young lady or this gentleman who is going through this emotional imbalance, not only is it teaching them how to share their pain in community, but it is also teaching them how to feel empathy for someone else. An understanding of what compassion is.
My work is to have them look in the mirror, and actually acknowledge themselves for the first time as an individual, as an adult, as a person taking responsibility for their own life. To say to them, 'Too many times we seek love outside of ourselves, and well guess what. If your parent hasn't told you or if you haven't heard it from anybody else, today you are going to give love to yourself."
Most of them are closed, and frigid. The only emotion they have is anger. Anger, anger, anger. And I want these kids to understand that the anger is not going to get you anywhere. The anger is only going to kill you. That you cannot receive anything if you are closed. I want for them to understand that they can feel love.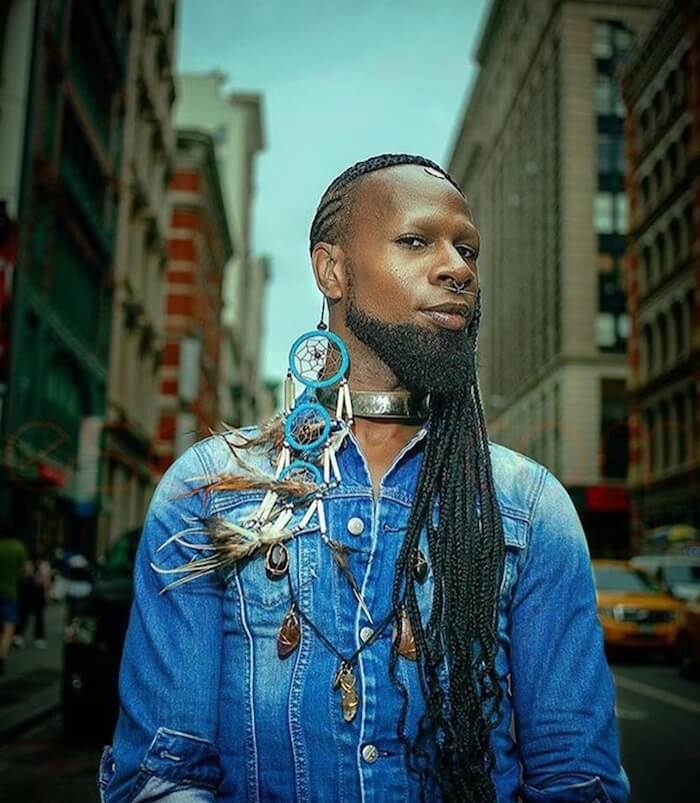 For me, this work is helping to transmute all the name calling, and the incest from my past. It is dissolving. I have been able to show these kids that I am as loving as I am, BECAUSE I know what it feels like to be hurt. To be ridiculed, and to be truly counted out. To be disregarded, as if you are nothing. And that when you learn how to shift it, it is possible to realize that this has never been about me. This has been about what everybody else is going through.
The message I am passing on to them, is that my job is to focus on my journey. That my job is to focus on my path, and to focus on what my purpose is. And that not only do I need to focus on it, I need to live it. And not only do I need to live it, I need exude it from every crack and crevice of who Andre J is. I choose to give this service back to those that do not know. And I sleep very well at night.
Andre J will be speaking as part of a Numinous panel discussion on "Inner vs. Outer Beauty" at Soho House NY on December 4 2017 (members only, 7pm). Discover more about Andre and his work @andrejworldwide