Written on the bus back from DC, Kate Atkinson shares 10 ways the women's march inspired her…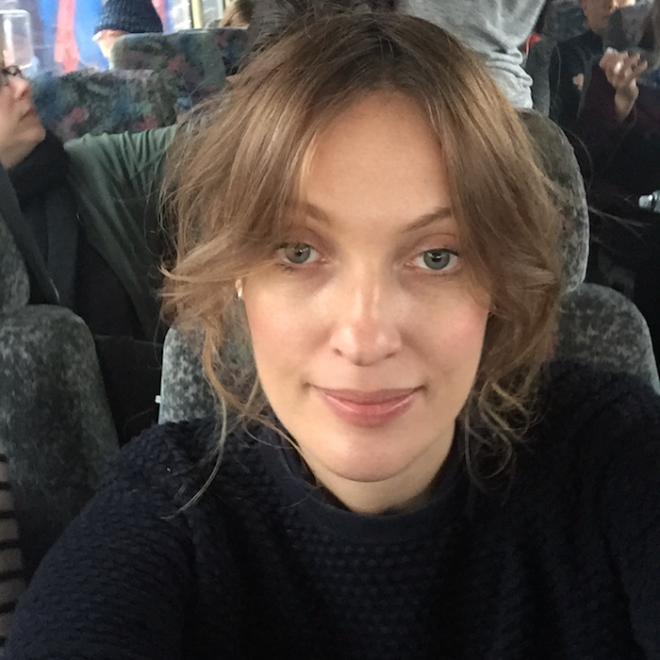 It's been a hell of winter. As revered actress and feminist Meryl Streep so accurately said, opening the floodgates for women world wide: "In the last few months, at times, I've felt as if I "lost my mind."
Melodramatic much? Not for me. I'm a news media professional. I thrive on absorbing information and understanding people, brands, and causes. And since 11/9, I've spent late nights burrowing into internet rabbit warrens. I have spent anxious hours trawling the web and raging with friends via text, levels of research I never conducted when I was at University studying for my BA in journalism.
"Why do this to yourself?" I have repeatedly asked myself. But for some reason, the outcome of a Trump victory stirred me up deeply. It awoke a furious sleeping anger I never even knew burned in me. I have psychoanalyzed it and self-helped it to death. Answers have been hard to come by. And as if my own mental struggle wasn't intense enough, friends have come forward and told me they aren't okay either. Some told of to sexual assaults they'd buried for years. Men who'd groped them as teens and made them feel insignificant—which they'd shrugged off as just another teenage learning curve.
The day after the inauguration, a friend and I got up at 4am and got on a bus to Washington DC to march in solidarity for not only women, but for all whose freedom and human rights feel at risk under the incoming administration. We were joined by 3 million marching globally, all of us saying: "ENOUGH." And actually, "fuck you" to the patriarchy.
In the lead up, I read a media stories talking about this being a "flawed" protest, questioning why it was just for women, asking what purpose it would serve. I'd partaken in aggressive social media discussions and been reminded over and over (at times on a personal level) about the futility of protesting.
Well, this weekend was the most inspiring of my life. Read on for 10 reasons why: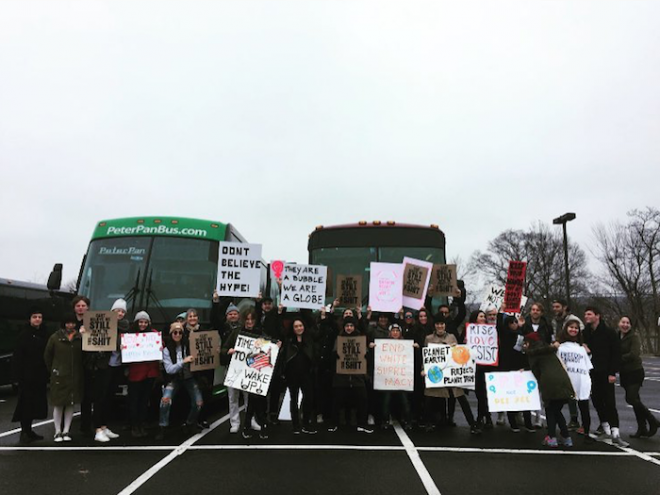 1. HUMANITY = POWER
The reason the current state of affairs is so alarming, is that the bad guy appears to to be winning. Sexual assault and quite frankly, basic human values, are second to power.Or are they? The marches reminded me that WE are the power. Throughout history, we have been reminded of this by figures such as Nelson Mandela, Martin Luther King, Maya Angelou. Collectively, we can move mountains. The only thing holding us back is self belief.
2. CREATIVITY AS CATHARSIS
I saw a woman brandishing a giant crocheted reproductive system. I saw giant moveable sculptures. Puppets, a tribe of Donald Trump horses. Paintings that could have been at MoMA. I made a new artist friend who GAVE me a sign, because she'd painted several to deal with her inner turmoil. I saw people on stilts, rappers, instrumentalists, singers. All using their talents to support the same cause. As well as the funnier signs—"WE SHALL OVERCOMB" being a fave—some really pulled my heart. A two-year-old with a sign saying "I love naps but I stay woke." Creativity helps us heal. I will be painting, paper mache'ing, croche'ing and dancing more in the future.
3. OPEN CONVERSATIONS
So forgive me if I'm oversharing in my post-protest bliss, but I've had two pre-cancer operations on my cervix. And yes it was scary as shit. A while back I would have been ashamed to share this, now, absolutely ZERO fucks given. Why? Because why is that shameful? I've been lucky enough to milk my healthcare system at home in Australia. Other women in this country would have turned to planned parenthood. It's a lottery of luck I wasn't born in a red state. Just today, the NY Times reported that the death rate from cervical cancer in the US is considerably higher than previously estimated and the disparity in death rates between black women and white women is significantly wider.
This whole shit show has opened a dialogue for issues that matter. Who cares if you're depressed? We do. Who wants to hear about your time feeling ashamed for that? We do.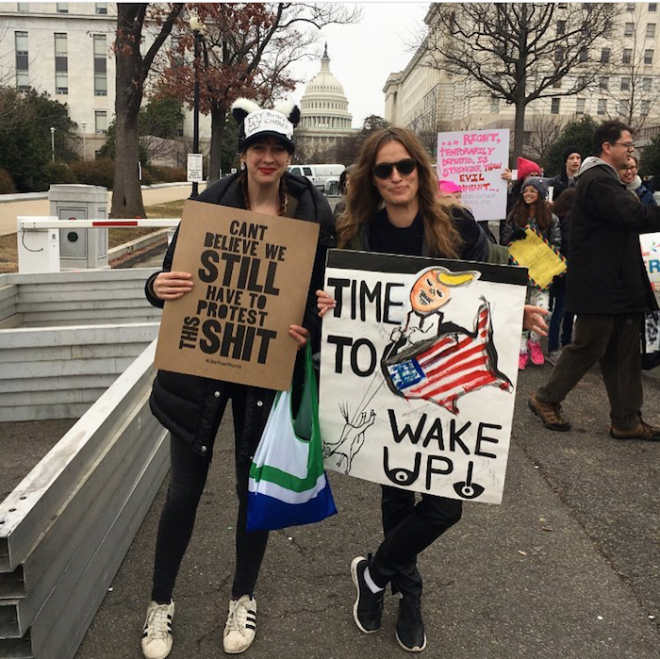 4. REALITY IS UNDERRATED
Ever found yourself writing rants at a computer screen, diving deeply into the lives of people you don't know? A few days before Obama left office, he said: "tired of having arguments on the internet? Try speaking to them in real life." We CAN connect in person. In groups. We are not our computers and our phones. Make a friend. Have coffee. Share. Talk. I am overwhelmed by the blowing up of my phone by women in the last few weeks. Launching fashion brands, needing help in connecting people to do so, media professionals trying to create their own movements and how to all not normalize any of what is going on.
5. NEW FRIENDS
I went to a group pre-march meeting – sober – and I met new people I'm now emailing about doing more "good stuff." Including Elizabeth Azen, one of the nastiest women around with new kickass brand The Dynasty @thisisdynasty. I also made two new artist friends on the bus and spent all day with them, cracking jokes with one common cause – equality . Repeat: we are not designed to be digital humans. One side effect of standing up for what you believe in is the rad new people you will meet.
6. YES WE CAN
It's so easy to be a hater. It's so much easier to say: "this is pointless, we are outnumbered, we can't make a difference." As the march showed me—we damn well can, and it starts with you! Show up. Read up. Stay woke. Get nastier.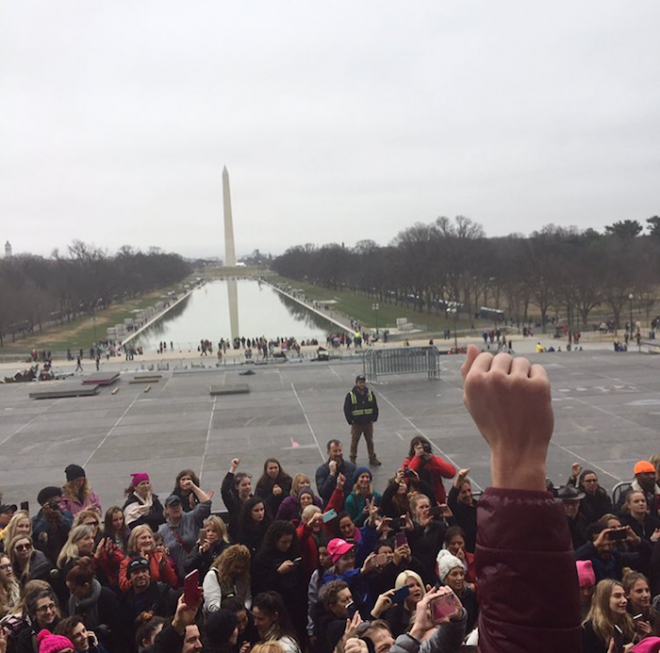 7. FEMINISM ISN'T JUST ABOUT NEUROTIC BRA-BURNING BULLSHIT
Some men still struggle with feminism. Well—newsflash—I'm not really into some of the things those people "hate" about feminism either. I've accepted that being a woman means I'm expected to smile and flirt through life. I use this to my advantage and love it when it means I can get something for free. It's like Madonna said, "I'm a bad feminist." But equally, I've been shamed many times, personally and professionally, for being too outspoken. For not being "refined" enough. And feminism in 2017 is about an end to that BS. In our lives, in our careers. It's fine to sexualize women. Women are damn sexy. But don't patronize us. Like Carrie Fisher said: "Some women play hard to get, I play difficult to understand."
8. SOBER STREET PARTIES ROCK
I've been to my fair share of bars and clubs. I've been a drinker many years. And you know what? This was the best dance party of my life. What could have felt like a wake, a day for tears, was the best "straight" high of my life. Need substances to lose your mind? Try raging down the street to the beat of a gazillion strangers from all over the country singing in time: "We need a leader, not a creepy tweeter!" or: "This is What Democracy Looks like!" with glitter, and signs, and animals, and carnival performers, and megaphones, and parked cars with their own dance parties. Try screaming from a place you never knew you had, a guttural cathartic place you used to roll your eyes if people even told you existed.
9. REMEMBER TO RAGE
The systems are broken. They are not working. People will tell you to cooperate. But it's time to rage against the machine. The mantra: "Fuck you I won't do what you tell me." The media aren't cooperating—neither should we.
10. IT BEGINS WITH ME
I've been on my own journey with self-care this last while. Not always easy. I'm not just talking about eating right and SoulCycle. I'm talking about that breaking that feminine perfectionist tendency for blaming myself, and giving myself a goddamn break. Move towards this, I am finding, and the whole world becomes more accepting of me. I haven't mastered it. But none of us can participate fully, until we believe in what we are here to give.
So please keep marching girls who just wanna have fun(damental rights). I'm with you every step. Get nasty. Be nastier. Read, write, CREATE, and stay woke. And like the most badass feminist ever, the Wicked Witch of the West, once said: "I'll get you my pretty, and your little dog too."