When I agreed to co-host the launch of a book called "Thin From Within," it was because I wanted to talk about what makes that word so triggering—and to confront our collective conditioning about body-image, weight, and food …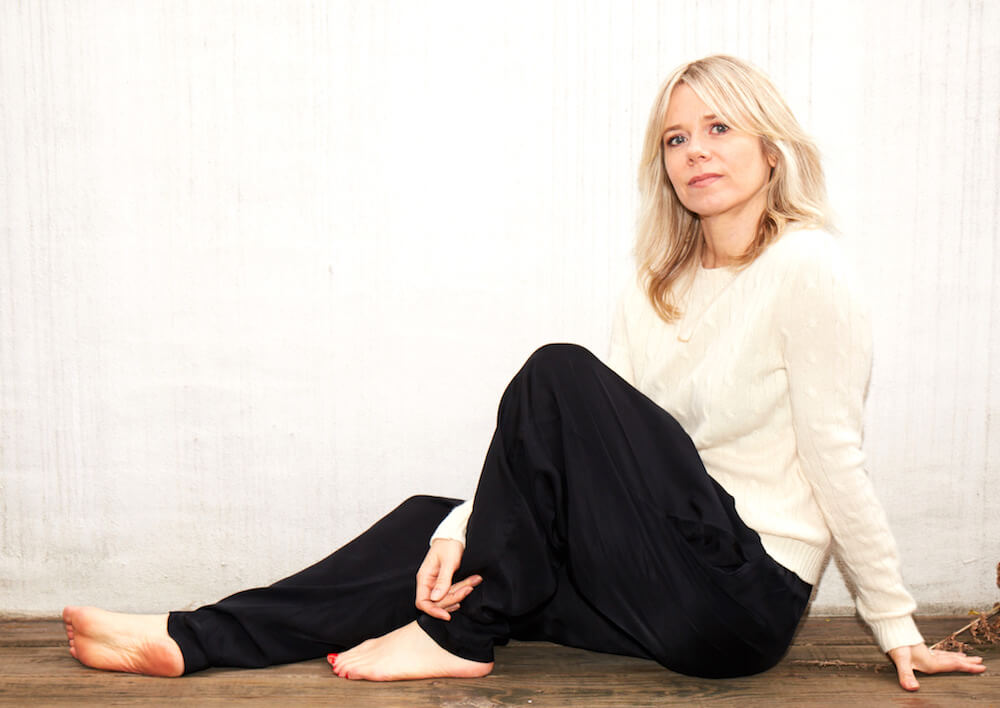 When I announced that I was going to be co-hosting the launch of my friend Robyn Youkilis's new book, Thin From Within, I was expecting something of a backlash. This platform, which is so much about healing and self-acceptance, promoting a weight-loss program? Only one person actually reached out on Instagram to voice her concerns, to which I replied: "I hear you, thank you. Because we really need to talk about this."
*Since writing this post, many more people have also let me know that my supporting Robyn's book has been disappointing (at best) and / or been triggering for them. Over the past week, thanks to conversations sparked by this incredible, conscious and loving community, I have learned so much about the issues with promoting thinness and the thin ideal—even when approached from a holistic angle. Conversations that have been uncomfortable, confrontational, and absolutely VITAL. Not only for me as I grow into my role as a leader in the wellness space, but also as a human being with all my own messy and imperfect feelings about body-image. 
In response, I have decided to add some of these key learnings to my original piece—which I am including in bold below. Inclusivity and integrity are two of the core values of this platform. I am aware that the layers of complexity and shadow surrounding this issue mean I cannot possibly speak to each and every reader individually with my words here—but my hope is that sharing my own journey towards cultivating more awareness about the issues herein, may help others to do the same. 
Yes, it seems counter-intuitive. My own eating disorder history aside (more on that in a minute), the whole message of my book is that true health, happiness, confidence and wholeness, is the result of peeling back the layers of conditioning we're subjected to from birth. Including, for example, the toxic message that to be beautiful, valued, and loved, our body must look a certain way and never exceed a certain number on a scale.
But the fact that our thinking about "thinness," as women and as a society, is so fraught and so emotionally charged, is exactly the reason it was a HELL YES when Robyn asked me to co-host her launch. Anywhere there is a stigma, a taboo-the places our pain points are most easily triggered-is exactly where we need to be focusing our awareness.
*The HELL YES came from deep in my Soul—because it knew I still had so much to heal from personally when it comes to body image. That there is so much shadow work for me still to do here. They say you are not in a position to teach from your experience until it has been fully integrated and healed, and it was only after posting this article—which made me sick with nerves—that I realized how far I still had to go …
>>>
Thinness, and what that word means to me, had also been on my mind the past year. The stress of having my book come out had led to me losing weight "naturally" for the first time ever. Meaning I was so frantic juggling everything (extreme feelings of vulnerability about sharing my most personal work to date included), I would literally forget to eat. When I had an appetite, that is. Whereas lately, it had gone the other way—meaning when things got chaotic I saw food as both pleasure and fuel, a comfort and a way to nourish and get back into my body.
This mentality is one of the reasons I'd considered myself fully "healed" from my teenage eating disorder. An anorexic, I spent the ages 16 through 20 living mainly on apples, milky lattes, and the occasional muffin or handful of dried prunes (I was chronically constipated, of course). For those who know my story, these were the "Capricorn" years.
After I left him, I found a way of eating just enough of certain "safe" foods to maintain a consistent size 2 frame. My body a tool to help me gain favor with my new fashion industry friends. As far as I was concerned, this meant I'd "got over" my issues. I never had any therapy or even really acknowledged to myself that my ongoing obsession with thinness was problematic. Not least because, as far as I could tell, my body image issues were nothing out of the ordinary.
*I have bolded a key line here. The fact I had never dug into the root of my issues—or acknowledged the "thin privilege" that I have benefited from as a result of my body shape, natural or as a result of disordered eating—makes me absolutely under-qualified to speak on this issue. Writing this post was a clumsy first step towards educating myself—since my aim was to spark a conversation that I and my readers could learn from. I am committed to educating myself fully on body-image going forward so that I can speak to this from an empowering and inclusive place. However, I also acknowledge that my own thin privilege makes me not the best spokesperson. Means that whatever my own issues, I cannot know how it feels to have been shamed, name-called, or discriminated against because of my size. And I so am also investigating ways to invite people representing all different body types to share their stories here instead.
I also found this great article on thin privilege, which everybody needs to read.
Being in an abusive relationship, coupled with my Aries competitiveness, meant I might have taken things a little further. But as far as I could see, the vast majority of women I knew (and plenty of men) felt exactly the same about thinness as me—that it was our desired / required body shape, and one which invariably meant constant, careful monitoring of our calorie intake.
A war against weight we were all obediently waging together, without ever questioning how we even came to be enlisted.
*Questioning the reasons for society's and my own obsession with thinness has been painful and humbling—as I can now see clearly the inherent fat phobia in the pursuit of the thin ideal. Fat phobia that is RAMPANT and that goes largely unchecked in our society. I'm handing over to Jillian Murphy from Food Freedom Body Love here, who helped me understand this better: "THIN is not an ideal. It's also not shameful. It's just a state of being that is available to some humans but not others. Unfortunately, especially for women, THIN has come to mean superior (smarter, more together, more in control, more desirable, healthier, more fit, etc etc etc) and women are consistently encouraged to do things that are detrimental to their physical mental, emotional, and spiritual health in order to achieve the thin ideal—which may or may not ever even be possible, and most definitively does not directly result in any of those aspired qualities." (Jill's full comment on this post is below)
But over the years, as my career progressed, my self-confidence grew, and I began to value my peace of mind over the number on a scale, I slowly let go of all that. Including the scales themselves. Began to focus on eating "healthy." Without thinking too much about it, my weight steadied out at where it had been after my 16-year-old body first began to bloom into womanhood. A comfortable size 4-6.
*There was no reason for me to include a "number" here—especially since I just shared how part of my healing was letting go of scales and mirrors. Numbers just create more comparison which is sheer poison when it comes to body image pride.
My "disordered" history with food was firmly in my past. Or so I thought.
>>>
Cut to the summer of 2016. At the age of 40, I have purchased my first ever pair of denim hotpants … and I feel fucking GREAT in them. Sexy and strong and sassy. For the first time in my life, I even like the way my legs look in short-shorts and flat shoes. You can imagine my surprise, then, when I got weighed when I went for a health check and discovered I was 10lbs heavier than I had ever been.
*More numbers—ugh, this is my old magazine industry conditioning showing. It makes me so mad when magazine interviews always list a woman's age, but rarely do the same with men. And I just did it here. Again, ugh.
It was in this moment that I truly understood what always felt like kind of a lame cliché-that "thin" (or rather, the desirable attributes we have attached to what is actually just an innocent adjective) is a feeling. Sexy, strong, sassy. How I felt at my heaviest weight ever. This was a cause for celebration, surely!
*Thin IS just an adjective—but not such an innocent one thanks to the layers of meaning we have learned to attach to it. I also can see now how sharing my personal experience of being "thin" or "heavier" here is problematic, as it further emphasizes the dangerous messaging that feeling a certain way is a result of being a certain size.  
No. Seeing that number on the doctor's scale, my immediate reaction was "WTF. That can't be." Meaning, that is not a number that my body is allowed to be. The ancient conditioning hadn't gone anywhere. I'd just got so confident and happy in myself (having shifted my career in alignment with my purpose and done a shit-ton of healing work on myself, for example), that it no longer had any hold over me.
The weight I went on to lose the following summer, following my book launch? Part of me, the part that never actually healed after all, welcomed the nausea and the insanity. Was secretly stoked that the intense heat of my anxiety appeared to effortlessly melt those extra 10lbs from my frame. There was even a certain Angelina Jolie-style glamor to it; as if this was how brave women let the world know we still had some fight in us, despite our suffering.
*This is where I began to think more deeply about WHY we are so afraid of fat. Why fatness is equated with laziness and self-indulgence, while thinness is upheld as virtue. I think this ultimately comes down to control. We, women in particular, have internalized the message that to control our appetite, our desires and our needs is "good," while to acknowledge our hunger / needs (for food, recognition, to say no, to claim space, to relax, to come, to create), and to demand that our needs be met, is not only unacceptable—but something to be afraid of. I posted about this on Instagram a few weeks back, after I first agreed to help Robyn with her launch, along with this quote from Naomi Wolf: "A culture fixated on female thinness is not an obsession about female beauty, but an obsession about female obedience. Dieting is the most potent political sedative in women's history. A quietly mad population is a tractable one." 
>>>
Looking at pictures taken then, I see a thin woman. Meaning, a weak, fragile, undernourished woman (just some other adjectives for "thin"). A woman that I am ALSO learning I must love and accept as part of me, as much as I do her sexy, sassy, strong, 10lbs heavier counterpart. The past year has taught me that healing my weight and body image issues cannot mean locking the thin me away in the past and throwing away the key. Impossible, since the key—the shame and vulnerability that unlocks her padded cell—is also a part of me.
And so, it was a "YES" when Robyn asked me to co-host her launch. I even had her use one of my "thin" pictures in the artwork for the event (above).
*I have removed this image. I had thought that explaining how I really felt at my thinnest (weak, fragile etc.) would expose how this "look" is NOT ideal—but ultimately I was just sharing another picture of a thin white woman, and perpetuating the problem. In the words of one reader: "If I'm to be brutally honest, viewing that poster my thought was, 'easy for them to talk about eating healthily and loving yourself when they're both skinny.' It made me feel less-than." This has made me think much more carefully about how I can create a more visually diverse platform that is truly inclusive and empowering to all. 
The title of her book may be triggering, but without acknowledging the part of me—of us—that loads the word thin with generations of personal and societal pain, it will always be there, starving for our love and attention, and silently screaming to be heard. To give that part of us what she (or he) needs in order to be nourished, we first have to learn to listen—to find out what it is she believes "thinness" will fix. 
There is nothing inherently evil or wrong about wanting to lose weight. People will buy Robyn's book for all kinds of personal reasons, some from a place of deep self-love, and some from a place of weakness and fragility. But what they will find within, is a program designed to help them: "finally feel the lightness you've been searching for on the scale." Meaning, a way of thinking about food that has nothing to do with numbers and targets, and is all about addressing the emotional and physical dis-ease of traditional dieting (yes, especially supposedly "healthy" juice cleanses and Whole 30s).
*Robyn is a smart, loving, and inspiring voice in the wellness landscape. Yes, she too benefits from her thin privilege, and in deep conversations we have had this past week about what's come up for her since bringing this book out, she has acknowledged her own naiveté in thinking that the title would not elicit such a charged response. At her launch, she shared how she initially said "no" when her publisher asked her to write a weight-loss book—but then realized she could use this as a way to talk instead about how to shed emotional weight. Problematic, still, as it still implies that "less weight" is "good." But also, considering the dominant mainstream messaging about weight and body image, a step in the right direction. Robyn has also thanked me (and the Numinous community!) for helping take this conversation deeper than perhaps she ever intended—as her Soul intention is also to help end our collective fucked-up-ness about body image and food. 
As leaders, and as humans, neither of us are perfect. The best we can do when we make a mistake, or discover a blind spot, is to see it as an opportunity to become stronger and wiser. I'm going to end with this quote from Anne Richards, the second female governor of Texas, as shared by the IG account @words_of_women: "I believe in recovery, and as a role model I have the responsibility to let young people know that you can make a mistake and come back from it." Not only that, but to use we've learned to help us all to heal.
I also acknowledge that this is a complex and multi-faceted issue. This post in itself may have been triggering for some, and it contains generalizations that are a reflection of my personal experiences—also that I have my own blindspots about this issue, which I am seeking to overcome. But wherever you are at in your personal journey with food, weight and body image, know that we are all in this together—and that more honest we can be with ourselves and each other about it, the more resilient to our thin-conditioning we will become.
>>>
Thank you, my Numinous community, for your conscientious, intelligent, and ultimately loving feedback on this piece. I wanted to start a real conversation about these issues, and you have stepped up to the plate! I am expecting further comments of course, and welcome those which are in service of the core values of this platform—which center around healing and growth through awareness. I love you.