A unconventional lentil soup is the perfect recipe for Virgo season…Concept and styling: Georgia Ashdown, Dish Pig; Words: Mojave Rising; Recipe: Alex Watts, Dish Pig; Image: Chris Chen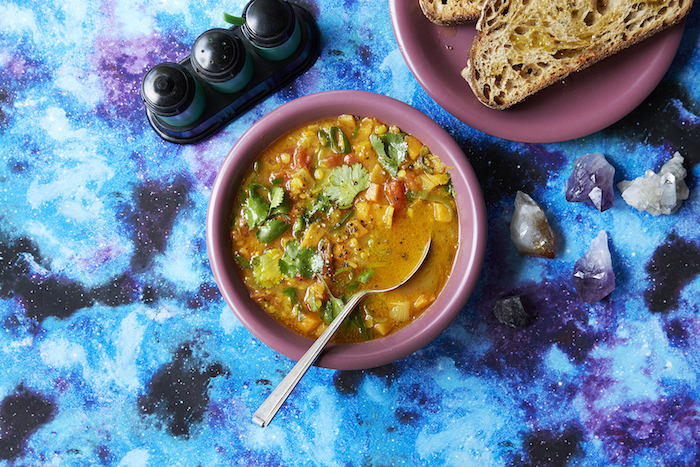 Virgo season conjures careful concoctions, herbaceous blends, process-based cooking, and the delicious sensation of detoxification. The zodiac's most meticulous minx invites us to break out our measuring cups and to revel in acts of sorting, discerning, and finely chopping.
It's a month to celebrate how singular flavors contribute to the integrity of the whole, hearty stew of being human, and how complex proportions demonstrate that in doing the difficult work we are sumptuously rewarded for our care.
We've chosen a spicy, delightfully intricate yet simple, sweet and sour soup for Virgo season—perfect for channeling the earthy goodness inside masked by outer complexity. There's also the collisions between perfectly proportioned piles and the glorious moment of blending, where we let distinction merge with the world as it is and serve it on up.
Astrology's so-called "virgin" is actually a wild, witchy woman who lives by her own code and gathers provisions for a proprietary brew befitting a self-contained queen of everyday alchemy. Her soup is for celebrating each piece of ourselves: from the tangy lime cheeks, to the sweet, sweet coconut cream on top!
RECIPE FOR VIRGO SEASON :: SWEET AND SOUR LENTIL SOUP
serves 4-6
Chefs notes ~ with the addition of some a dollop of coconut cream and harissa this soup can really come to life.
1 red onion diced
1 red capsicum, charred and peeled
2 tsp ground cumin
1 tsp ground tumeric
1 tsp ground coriander
100ml grapeseed oil
600g Kumera diced approx. 1cm
4 ripe tomatoes diced
2 garlic cloves sliced
1 long red chilli, de-seeded and sliced
1tbs tamarind pulp
100 ml boiling water
1 tbs vegan fish sauce
½ tsp tumeric
1 cup Red Lentils, soaked
1.5litres veg stock
1 handful chopped coriander
1 handful shallot (scallion) rounds
2 Lime cheeks
Wash the lentils under cold water, and repeat three times then strain off the water.
Soak the tamarind pulp in boiling water and pass through a sieve to remove seeds.
In a heavy based saucepan, fry the onions and garlic in grape seed oil until, soft but not coloured. Add the chilli & spices and cook for a further 5 mins stirring constantly. Add the kumera, red lentils, tomato, tamarind, red capsicum and veg stock. Cook until the Kumera just begins to soften and remove from heat.
Season with fish sauce, chopped herbs and serve with a grilled lime cheek.