As the new year draws ever closer, the 2018 Aquarius Waxing Moon wants us to step into our fullest power and make a radical stand for our mission-driven dreams, says Jennifer Racioppi …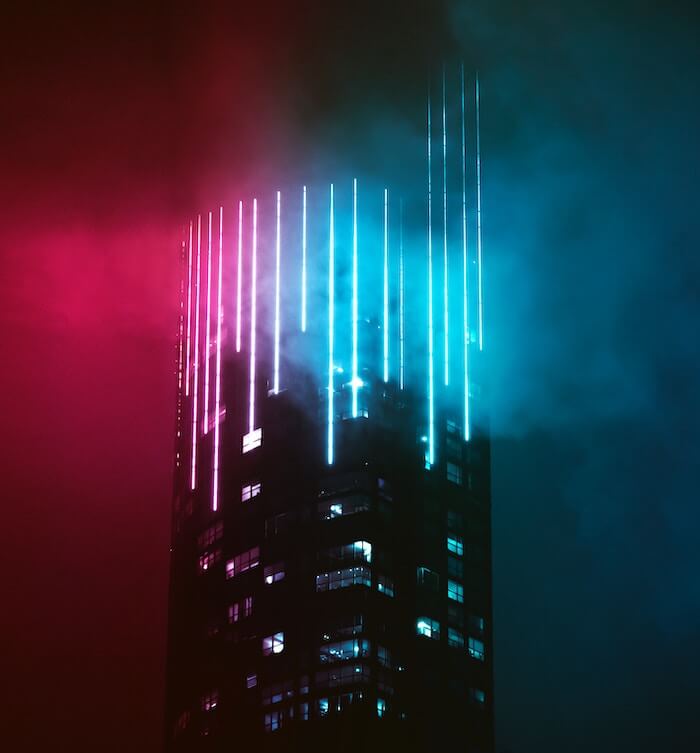 Waxing Quarter Moon // November 15 2018 // 9.54 am ET // 23 degrees Aquarius
As the Sun moves through the fixed water sign Scorpio, and the last of the leaves find their way to the earth to decompose, the 2018 Aquarius Waxing Moon highlights transformation—especially as it relates to you rising on behalf of your mission-driven dreams.
With the Sun setting earlier and earlier, and 2019 becoming eerily closer each passing moment, the current astrological dance calls forth these transformations. Even for those on the other side of the world, where the Sun waxes instead of wanes, the essence of Scorpio season prevails; signifying a time to release limiting beliefs that hold us back from stepping into our full power.
The Aquarius Waxing Moon coincides with the end of Venus' retrograde journey and the beginning of Mercury's final backward spin of the year—stimulating radical action on behalf of your most heart-driven goals. Given that Mars' and Venus' respective retrograde cycles have commanded heavy doses of emotional sobriety, 2018 closes out with all of us feeling way more conscious and aware! Especially when it comes to understanding the extent to which we still live in a racist world, the fragility of our environment, and some of the bypassing undertones that infiltrate spiritual communities.
This Waxing Quarter Moon boldly highlights both how far we've come AND how much further we have yet to go …
///
//The Cycle//
This Waxing Quarter Moon marks the halfway point between the Scorpio New Moon and upcoming Gemini Full Moon. On the most basic level, it asks us to recommit to the goals and intentions we set just a week ago when the Sun and Moon aligned at 15 degrees of Scorpio.
From a more nuanced perspective, however, this Waxing Moon directly relates to the energy of the Lunar New Year, and the New Moon in Aquarius on Feb 15, 2018. Aquarius, the sign of futuristic visioning, represents dreams, ideas, and collaborations. What were you dreaming of 9 months ago? Now's the time to assess the progress you have (or haven't) made on behalf of your deepest heart's desires.
Then, ask yourself this: Are my goals helping to bring this world to a better place? Am I (sincerely) leading with love? Am I striving to create more equality, inclusion, and justice? How can I make my personal growth journey more socially aware so I can contribute on a higher level to society in general?
///
//The Transits//
This Waxing Quarter Moon also conjoins Mars, who has spent an extended period in Aquarius due to his retrograde journey—the sign that represents progressive, global, values. Mars' retrograde cycle happens approximately once every two years and asks us to eradicate self-serving ambitions. Since the Waxing Moon and Mars both trine Venus as she wakes up from her retrograde cycle, this particular cosmic moment highlights the need for societal change even more.
Venus has two phases, an "evening star" position, and a "morning star" position. When she's in evening star, she rises as the Sun sets and is in her receptive position. When she's in her morning star position, as she is right now, she rises before the Sun and is in her most fierce, righteous, phase. Venus, now awakening from her retrograde journey and rising before the Sun, pushes us to go after our values, beliefs, and dreams.
And given that she's receiving a beam of support from both the Moon and Mars as she stations direct, it's time to own humanitarian values—fully commit to your determination to make positive changes in the world. Venus, after all, relates to love. In her morning star position, she stations direct in Libra, a cardinal air sign that fiercely stands for justice. Use this to your advantage, and go after radical progress on your dreams!
///
//The Square//
With the Sun in Scorpio squaring the Moon in Aquarius, we could find part of ourselves stubbornly resisting progress. Both Scorpio and Aquarius are fixed signs after all, and neither readily acquiesce. "Radical change" might feel impossible—if even desirable! With Mars in the mix, we might feel moody, possibly even a little aggressive/passive-aggressive. Depending on the level of consciousness we bring to the day, we might even feel defensive. On the plus side, Scorpio, beckons profound truth, while Aquarius is a sign that pushes us into alignment with our values. With positive self-talk and a righteous commitment to our values, we can find the necessary conviction to step out of our demise and into our resurrection.
The best approach? Use the friction of the square to give yourself a reality check. If you find yourself feeling defensive, name it. If you feel angry, express it. Then tap into the energy of Venus stationing direct and commit to your becoming. Make a vow to offer your journey and growth to the betterment of the world. Choose to face your future, as opposed to your past and your pain.
///
//The Opportunity//
This Aquarius Waxing Quarter Moon, packed tight with nuanced astrological meaning, punctuates a long and winding road of retrograde challenges. Thankfully with Venus on the eve of her direct station, forming an ideal angle to both the Moon and Mars, we can use this opportunity to go high and trust in a radical leap forward.
Review the progress you've made over the last nine months, or since Venus went retrograde on October 5th. Or even since the Scorpio New Moon that happened last week. Use this as a springboard for your next big leap. As the Sun wanes and nature decomposes, trust that it's leading you to your rebirth. This energy will magnify even more in the days following the December 21 Winter Solstice. For now, stay in your strength, and remain committed to the life you most want to live.
2018's cosmic curriculum commanded maturity. The heavy retrograde activity overhauled mindless ambition, highlighting vapid behaviors, and asking all of us to embrace emotional sobriety and get to work on behalf of the world. Now's the time to embody what you've learned. We are all in this together!
Discover more about astrologer and success coach Jennifer Racioppi and her work HERE and follow her on Instagram.