A Nu way to vacation on the ultimate hedonist's playground: Jodie DS introduces Ibiza's new spiritual party scene…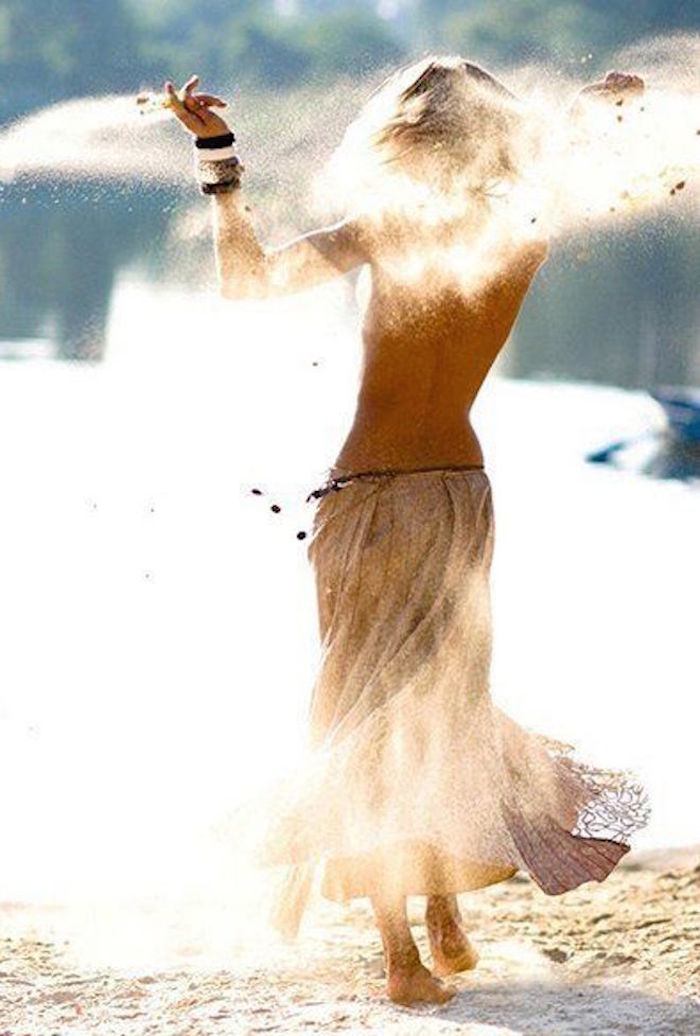 Ibiza. The quintessential hedonist's playground, and ecstasy-fuelled party paradise. But, in keeping with the global shift in consciousness that's about tuning IN to our innate bliss verses getting OUT of it with drugs and alcohol, the summer of 2016 has witnessed the birth of Ibiza's new spiritual party scene.
And these parties have depth. Designed to take you on a journey though the senses, the idea is to leave you hangover-free and feeling inspired, revitalized and refreshed. Many events also have a conscience charity focus to help participants to be the change we all want to see in this world.
In a sense, it's a return to the hippie roots of Ibiza's original party scene, which was about coming together to raise consciousness through dance, often out in the open air, on beaches beneath the stars. And if an influx of big money over the past decade has seen flashy conspicuous (champagne Sangria) consumption, then high vibe events this summer have ushered in a welcome alternative.
The height of the summer season might be coming to an end, but there are still plenty of happenings in late September and into October. Check out our selection and let Ibiza's new spiritual party scene inspire you to get high on your own supply…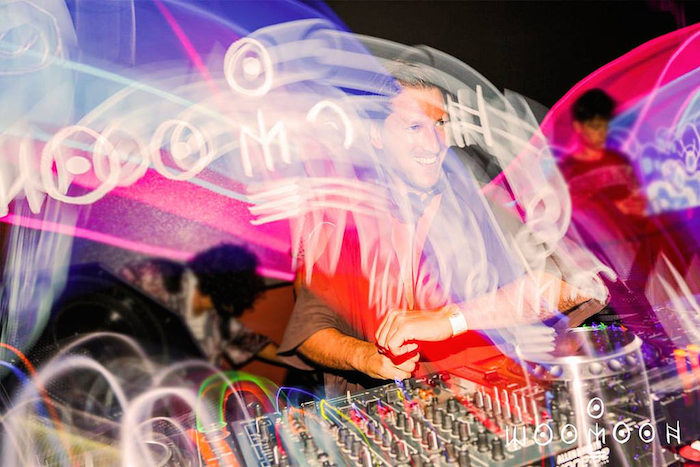 WooMoon
Wednesdays at Cova Santa 6pm-6am.
Now an island favorite, WooMoon is a party that will take you on a beautiful artistic journey with a new story at every event. Imagine a night out that's all about art, live performances, healing and interactive experiences, paired with mesmerizing music to feed your soul. There's also a great variety of food and drink for all dietary requirements including vegan and vegetarian curries, ice creams, cocktails and organic acai bowls from Amazonia EU. The event is also family friendly with a kid's circus and face painting. You will fall in love with the picturesque location of Cova Santa located in the beautiful mountains in San Josep, while at midnight the party continues downstairs all the way until dawn. All you need to enjoy this party is an open mind and an open heart.
Line up includes: Atish, Audiofly, Behrouz, Begun, Chancha Via Circuito, Chris Len, Crussen, Hraach, Ida Daugaard, Jhon Montoya, Luca Musto, Lulacruza, Mees Dierdrop, Noema, Rampue, Sabo, Timur, Unders, Valentin Huedo, Viken Arman and More.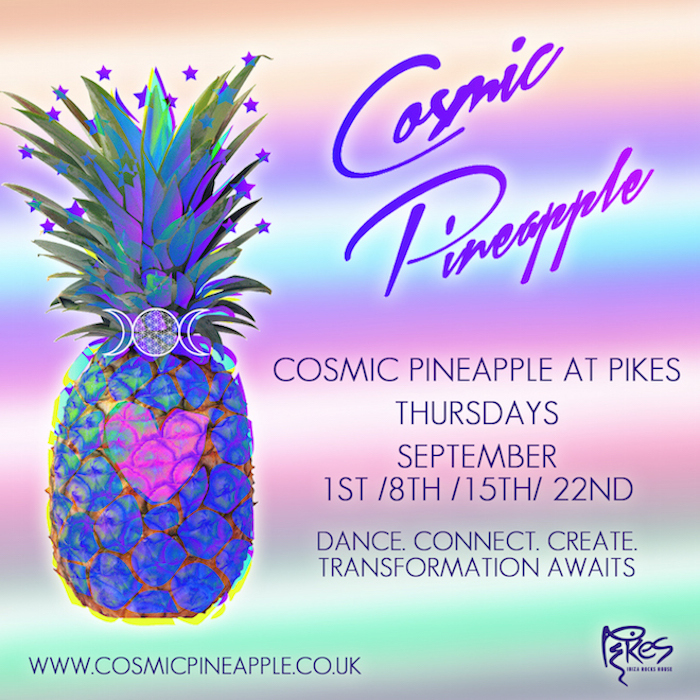 Cosmic Pineapple
Thursdays in September at Ibiza Rocks at Pikes Hotel 4pm-4am
Every Thursday in September at the eccentric Ibiza Rocks at Pikes Hotel it goes Cosmic Pineapple! The conscious event positions itself as a place to dance, connect, create and transform. From spiritual workshops to cosmic activities there is something for everyone, combined with great music from the word's most visionary DJ's with the lineup remaining a secret until the day. Workshops and activities include yoga, energy work, live art, cosmic hairstyles and make-up, conscience talks, card readings, astrology, nature workshops, outdoor cinema, night market, healthy food and drink and much, much more. The community and charity focused event is free entry and welcome to children before 10pm. All proceeds going to Green Peace, Young Minds, Love Support Unite and the David Lynch Foundation.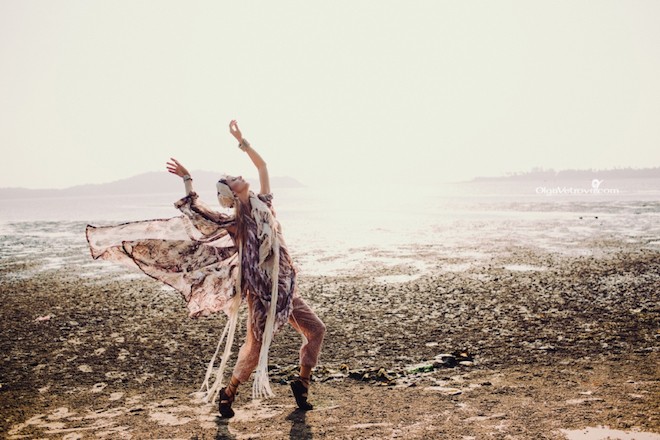 Sundance: a dancing freedom practice
Various Saturdays from 7:30pm to 10:15pm announced sporadically at Lamuella Ibiza
Dancing is a medicine to express yourself, and to heal and transform, and this mindful dance practice helps you to surrender, to let go and to focus on the present moment. For two hours there is no speaking, while one of the best inspirational DJ's will take you on a musical journey through the senses—connecting you to Earth, Water, Fire and Air to allow you to connect deep within yourself. The sessions usually begin with a powerful meditation. Dancing is living, living is moving, moving is dancing. No dancing experience is necessary.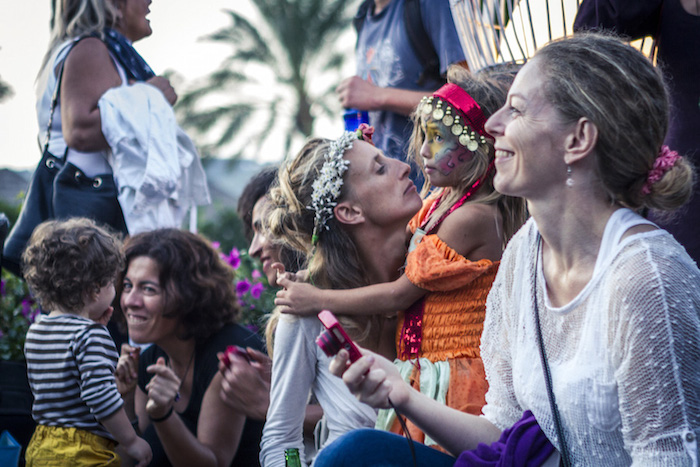 Ibiza Spirit Festival
October 2 at Atzaro 11am—10pm
An event that brings the people of Ibiza together to share in the joy of our true spirit. The event combines creative dance, yoga, tantra, musical meditations, workshops, inspirational talks, singing circles, natural food and drinks, great music and much, much more!
The schedule for the day is endless, but a few not to miss party alternatives are:
Kundalini Flow Dance with Cecilia Dyaljot
This workshop involves dancing with spirals and waves beginning with a short meditation to ground to Mother Earth to awaken your Kundalini Energy. The dance movements connect you to the source of the power to produce heat to unlock the energy that is rooted at the base of your spine.
New Moon Dance with Veetmaya
This dynamic ritual will inspire you to set new intentions and help you manifest it. You will dance together to express your intention through the body allowing energy to flow. Through your breathe you will charge your body with energy and dance to let go of what needs to be released making space for your manifestation to begin.
Music Moves the Spirit of Ibiza
Various musicians and DJs will be filling the air with melodic and uplifting sounds from the day to night. Kareem Raihani will do a Sunset Dance Celebration through Ecstatic dance paired with inspirational music. Celebrate life through rhythm, sound, movement and expression. Kareem doesn't just mix music, he mixes emotions.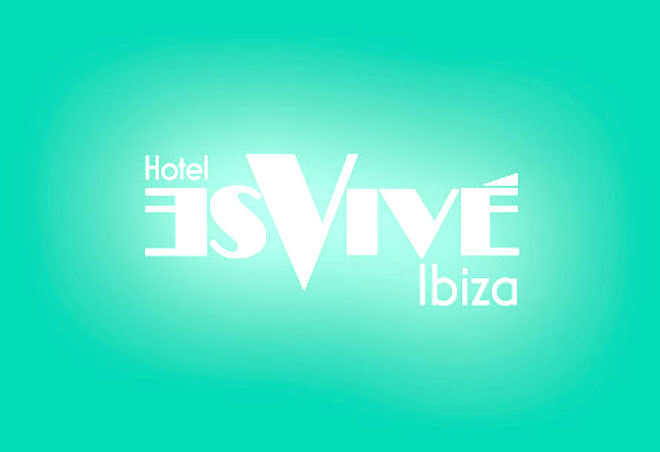 Virtue Ibiza brought to you by Rainbow City
October 27 to November 1 at Hotel Es Vive
After their success with Yoga Mornings in Ibiza, Rainbow City are back with a full retreat for healthy hedonists at a new location, the Hotel Es Vive. The 5-day experience at this magical venue will have a party vibe—but without any toxic substances. Virtue is a concept to show you can have fun and be healthy at the same time, with alcohol completely removed from the bar and replaced with fresh fruits and super foods. Daily yoga, reiki, mediation and more will help guests settle into a beautiful, peaceful environment that will be hard to leave.
The 5-day launch week package is 595 Euros per person. The package includes:
Welcome party themed 70's, 80's and 90's
Organic, plant powered health bar
Daily healthy buffet or menu breakfast and dinner
Sunrise and sunset yoga, healing and meditation sessions
Mystery group excursion
Daily live sacred music
Regular guest DJ's and pop up healthy pool parties
Rainbow hippy market
Spa access with Jacuzzi and sauna
Healthy cooking, raw food and nutrition workshops
Ppop up workshops, including dream catcher and jewelry making, reiki, essential oils and more
Ecstatic dance
Group sound healing
Moonlight mantra session
Detox guidance and support
Lots of hugs
Cacao and Matcha farewell ceremony