Tamara, a.k.a. Wolf Sister, shares how she followed her heart from hairdressing to healing…via a visit to shaman school. Images: Burn It All by Karolina Daria Flora.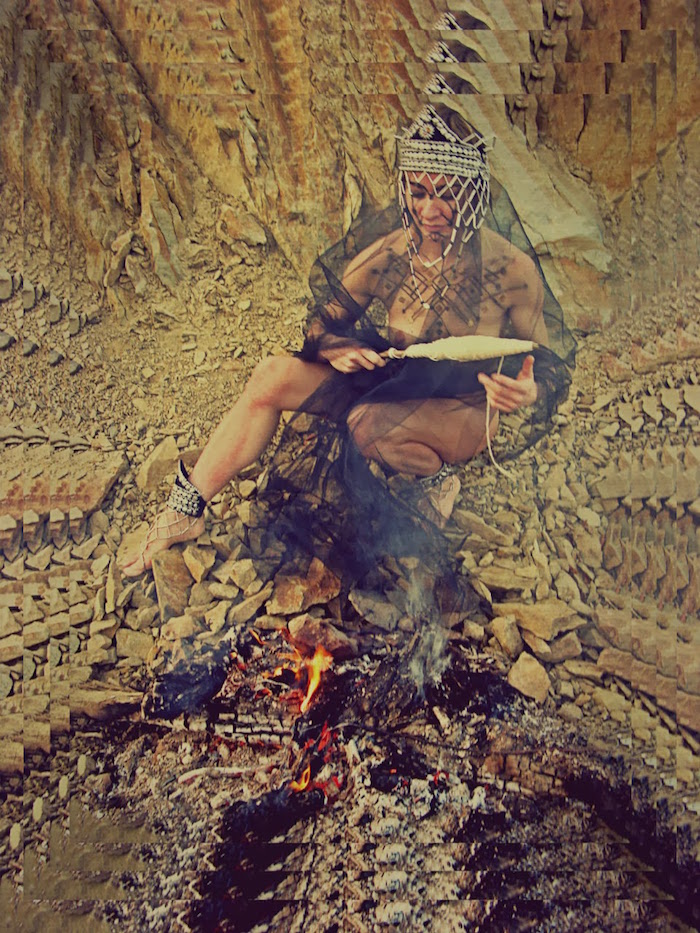 I would describe myself as empathic and creative, so in a lot of ways it was natural for me to fall into hairdressing when I was 16. It was never my first choice – I had aspirations of being a fashion journalist – but choosing to pursue it turned out to be one of the best decisions I ever made. Fourteen years later, this seemingly humble path has enabled me to fulfil some of my biggest dreams, mainly because one of the beautiful things about hairdressing is that it's a portable trade. I can cut hair anywhere in the world, meaning I've been able to earn a living in the unlikeliest of places.
The last six years in particular, I have truly followed my wanderlust. Like many on a similar path, I travelled to 'find' myself, having experienced a strong disconnection with life in my hometown. Despite having a large group of friends, I'd never really felt as if I fully fit in or belonged, as if I was always holding part of myself back. So I went to work in Ibiza for the summer, in search of adventure and hoping to break free from the things I thought were holding me back. I then bought a round the world ticket to the Southern Hemisphere for a winter in Asia and Australia, bringing me back to Ibiza, and chasing the dream of a never-ending summer.
On my travels I met many kindred spirits, and collected experiences and memories like treasure. Island hopping and hitchhiking around Hawaii, sleeping under the stars in Australia, and making friends with liberated souls as we took sanctuary from the dust storms on the Playa at Burning Man. Living like this, I could be who I wanted without any attachment to my past. I was free from old thought processes that had held me back, and I found friends who seemed to be on a similar path, all in search of 'something more'. My loved ones back home all seemed to want different things in life to me, and I think a lot of my anxieties came from trying to fit in.
But beyond the hedonism, I never felt any closer to finding myself. No matter how far I travelled or how long I stayed away, my shadow self was never far behind, and I realised I was trying to run away from rather than towards my true self. My epiphany came when I was recovering from a break up that had seemed to consume me. The experience led me to turn inward, and I realised that I needed learn to be happy in myself, wherever I was in the world. Home or away.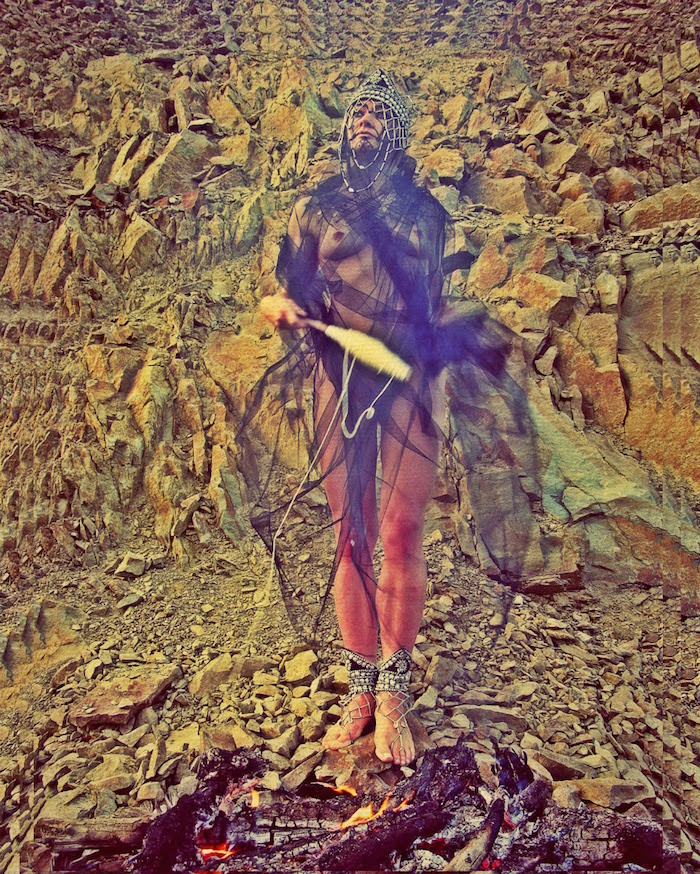 People would describe me as bubbly and outgoing, but I have actually suffered from anxiety and depression most of my adult life. Until I connected with my spiritual path, that is. When I went to see my doctor about my epiphany (a.k.a break down) it was recommended I go on antidepressants. Of course, this didn't resonate with me, and so began my mission to heal myself holistically. It began with yoga, and practising meditation regularly, finding tiny glimpses of inner peace that over time became a lasting sense of calm and clarity.
In my meditations, animals kept showing up for me, regularly enough that I began looking up the meanings of these beasts. A Wolf appeared most frequently in my visions, the message being that I was in the process of spiritual development, and developing my self-esteem and inner knowing. The Wolf was there (and still is today) to remind me that I was being protected. I discovered that the animals were my spirit guides, and their messages were so relevant that I couldn't ignore their calling. So I began using these messages to guide me on my healing path – my first indication that I had an affinity with Shamanism.
The deeper into my spiritual journey I went, I experienced a conflict between my work commitments and my spiritual life. I was eager to learn more about healing, which manifested in a desire to help others with what I was learning, but I also needed to support myself financially. In the end, I decided to take the plunge and booked a two-month sabbatical from the salon I was working in at the time and travel to Bali. Being half Indonesian, it was one pilgrimage that I had always wanted to take. Now it was really happening, and for the right reasons.
I began to research my trip, my main priority to find a way to fully immerse myself in my spiritual development. I looked up retreats, workshops, yoga centres and healers, and emailed different leads to find out what my options were. A few websites caught my eye, but after quite a few unanswered enquiries, the search engines kept drawing me back to a Shaman called White Star. I took this as another sign, and connected with her on email – which resulted in her offering me a place on her apprenticeship programme. I was going to be a Shaman's apprentice!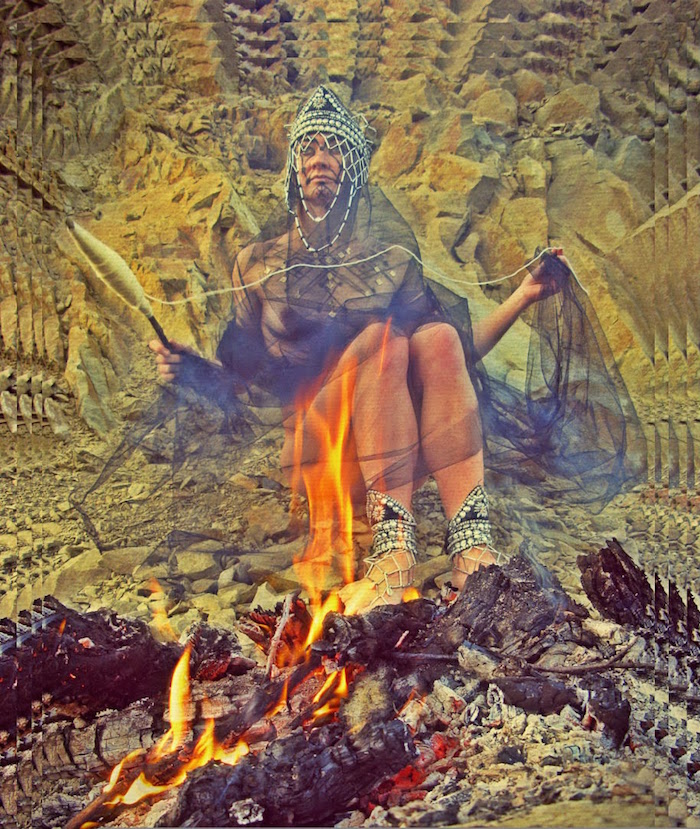 I arrived in Bali two months later, and noticed that my energy instantly felt lighter, as if some kind of a shift had already occurred in me. I spent my first few days exploring my new surroundings, acquainting myself with the local customs, and trying to prepare myself for my first meeting with White Star. But how do you prepare to meet a Shaman? And one who is going to teach you her secrets?
When we finally did meet, I was full of excitement and anticipation. I had a preconceived idea that my new teacher would have an air of authority about her but when I met White Star, I was in awe. With all of her power and wisdom she is a humble woman with an unassuming presence. But it was also as if she had an ethereal radiance about her. I remember thinking she was at least 10 years younger than what she said she was – apparently there's a healer in Bali who specialises in 'spiritual Botox', but I also think she's living proof that living magically keeps you younger.
I had booked 40 hours of one-to-one lessons with White Star that were stretched out over 4 weeks, and I felt so blessed to have the time to immerse myself so deeply in my new education. I had expected to pay up front, but she was trusting and happy for me to pay cash as we went along. Our lessons took place at her home in the jungle, and were filled with practical experiences of Shamanic healing techniques, spiritual development exercises, meditations, wisdom and musings. White Star also taught me how to expand my consciousness using Shamanic journeying to tune into the spirit realms and earth elements.
Most magically of all, the more time I spent with White Star, I found that not only was I learning how to heal others, I was healing myself. I gained new insights into my past, which helped me make sense of what I always thought had been holding me back. I believe you need to learn how to understand your past and its purpose so that you can fully release it, allow you to move forward and heal. I gained a new sense of confidence and purpose, and felt myself surrendered to being my authentic self, releasing my attachment to needing to fit in.
Every day, I would walk past waterfalls on my way to my meetings with White Star, feeling that I needed to pinch myself, to check it wasn't all a dream. It was as if my soul had found its home, and that all the life choices I'd made (including the ones I thought I regretted) had brought me here. This was real.
In my Bali bubble, it felt so natural be fully conscious in the present moment. All my anxieties dissipated, as I learned to simply go with the flow. Time expanded as I took each moment as it came, learning to really trust my intuition. Synchronicities were a regular occurrence in my Bali life, because I took time to notice them. I felt I was constantly surrounded by magic.
Shamanism teaches us that there is a spiritual component in everything; that everything around us has a spirit, and that everything is connected. Flowers, trees, water, stones, animals, and humans. A Shaman walks the path between the seen and the unseen worlds, using altered states of consciousness to connect to what can't be seen in our ordinary reality.
When we are disconnected from spirit, we fall out of alignment with our highest good. We experience states of negativity which can lead to anxiety, depression and other emotional and physical symptoms of imbalance. With Spiritual healing and Shamanic medicine, we are able to reconnect with our highest self, or soul, bringing us back into balance. Feeling calmer and happier, life becomes easy again. When we are spiritually aligned, we feel are able live from the heart; detaching from our ego, we are confident to follow our life's purpose. Feeling empowered, there is no room for fear.
I returned from my Bali trip a little over a year ago, with none of the same 'homecoming anxieties' I used to feel, because I brought my Bali bubble home with me. Since then, my Shamanic alter ego Wolf Sister has been born, and I have been building my own healing practice, alongside working as a hairdresser. And the two actually go hand-in-hand.
When I am working with my hairdressing clients, I enable them to feel better about themselves on an external level. I still enjoy my work at the salon, but my true passion is to help people heal on a Soul level, helping them empower themselves. I feel that I'm able to do this more effectively through Spiritual healing than I am by styling hair, but still I infuse my Shamanic teachings into every moment of my 'everyday' life. Knowing always that my Bali bubble is there to be tuned into when I need it.
Where has your healing journey taken you? Connect with us and share your story on Twitter, Instagram and Facebook.
Tamara is an Intuitive healer, Supernatural Potion Maker, Crystal enthusiast and Tarot reader. Find out more at Wolfsister.com