"Is the entrepreneur life for me?" Resident Yogi and philosopher Eddie Stern responds… Artwork: Francesco Clemente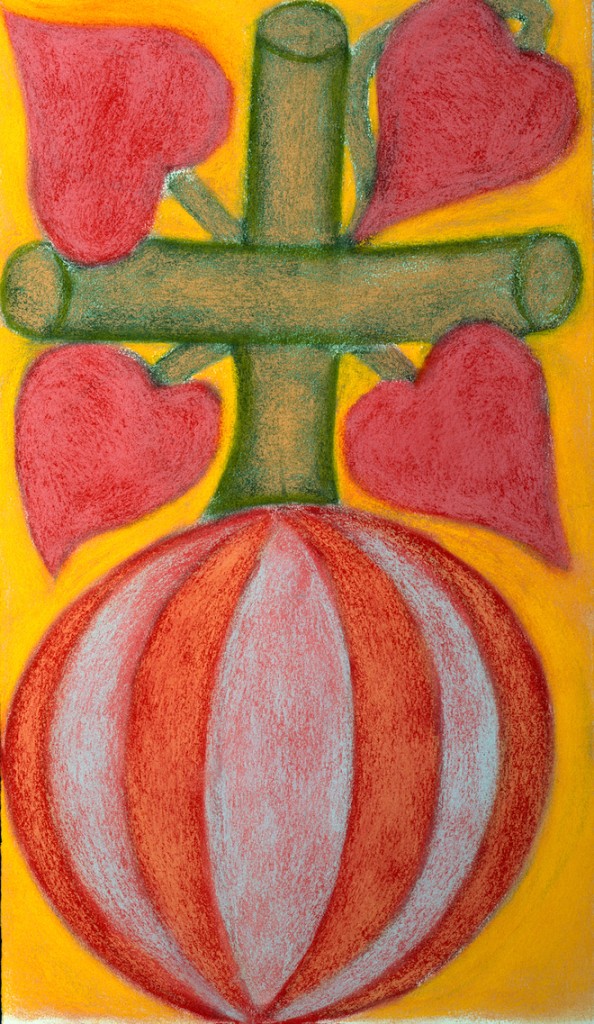 "After years of working for other people and putting all my creative energy into their dreams, I finally decided to do my own thing a couple of years back. I have worked on various projects since, some more successful than others—and while I try to always learn from the lessons of my 'failures' it can be hard not to focus on things that have gone wrong, and blame myself. Lately this has made me fearful about continuing on the entrepreneurial path and I've been fantasizing about the 'easy life'—i.e. working for somebody else again—even though I know in my heart this would make me depressed and leave me craving my freedom again. How can I get past my mistakes and remain confident about pursuing my own dreams?"
Dear Dreamer,
Almost everyone sometimes feels trapped between two worlds; one world we know, the other we don't really know…but we have some ideas. One world is exhilarating and free, and the other is safe, but is a prison. The world of safety, as you pointed out, can often be boring, unfulfilling, and limiting, while the world of the unknown—where our hidden, unlimited potential lies—is scary. Until we jump in, that is.
These two realities are spoken of in Hindu philosophy. There is the reality that can be measured, is logical, has size, shape and weight—and the reality that cannot: thoughts, emotions, inspiration, potential and creativity. We can measure our bodies, possessions, money, buildings, cars, cities, even the Universe, but we cannot measure that things that inhabit these spaces: knowledge, love, compassion, empathy, dreams, ambitions, hopes, desires, potential and friendship.
The reality that can be measured is called sakala, "with form," and the reality that cannot is called nishkala, "without form." However, they are both real—they both exist! The realm of man is the sakala realm, and the realm of the Gods—as well as our hopes, dreams, potential and feelings—is nishkala.
We get stuck in the world of quantification, of measurement, because that is what our world demands of us. How many followers do we have on IG? How much money do I have in the bank? Do I have six packs in my abs, or only one and a half? We measure, we compare, and we are miserable in doing so, because we always come up short. And we measure because we don't know who we are.
In Yoga, this knowing who we are is the solution to all misery. It is the plug that let's all the dirty, stinky water down the drain. For when we truly know who we are, we are immeasurable, pure consciousness. When we don't know who we are, we are limited by the things we measure ourselves against.
When we don't know who we are, we imitate those who project the kind of confidence and knowledge, or beauty or wit, that we wished we had. We give up the struggle of discovering who we are, by playing it safe, and taking on someone else's self-expression. But in the Bhagavad Gita, Krishna says to Arjuna, "It's better to do your own dharma poorly, then to do the dharma of another well", meaning, it's better to do your own thing and fail, rather than do someone else's thing and succeed.
Why? Because you'll never be happy and never find fulfillment with someone else's purpose, only with your own. And it's only you who can discover what that is. When you do, is when freedom begins. It's how you access the realm of nishkala, and bring it forward, actively, into your life.
In the Tarot, a card which seems to accurately represent the dilemma that you are in right now, is the Two of Wands. The image on the card is of a person standing between two upright wands; he is holding onto one of the wands with his left hand, and in his right, he is holding a globe, or, the world, as he gazes off towards the distance.
The meanings of the card can relate to decision making; you have reached a fork in the road, so to speak, and there are two directions you can go. One direction will lead you towards freedom and abundance, and the other towards safety, which is binding, and will be fraught with self-doubt. The card symbolizes independence and boldness on the one hand, and fear of failure, and dependence on others, on the other.
Being bold is an expression of personal power, which is simply another terms for your unique potential and creativity. Now may be the time for you to own that originality within you, and be bold enough to express it in the world. You may have had some failures, and you will definitely have fears to face head on, but in the end, regardless of success or failure, you will have the inner satisfaction of knowing that you were brave enough to listen.
The important thing is to keep at your work. Your creativity will continue to grow as you feed it. It will continue to grow as you use if for work that aligns with your own vision.
There are three key words I've seen associated with the Two of Wands: personal power (which I read as infinite potential channeled through us each as unique individuals); boldness; and originality. Your potential will become clearer the more you exercise it; your boldness will increase when you face your fears directly and don't let them rule you; and last, connecting with your own work, and your own originality, will lead you towards personal fulfillment, which is true success.
But the Two of Wands reminds us of one other thing: we do not own our creativity, or our potential, or power. These are channeled through us, and if we are lucky, we can tap into them and express them through our actions and attitudes. We should remain humble knowing that we are not the authors of our creativity or power, that we are conduits, and that when creativity flows through us, all goes well. But when we try to control it, or think that we are special because of it, things will eventually go south. Be bold, but be humble. Be fearless, but also, be grateful.
A yogic practice you can try to balance out the two realities that we all live in is alternate nostril breathing. It's fairly simple, is calming, and balances both hemispheres of the brain.
Begin by sitting comfortably in a chair, or cross-legged on the floor.
With your right hand, you make the Vishnu Mudra, which looks like this.
Place your right thumb against your right nostril, inhale and exhale 3-5 times through your left nostril. Your breathing should be smooth and even, not too long, and not too short. Usually a 3-4 second inhale and exhale is a good place to start.
After 3-5 breaths, close your left nostril with your right ring finger, and breath the same amount of times through the right nostril. Your breathing should be smooth and even, with the same length of breath that you used on the left side (3-4 seconds inhale, 3-4 seconds exhale).
After 4 breaths through the right side, place your right hand back into your lap or on to your knee, and take 3-5 slow deep breaths.
You can do this once or twice a day—morning and evening, and before having food, are optimal times to try it. There are many variations of alternate nostril breathing, that overall have some of the same effects. This one in particular is single nostril, or unilateral, breathing, and has been show to have positive effects on both spatial awareness (knowing where you are in space, and where things are in relation to you), and improving cognitive abilities. I think the two wands in the Two of Wands card are reminiscent of the nostrils, and the subtle energy channels that are attached to them! Try it, and see if it helps.
Yours,
Eddie