The 2018 Sagittarius New Moon is an opportunity for inspired curiosity, as we set off in search of our "why" and recover our very reason to live, says Sandy Sitron …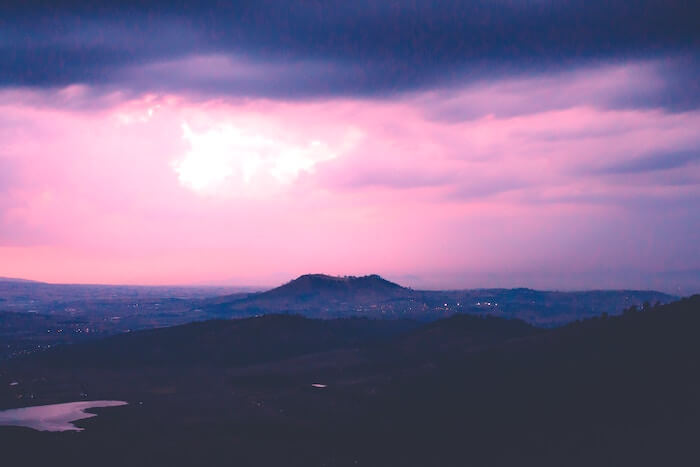 New Moon :: December 7 2018 :: 2:21 am EST :: 15 degrees Sagittarius
An explosion of light as two worlds collide and a portal opens. 
A portal is opening and that's important. But let's begin by understanding this symbolic explosion of light. In TV shows and movies there's usually a flash of light when a portal opens up. Insight! Illumination! You see more clearly. There's more to reality than one singular dimension.
On Friday, December 7th, there's a New Moon in fiery Sagittarius. Sagittarius is the sign of truth-seeking. Bam! The centaur shoots a fire arrow to illuminate the target of truth. Yes, you are getting a flash of clarity. But it's a little more complicated than that. This New Moon is a truth-seeking arrow that dissolves against the disappearing body of Mars and Neptune's Cheshire cat.
Just like the mischievous and confusing Cheshire Cat, your clarity won't take the form of answer. It takes the form of a question instead. You need to delineate a question and it has something to do with your values. Once you find your question, you can treat it like an egg in a nest. Just sit on it. Tend to it. Keep it warm and away from predators. Treat the question with the honor and respect that it deserves.
One thing that's become clear during this year of many retrogrades: rushing forward because of emotional discomfort doesn't get you anywhere. You can't race through this process of sitting with the question.
But that doesn't mean that you can't be passionate, purposeful and exuberant while you hunt down your answers. You can. Raise your energetic vibration purposefully so that when you encounter the answer to your treasured embryonic question, you'll be a vibrational match for the answer.
How do you change your vibration purposefully? Use your imagination. With Mars and Neptune square this Sagittarius New Moon, your imagination will take you to your target. Imagine a special control room in your mind that has a panel of dials. Visualize or notice a larger dial in the middle of the panel that says "Vibration." Notice what level it is at now and ask your imagination if you need to turn up the dial. Then adjust it to the correct setting and remember you can always come back in the future and make more adjustments.
The Sagittarius New Moon is an opportunity to align yourself with the big question you need to be asking. When you have the right questions, then you can begin the wild hunt for the answers. When you are driven to understand "why" or "how," you can raise your vibration up into a new dimension.
Sagittarius the explorer wants to find new worlds. Instead of being stuck in the pattern that already exists, you get above it to see the bigger picture. You can experience the "bam!" of illumination as you journey out of this world and into a mirror-image dimension.
The other dimension through the portal is exactly the same as this dimension, except for one thing; while our world is currently fueled by scarcity mentality, which causes greed and oppression, the driving force there is optimism and abundance.
If you can get through the portal, the mindset shift becomes: "There is enough, so what do I want teach, learn, explore? Not because I have to to survive, but because I am curious and alive."
///
New Moon conjunct Jupiter
A car covered in flowers.
Imagine that you try to get into your car and it's completely covered with loads of flowers! Not flower petals- entire flowers! It's so much beauty and joy that the abundance almost becomes inconvenient. You would have to laugh and admire all the beauty while trying to clean off your car.
So much goodness. But is it in the right place? It all depends on how you look at the situation. Remember your gratitude practice and you'll be able to accept the unexpected gifts that come your way.
///
New moon square Mars and Neptune
The Cheshire Cat.
This Cat has places to go and battles to disrupt. Along the way it creates quite the commotion. The world is confusing but we have try to go after what we want anyway. You have two choices with this aspect, Alice. Moon about in confusion and ask all the wrong people for advice. Or actively try to lift your vibration to experience your own unique sense of faith, purpose, and soul-level interconnectedness.