How can embracing your deepest sexy unleash your creative force? In her latest column,
Alexandra Roxo
shows us that diving into our full sexual power is the key to world domination …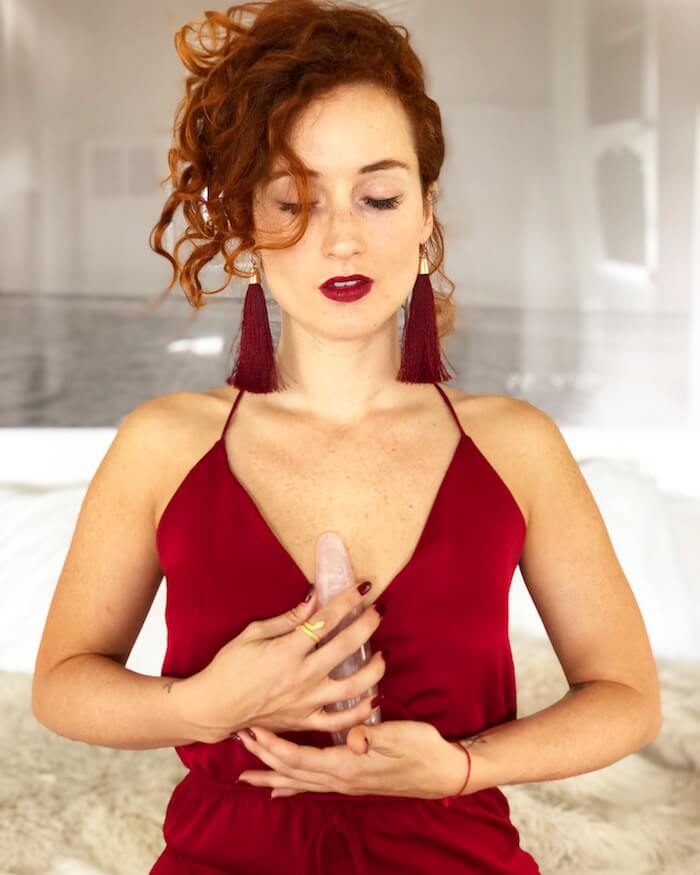 Owning my sexual and creative power, and letting it inform my life and creativity and work, has been revolutionary and radical …  despite how much society had told me I'm too loud or too sexual or too freaky or kinky or messy or whatever.
Here are a few of my tried and true techniques for owning your sexual power, your guts, your voice, and your gifts to the world … 
>>>
FIRST: A little visualization for your viewing pleasure … 
Imagine you are a house. Perhaps 5 stories high. Castlelike. Grand. Tall. Well crafted. And each floor and each room is decorated beautifully. Lamps and lights and candles. Beautiful art. Cultivated space. But the first floor, the foundation, is dark, full of cobwebs. Closets locked. Perhaps a corner here and there with a little light that is only turned on "sometimes"—on a special occasion …
Now imagine this floor is your sexual energy. Your life force. Your creative power that is waiting to be stirred deep inside you.
Does it only get stirred in a bed in the dark? Between sheets? With your partner? Or a vibrator? What if you ran through that first floor, saged it out, turned on all the lights, decorated it—made it come to life?
We live in a world of compartmentalization. We shit in another room with a locked door. We carry our money in locked safes and little wallets held close to our bodies. We have sex in a bed in the dark.
When I was younger, my menstrual cycle was WAY off. After some soul searching, I realized that it was most off during the times that I was suppressing my power. Now, if my cycle is late, I look at how I've been holding back and "keeping it together?" How can I EMBODY my power, my vision, and my voice more boldly?
Sexual power IS creative power! And it does not work when controlled or locked away. In fact, this is hurting many of us. Disrupting our menstrual flows. Our skin. Causing diseases. Depression … the list goes on.
How might your life change if your sexual energy was present in every moment, every business deal, every Pilates class? Here's how to awaken your deep sexy and use it to power your mission … 
>>>
STEP 1// DEFINE YOUR "DEEP SEXY" 
Sexual energy does NOT have to be defined or encapsulated in the "sexy" of black lingerie. Or being coy, Or performing "sexy." Or having skinny thighs. Or whispering fantasies at dinner. I LOVE all that but that is JUST one layer.
Deep Sexy to ME is sexual energy as POWER. Holding the key to all creation between your legs. The womb being an infinite pool of ideas and visions of growth. Orgasms healing the world.
A portal to the Divine that you are I are both gifted with.
We begin breaking the compartmentalization of sex as penetration, locked doors, and quiet moments in the dark, by practicing turning it on. No need to stroke a clit. No need to stick it in. Just breathe into that flow. give it space, connect to its depths.
This can be literally visualizing sexual energy as a certain color running through your body. Or connecting it to a scent. Or a song. Find a VISCERAL and SENSORIAL "IN," and go with it.
That is what lights up the house. Increases financial flow. Health. Radiance. Love. Business growth. The whole house is illuminated.
OKAY NOW YOU GO! Write your own list. What is sexy to YOU?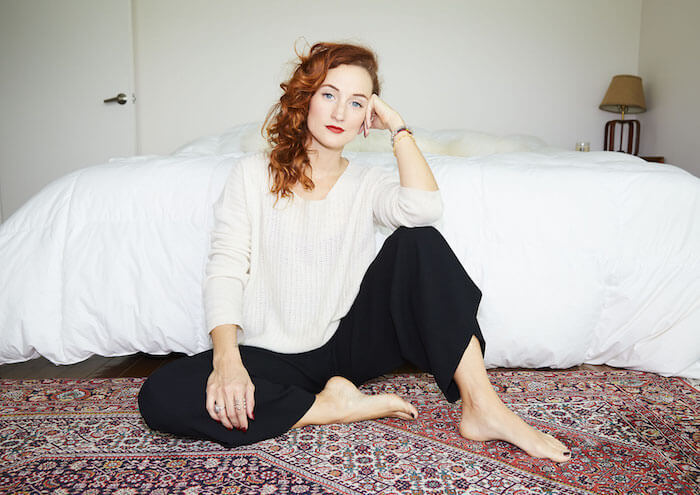 >>>
STEP 2// BELLY BREATH VS. CHEST BREATH
This is how you start to see and FEEL your sexuality. Meditate into your pelvis, your guts. Give your whole lower body as much importance as you do your mind, remembering every day about the portal to source energy that lives in there.
This can be practiced through dancing in your undies. Doing deep belly breathing at home in the mirror or with a book on your stomach while watching TV. Or picking points in your day by putting an alert in your cal that says "Am I breathing into my GUTS? My deep BELLY?"
And notice if you're sucking it in. Let your belly hang out as much as possible, even though it may feel kinda weird! Breathe it open with deep belly breaths instead of shallow chest ones.
>>>
STEP 3// WHAT IF YOUR BRILLIANT IDEAS CAME ALL THE WAY FROM DOWN BELOW? 
Ask yourself "Did I just make this business decision from my mind? My heart? My womb? My balls?"
Regardless of your genitalia or gender identification, let your ideas brew from your depths, the roots, the intimate parts of you. Not the surface layers of your mind.
One way to check if you are truly dropping into your sexual power and living from THERE instead of the mind is to see how much you can FEEL in the moment you are making that decision. Can you feel your clit? Your cervix? Your kundalini vibes? Your balls? Your anus? (Not by literal touching, just the vibes and energy!)
And if you're not feeling it, THAT'S OK! Try using a Chakrub, doing some PC muscle clenching, or literally start talking to your body and trying to put into words what that part of you is feeling today.
It may sound LOL, but unless you can really identify what your root is feeling, you definitely can't find your gut intuition or make decisions from there.
>>>
STEP 4// GET MESSY AND WILD  
Look to the most genius creator for wisdom—MOTHER NATURE! She is wild! Messy! Disgusting! Ravenous! Beautiful! Sensual! Vicious! 
Messy for me can mean taking a day to hike, laying in a field, walking barefoot, wearing no makeup, peeing outside.
But what does it mean to you? This may mean vision boarding on the floor of bedroom and making a mad genius mess of old magazines. It may mean a week you play with letting your hair be wild and free. Or only wearing long flowy dresses.
Write down 5 things that feel "messy," aka "outside the box," to you. One day a week take a "IMA B MESSY AND NOT GIVE A FUCK" practice. So. Fun.
>>>
STEP 5// MAKE CONTAINERS FOR YOUR FLOW TO FLOW IN!
As you unlock your flow, don't be afraid to have structures. A set time to meditate. Time to stare into space. Time to journal. To masturbate. Time to roll around on the floor sobbing.
Because when you start to open that flow of energy stored in your pelvis you will feel A LOT. The power can be overwhelming. Don't be afraid. Stay close to friends. Nurture yourself. And most of all … HAVE FUN!
We are deep in the collective process of healing through hundreds of years of collective trauma towards women, towards sexuality, towards, well, A LOT. We will not stay quiet, hating ourselves, being ashamed of being sexual, powerful beings. Let's do this. TOGETHER.
>>>
In Moon Club, our online mentoring program and growth accelerator for your Spirit and Business, you can get help finding your power and voice, and sharing it with the world.  Join our "New Moon Ritual Intentions Setting Journey" on April 15th with something to let go of! Last month people were loving it so much that we heard it was "orgasmic" and "completely life changing." Attend your first New Moon Ritual for FREE by emailing [email protected]. We would love to have you!