In preparation for the 25th's New Moon, the Aquarius Waning Quarter Moon asks us to look back before we charge into the future. Revisit and restructure so you can get ready to radicalize, says
Jennifer Racioppi
. 
Artwork: Seana Gavin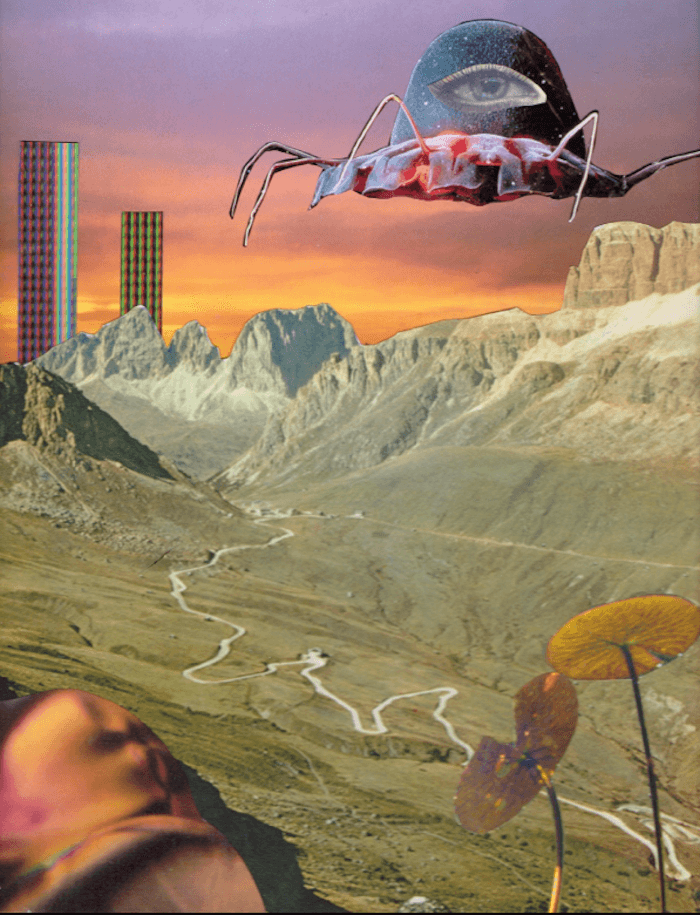 Waning Quarter Moon :: May 18 2017 :: 10:46 pm EST :: 28 Degrees Aquarius
Marking the halfway point between the 10th's Full Moon in Scorpio and the 25th's New Moon in Gemini, the Aquarius Waning Quarter Moon reveals that it's essential to look backward before charging forward.
Think back to February 2015's Aquarius New Moon. This current Quarter Moon brings those past intentions and actions into greater focus. Try to decipher what's culminating in your life now that relates to seeds planted then. 
Simultaneously, on the day after the Aquarius Waning Quarter Moon, we will experience the second of three trines (a positive golden aspect) between Uranus, who represents revolution and freedom, and Saturn, who offers a heavy dose of structure and discipline. The first of these three trines happened on December 24, 2016, and the final will occur on November 11, 2017. This positive aspect suggests an innovative breakthrough in the structures of life. Use it to your advantage! 
:: The Sun ::
With the Sun at the tail end of steady, stable, sensual Taurus, and primed to enter quick witted and communicative Gemini on the 20th, we sit on the heels of change. As we take in the last moments of Taurus and prepare to switch zodiac signs, the Sun forms a T-square with the nodes of fate. This evolutionary configuration asks us to take stock of where we are in relation to our desires, goals, and dharma.
When the Sun moves into Gemini, it'll be time to get into the flow of socializing, communicating, and networking. Right now, however, we have the opportunity to assess, systematize, and steadily focus our attention on where we are in relationship to our desired outcomes, and to make changes accordingly.
:: The Moon::
The future-oriented, humanitarian driven Aquarius Moon conjoins the South Node before moving into Pisces hours after this square. With the Moon in this delicate position, squaring the Sun and opposing the North Node of Destiny, forgiveness becomes paramount. As you assess your progress, have a forgiving heart. Tenderly release expectations that have not come to fruition. You need to make room for the bigger and better things just around the corner.
:: The Square ::
The Sun in Taurus squaring the Moon in Aquarius asks us to look at any friction between our desires for practicality, and our needs for innovation and humanitarian drives. The Sun in Taurus favors the tried and true path of tradition. However, the Aquarius moon wants progress, change, and forward momentum.
Since this waning square also involves the North and South Nodes, it's essential to lean more into Aquarius than Taurus. Remember, one day after this Quarter Moon, Uranus and Saturn trine, which promotes progress and innovation. Shortly afterward, the Sun moves into social Gemini. So let progress lead the way!
:: The Message :: 
Revaluate. Plan. Innovate. Release. Surrender. Trust. With the Sun squaring the nodes of fate, and the Aquarius Moon directly conjoined to the South Node, this Quarter Moon drives us to evaluate how are doing so we can lean more fully into our progressive ideals.
This turning point of 2017 asks us to let go of what no longer serves us. Is there anything you need to release that stands in the way of receiving your intended goals? Are you ready to cultivate the prosperity and joy from all of your hard work? Under Taurus Sun's influence, letting go is hard. But don't let that stop you. Use this Waning Quarter Moon to make progressive adjustments.
Allow friction to propel you forward … 
For more Moon wisdom or to book a coaching session with Jennifer visit Jenniferracioppi.com. To learn more about how to work with each Moon phase, join our community of lunar lovers at Moon Club!