Stuck under layers of conditioning and aching to break free? Alexandra Roxo shares 5 ways to liberate your spiritual essence …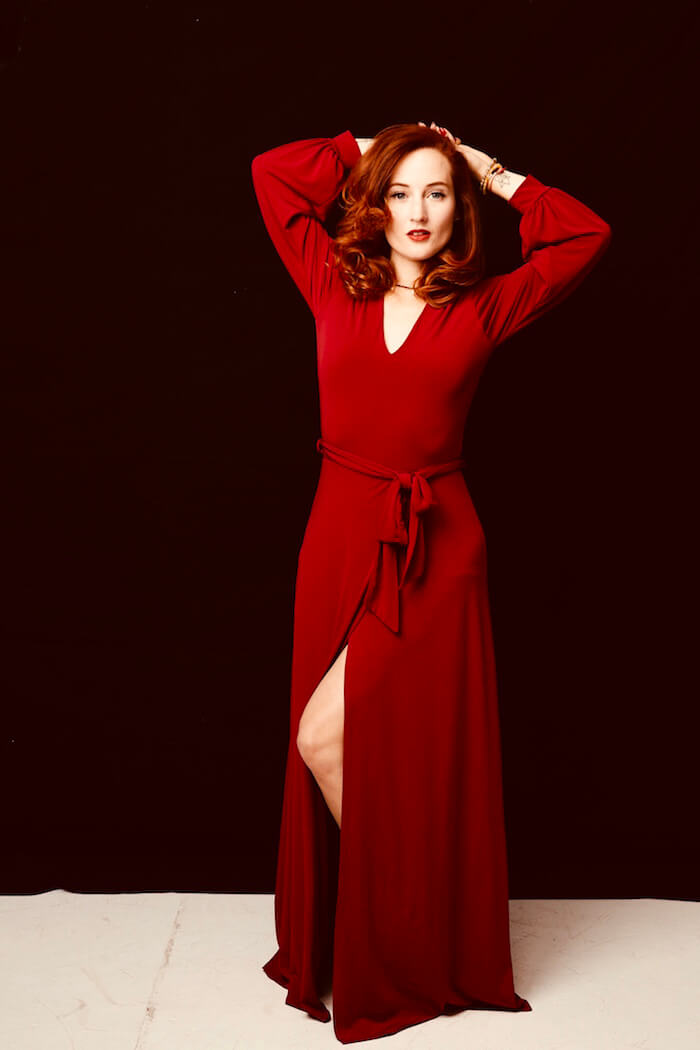 I've been doing stripteases since I was 12. In 1996, in Marietta, Georgia, my friends and I dressed in Victoria's Secret matching leopard-print bra and panties sets, and knew all the moves to Elizabeth Berkley's routines from Showgirls.
But the striptease I wanna share with you here is FAR sexier. FAR juicier. FAR edgier. It's one that will have your heart racing. Your panties wet. Your knees trembling.
Because it's time for us to bring it back to basics and get spiritually NAKED. We live in "apart"ments. We stare at screens most of the day. The way we eat, shit, talk, walk, dress are all programmed for us by the dominant schema that we are born into. A return to our spiritual essence is a deep call for each of us. One that could possibly change the course of history. Of Mother Nature's well-being. Our grandchildren's lives. The health of the ocean. The future of fashion magazines. Of culture. Of REALITY as we perceive it.
This means peeling away, layer by layer, of all the baggage we have inherited. The stories. The conditioning. The things that weigh on us everyday. Stripping this away and getting down to our spiritual essence is part of our individual and collective awakening.
You began taking on your family's shit in utero. Your mom's anxiety. Depression. Her busyness. The way her heart sank when your dad didn't come home til late or just flipped the TV on after work. The pain at seeing her old body slip away. The abuse she endured perhaps. Or her mom's or her grandma's. From the moment you were the size of a pea in the womb you began to be clothed in layers. Your spiritual essence began to be shrouded.
When popped out you inherited a specific culture. The pressure to look a certain way, talk a certain way,  dress a certain way. Coats and veils of other people's ideas and customs and ways of being.
As a teen, this led you to feel confused about your body. Why did it not look the way it was supposed to? People were mean at school. Boys touched you. You weren't allowed to be gay or queer. So you put on some more layers. You hid yourself. You were too weird. Too much. Too sexy. Too fat. If people didn't notice you they couldn't hurt you.
Perhaps there were traumas. Date rape. An eating disorder. Abandonment. Neglect. Health issues. Things that forced you deeper into hiding. Further masked your wild, loving, utterly unique spiritual essence.
And now here you are today—wearing enough layers to survive an antarctic freeze of the soul! True healing? The ultimate liberation? Learning how to peel them back, one by one, until you are bare. Naked. Vulnerable and WHOLE.
Below are my tried and true tips for freeing yourself from those layers and living in alignment with your spiritual essence …
1// Learn to feel your feelings. You may think "Well of course I know how to do that!" But we all have days where we think we're feeling but are actually THINKING, which prevents us knowing our soul's truth. To learn to FEEL more, breathe into your belly all day. Stay soft. Pull your car over to cry when you need to. Start sentences with "I feel …" instead of "I think …"  and before you make a decision FEEL into it with all your being. Soon you will start to feel more of YOU.
>>>
2// Begin to hunt for your true essence. Look for it in books, works of art, libraries, operas, films, museums, national parks, oceans, fields, and albums. As you do these things, BREATHE into your heart and FEEL. Did that book make me wanna jump for joy? Scream? Did it feel like a wildfire broke out in your veins? Then THIS my dear that is a KEY to your TRUTH and your ESSENCE! Keep it close.
>>>
3// Speak up when something hurts or doesn't feel right. This may seem obvious, but it's the microhurts that betray our soul's essence. If someone cuts you off in line for the bathroom than say "Excuse me. I'm in line." If you're in a class and the teacher says something inappropriate, stand up and say, "Excuse me. That didn't feel appropriate to me." This demand for integrity will tell your soul you are SERIOUS about your devotion to yourself. You'll notice how often these little things happen. You think "Oh whatever. No biggie." This puts you into complacency and is literally like an ice pack for your JUICY fire. Once you stop you doing it, you'll begin to feel a POWER beyond words emerge from you.
>>>
4// Dare to pave a new way. Notice how many times a day you do and say things because that's what others do. Now try something new. If all the other wellness people on Instagram are taking photos with white backgrounds and green plants but it feels more "you" to do it in a vintage car on a deserted highway, then why not? Notice where you follow the status quo out of habit. When you feel afraid to shake it up, look to people who have not followed; Frida. Anais. Albert Einstein. There is a huge payoff for taking a risk that's aligned with your truth.
>>>
5// Surround yourself with Souls who are unafraid to bare their love and truth to the world. You are who surrounds you. Your community should feel like Butter Love, Fire Love, Honey Love, warm tea, firecrackers in your Soul. When you leave hangouts notice: Do you feel more YOU? More alive? More loved? If not, find the community that does make you feel this way.
**Bonus: Take this a step further with an actual striptease class or simply strip in the mirror with your sexy self. As you remove layers of clothes, imagine that you are removing "Mom's catholic shame," "my fear of being too big" or "society's gender impositions" so that you're stripping on all levels at once—multitasking your way into your Soul's Grand Reveal to humanity.  
Alexandra offers one-on-one transformational coaching programs globally online, and in NYC and LA. She also is the co-founder of Moon Club where she guides group coaching, leadership training, and mystical moon school.  Find her @alexandraroxo and alexandraroxo.com.