Facing a major life meltdown, Sam Lam was ready to turn herself inside out. Little did she know, her first LSD trip would lead to the experience of ego death …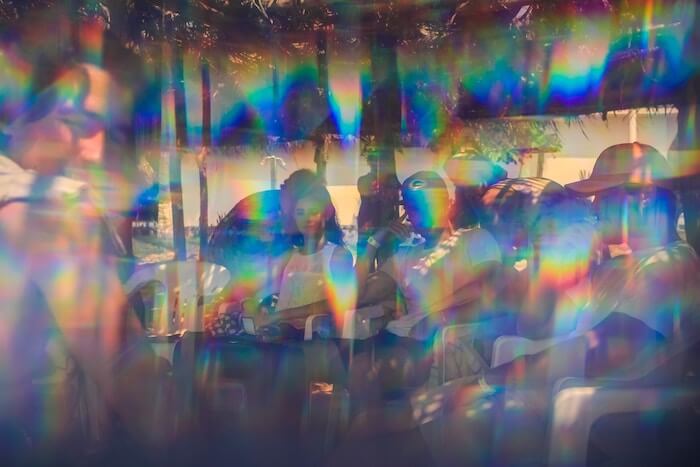 I'd majored in philosophy in college, studied metaphysics, epistemology, and even endured a stint in theology. But despite the multitude of theoretical expeditions I've taken into human consciousness, nothing could have prepared me  for the acid trip that led to me experiencing the much-documented "ego death."
By age 30, I'd burnt out in my career as a Business Development Manager for a multi-national oil and gas company. So I did what any self-respecting women worthy of her prized Louboutins would do: I jacked in that job, packed my (many) bags and boarded a flight to 'La La Land' to pursue a career in fashion.
As if this identity crisis wasn't enough, a couple of months prior I'd discovered that my now ex-husband of almost 10 years was having an affair. Needless to say, I was a total emotional-fucking-wreck. A 30-something divorcée with a fresh "Monroe" lip piercing, I soon found myself trying to heal my shattered heart by reliving my hard-partying youth.
Cut to me raging it up at a major music festival. I'd never taken LSD before that night, but in the sweltering heat of the desert, as the hot, orange sun began to dip, I decided to drop.
I felt very little at first. Twenty, maybe thirty minutes passed and by this point I was eager to rush to the front of the main stage and offer my metallic flash-tattooed body as a sacrifice to the music now engulfing me. I just wanted to dance. Dance all my life's pain away.
>>>
This was death, I felt certain of it … 
It's not really possible to describe what happened next. Before I could even begin to move in the direction of the stage, I took one glance at the illuminated festival Ferris wheel swirling ahead and the acid hit my brain like a bolt of lightning.
In that instant all of my senses merged. I could taste sounds, smell the music, and literally see my feelings.
This was death, I felt certain of it. The world as I knew it disappeared, and while I could no longer feel my body, my mind got busy imagining my demise in vivid, graphic, Technicolor.
Gory, violent, blood curdling. Vicious ends that felt oh too real. At one point I was hit by a steam-train in the middle of the desert. The next I was being eaten alive by rattle snakes. Next, I was a victim to the desert sun as its rays pierced my skin and melted my flesh to the bone. I then tried to write an (imaginary) letter to my family to apologize for giving up and going out in such a shameful way, but I literally couldn't find the words to express how deeply sorry I was.
Then came a silence. A complete and utter black quiet in my head. It was a peaceful moment where I was truly thinking "nothing" at all (if that's possible). A temporary respite from that torment that followed.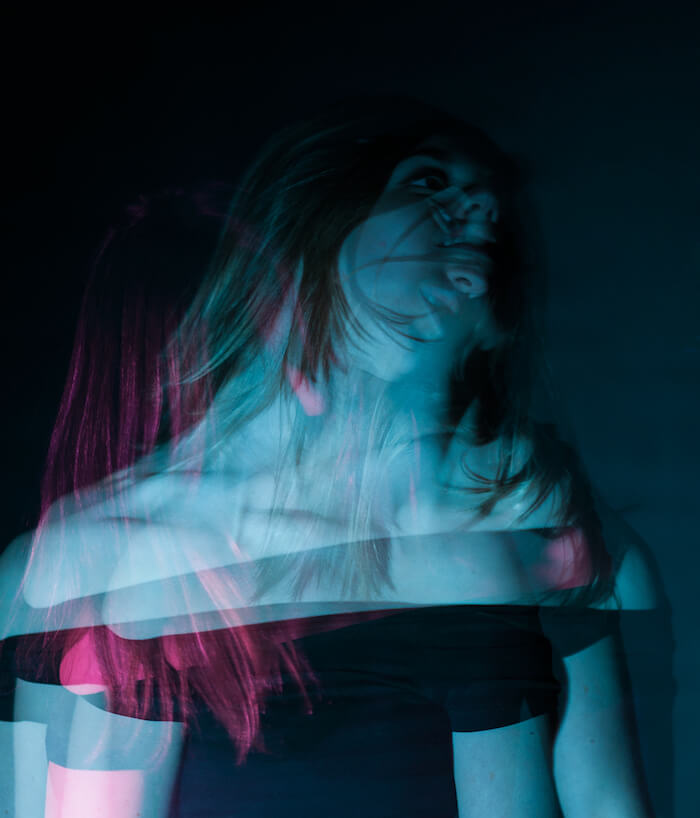 >>>
I could feel the world weep … 
Nothing can prepare you for "Ego Death"—the term is used in various, intertwined contexts to describe a fundamental transformation in the psyche, where we lose the self entirely. The words "I," "me," "myself" lose all meaning whatsoever.
This is what I experienced next, and it altered my life forever.
I could feel the pain of the entire Universe. Immense and immeasurable, agonizing torture. Quite literally, I felt for both a split second and an eternity, the utter, agonizing grief of every single man, woman, child, animal, tree, the oceans, and the skies.
I felt the Universe inside of me and all of its desperate misery. I could feel the world weeping.
A the Universe sobbed, my sense of self had completely and utterly vanished into it. "I" no longer existed. "I" no longer related to anything. It was as if I had become "dark matter," as theorized in quantum physics—"I" was empty space. Nothing.
I woke up the next morning on the floor of my hotel room, with my festival uniform intact (bikini top, denim shorts, misappropriated tribal feathers). The desert was still in my hair and I had no memory of how I'd gotten home.
As my eyes slowly opened and the speckles of light danced into my retinas, I realized I was still alive. "Samantha" had survived her first (and probably one and only) acid trip. But something fundamental had changed …
>>>
Had I melted my brain? 
The trip had been so intense, I was left fearing the worst. For months I worried that I had in fact melted my brain. I was no longer draw to "partying" as a way to dance out my demons. What can I say, the world just isn't the same after you've "died." Nothing seemed to make sense anymore.
Four months after the trip, I was severely depressed and still trying to make sense of my marriage breakdown, my scattered career choices, and this extraordinary experience. One afternoon, I found myself all alone in my apartment.
I was lying on my bed ugly crying, with blood-shot puffy eyes and chapped lips, and the what felt like the weight of my woes making it difficult for me to breath. I was then gripped with an urge to step out onto the balcony of my pokey apartment to get some fresh air. As I stood out on that balcony staring at the cloudless blue expanse of sky, I could have sworn I heard a voice in my head:
"You have felt my pain, now let me take yours," said what I can only sensibly identify as The Universe.
In that instant I felt a warm calmness encircle me, as if I'd been injected with a large dose of MDMA. Yet this was an instant, drug-free Nirvana. The voice signaled that it was going to take away my suffering and pain, and transform it into something positive, pleasurable, maybe even beautiful.
In that moment, everything in my life just seemed to make total and absolutely succinct sense. I understood that I was designed to contain light and dark energy—to be the embodiment of Yin and Yang. I wanted to kiss my pain. Without it, I wouldn't have embarked on this journey. I wouldn't have had the courage to push my body beyond its physical and mental limits. I would have remained spiritually asleep.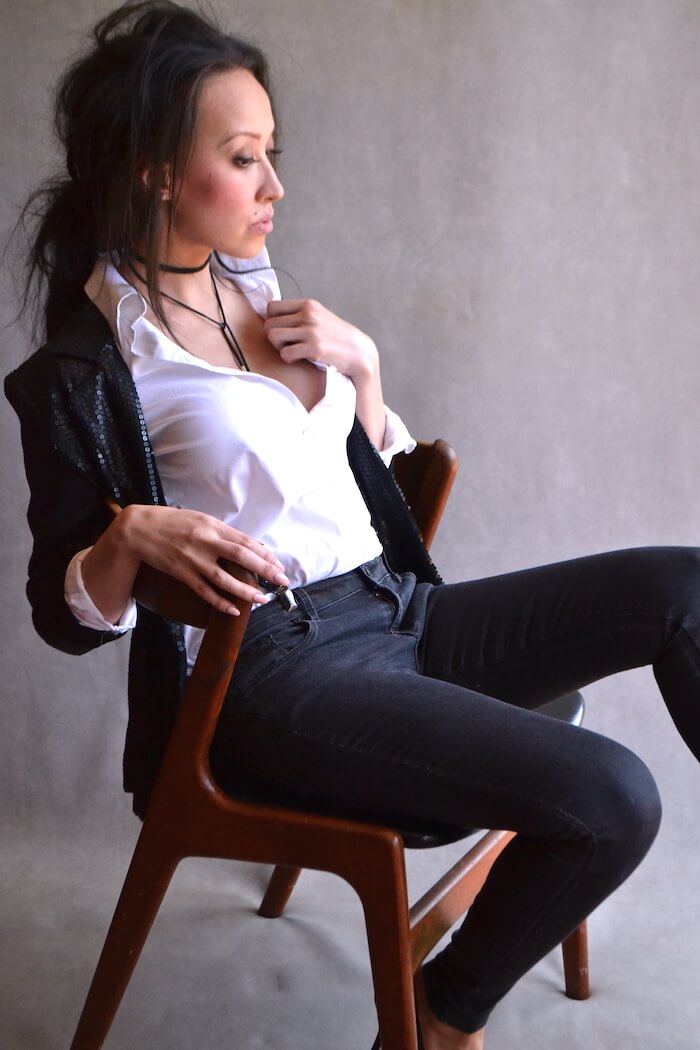 >>>
The comedown … 
My life has since returned to "normal." But my Ego Death experience has led to notable changes to my outlook.
I've drawn relationships into my life that are supportive and calm but also fun. I laugh more. My current partner lets me fully be myself. And I've found friendships circles with likeminded creatives and artists who are interested in alchemy and alternative modalities.
After these experiences, it's been hard to return to the corporate world. Climbing the ladder no longer appeals to me. And though I haven't quite found my niche, I'm figuring it out. I know somehow I'm supposed to be here in L.A … that something drew me here.
Most importantly, I'm more eco-conscious and aware of how my choices are impacting the future of the planet (after all, I had felt the whole world sobbing). I still love fashion, but I am no longer her slave, and have lost the desire to consume in the way I used to. And while organized religion is still not something I identify with, I've become intrigued by esoteric and alternative spiritual modalities.
What learned about a connected global consciousness is well documented elsewhere—an open-minded outlook that's especially relevant in our current era of regressive, right-wing politicking.
After all, in the words of ethnobotanist and mystic Terence McKenna: "If the words life, liberty, and the pursuit of happiness don't include the right to experiment with your own consciousness, then the 'Declaration of Independence' isn't worth the hemp it was written on."
I certainly don't believe that drugs are the only path to experiences such as mine. But surely to muse and ask "why?"—or to protest "WTF?"—is an innate part of the human experience. How else can we pursue the kind of evolutionary advancements I may have accidentally stumbled on during my long, bizarre, and deadly dark night of ego death?
Born and raised in the North East of Scotland to an Irish/Scottish mother and Chinese father and having travelled the world in her previous career, Sam Lam is an L.A based creative who spends her time writing, consulting, styling, modeling and collaborating with brands to produce visual content.