The Aries New Moon is here to spark the next current of your personal evolution. Hannah Ariel explains how to max out the electrifying cosmic energy…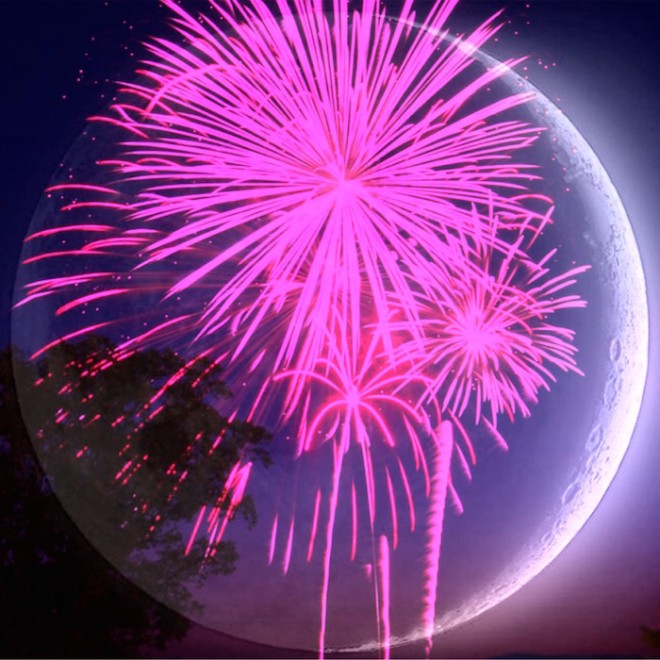 If there is one astrological phenomenon we can count on to be even more invigorating to our consciousness than the monthly New Moon itself, it is the annual New Moon that takes place in a CARDINAL FIRE sign; a New Moon in ARIES; and, this coming April 7, a New Moon conjunct URANUS in Aries, at that.
Over the past five years, all moon cycles beginning in Aries have, to some extent, sparked our Uranian capacity to become agents of radical change in our own lives. Since 2011, not one person can say they haven't experienced some type of an inner revolution. A fundamentally microcosmic life altering realization, that has led to the total reformation of a past ideal.
Along the way, each Aries New Moon has been a tipping points in our ability to creatively break out of seemingly impossible-to-change, consistently stuck-in-our-own-way patterns. And in exchange for freeing ourselves from the old, each Aries New Moon cycle has helped us find new and immediately effective ways to develop new parts of ourselves. Like, innovative, far-reaching, freaky-deaky-ridiculously magical parts of our beings. Everything from the way we think, to he way we make decisions and navigate our relationships has been somehow challenged over the past five years, as if begging for an upgrade.
On April 7 2016 we will experience once more the shockingly electric energy of Uranus conjunct the Moon in Aries – but this time even more powerfully so, as Uranus will be right by this Moon's side. The impact it will have on us as individuals depends on our willingness to continue to confidently divert from the norm, from what has been before, and embrace what are revealed as exciting new ways of being.
Before you read any further – pause, and think back in time to one year ago. Who were you then? What understanding did you have of yourself? How has that person changed since then? Now go back to just six months ago. How had you begun integrating those changes? What or who were you in the process of becoming more of? Now, come back to this very moment. How have you completely TRANSFORMED since one year ago? What has fundamentally changed?
The question NOW, is what will the part of you that remains do next?
See, an Aries New Moon is all about YOU, the individual; YOU, as a traveler through space and time; YOU, as the hero/heroine of your own personal journey; and all that YOU have brought into existence. And as it is your tale that is dynamically unfolding, it is only you who knows what comes next.
There's no doubt that there will be some degree of serendipity at work – IF, that is, you tune into your story and what it's telling you. This is a time to come alive with excitement about where these changes in your personality are taking you. And you can trust that whatever you have built on is here to stay this time around. For the first time in since Uranus entered fiery Aries, SATURN, the planet of karma, the planet that structures our whole reality in real time, is in a visionary fire sign of SAGITTARIUS.
In aspect to one another, this Aries New Moon is positively ensuring that we will be creating more stability for ourselves with the eventful actions we are taking now as an expression of our individuality – the true source of all fantastic Uranian breakthroughs.
To work with this energy on an even deeper level, we can also look to decipher the intention that lies behind the very degree that this Aries New Moon takes place – the 18th degree of Aries. The Sabian Symbol (a deeply symbolic channeled image) for this degree as stated in Dane Rudhyar's Astrological Mandala, is: "An empty hammock stretched between two trees. A constructive alternation of activity and rest, referring to the ability to balance outer vitalistic activity and withdrawal from such activity… which suggests a middle path between total involvement in instinctual or social drives and withdrawal in silence – thus living rhythmically."
And so this Aries New Moon is an invitation to stretch your consciousness to hold both polarities: the part of yourself ready for immediate action, AND the part of yourself that knows how to hold back to develop your ideas in private.
As much as this is a time to act on all the electricity that is being stirred up externally in your life, it will also serve you to consider ways you can tap into the quietly imaginative recesses of your consciousness, where your most unique and the magical solutions can take shape. Uranus in Aries energetically brings the future to the present moment and embodies the very idea that when every individual takes action from a place that includes a vision of the far-flung future, the present moment becomes ECSTATIC and can "contain multitudes."
The key to unlocking the gifts of this Aries New Moon will be to proactively seek an electrifying source of inspiration from within you, to be open the many possibilities you hold, and to align with the adventure of who you are becoming. And to remember all you have gone through to become who you are now. The answers to what kind of actions to take in light of your current circumstances will spring forth as soon as you allow yourself to embody the power of both creation and recreation.
As an empowering mantra for ALL sun signs at this time, I'm including the below poem – some carefully selected bits and pieces from sections of Walt Whitman's brilliant Song of Myself:
(3.) There was never any more inception than there is now
(20.) I exist as I am, that is enough
And I know the amplitude of time
I am afoot with my vision
(51.) The past and present wilt – I have fill'd them, emptied them,
And proceed to fill my next fold of the future.
Do I contradict myself?
Very well then I contradict myself,
(I am large, I contain multitudes.)
To book a personal reading with Hannah contact: [email protected]