This New Moon in Libra is gifting us the tools to fashion a beautiful and empowering reality, says Hannah Ariel Eckhaus. PLUS a Kundalini meditation to aid the process. Image: Mellisa Ristine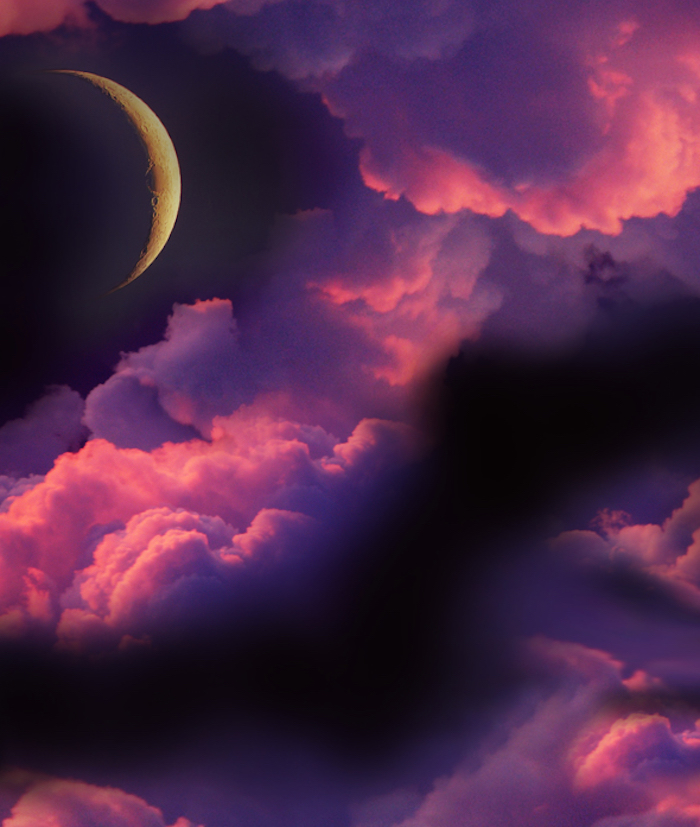 Monday October 12th we are being delivered an opportunity to get real clear, real fast! We are being gifted a liberating new moon at 19 degrees of Libra. What makes this New Moon particularly ripe with potential for intentions to fly is that it's taking place in direct opposition to innovative Uranus in Aries! Uranus is THE liberator. Uranian energy is radically electric, vertical like lightening, offering us "ah-hah" moments like we've never had before.
Libra is an intellectual air sign so our conscious thoughts count big time right now. The New Moon in Libra appears to be asking not just for our intentions but our attention. Especially when it comes to seeing how our inner thoughts correlate and compose our external reality. After all, what is suggested to us in our thoughts defines all the actions we take in our waking life.
Post-eclipse season, this New Moon in Libra will ideally help us to fashion new, focused thought forms, that will in turn lead us into a new, focused reality! A reality that reflects a recently realized new ideal regards your identity – a part of yourself that perhaps you've compromised or forgotten over time in order to follow preconceived social graces. After all, Libra rules relationships, balance, posture – this sign is master in the art of appearances. The New Moon in Libra couldn't be more happy to help liberate you, with the reminder that the way things appear absolutely depends on your direct participation.
There is always so much more going on beneath the surface. The key is to remain clear and calm enough in your reality so that your intentions can propel you forward into situations and relationships that will support what you have in mind for the future. What is being presented to you? And where do you really stand on this? If you don't know, then how then how can you move forward in a way that will support you?
Now, through the astrological energy surrounding the New Moon itself, it's as if the Universe is handing us the tools to answer these questions ever so quickly. Uranus, Pluto, Venus and Mercury are all here at work, to aid in the manifestation of a reality based on the genius, beautiful ideal within you! The opposition to Uranus is all about cracking open the code of what needs to happen next; the brilliant "oh my goodness!" moment, where the truth becomes strikingly clear.
At the same time, Pluto will be squaring this Moon. Pluto energy deals with subconscious patterns so ingrained, we can no longer remember when they became habitual. Pluto in aspect to this New Moon in Libra will be to our advantage, empowering us to break down deep rooted, re-occurring thought patterns that are, in all actuality, no longer serving our highest aspirations. Especially in regard to relationships. Especially in regard to what feels harmonious.
This may not feel as "nice" as Libra would like at first, but Pluto and Uranus absolutely will make sure that your New Moon intentions begin a process helps reorder our reality to illustrates a new ideal, one that you will be proud to look at from an objective point of view.
Along with these power players, Venus and Mercury are currently involved in what is called a "mutual reception" – when two planets are in one another's signs of rulership. While Libra energy is ruled by Venus; Virgo energy is ruled by Mercury. Currently, Mercury is in Libra while Venus is in Virgo, ultimately activating the circuitry of our consciousness in a way that will assist our thoughts to better reflect our true values.
Also, Mercury will be conjunct the North Node at this time. Meaning, our destiny is in motion and it is utterly up to us to be clear in our thinking now, as it is the clarity and co-operation of our thoughts that will lead us forward. Prioritize and remain focused on what creates harmony – what sings to your inner self? What did you learn about yourself during that Aries Full moon eclipse? This is prime opportunity to put all your recent epiphanies to good use! Venus in Virgo is an earthbound energy that takes great satisfaction in arranging the details to serve a greater purpose. What details do you want to pay attention to?
Post eclipse season; post Mercury and Venus retrograde; it's time to break on through to the other side of self-doubt and self-evasive compromise. Remain alert to your most beautiful ideal. Now, offer yourself a chance to see it through in reality.
:: MEDITATION FOR THE NEW MOON IN LIBRA::
A kundalini meditation designed to particularly detox the mind each morning is Sodarshan Chakra Kriya. In the teachings of Yogi Bhajan, Sodarshan Chakra Kriya is: "one of the greatest meditations you can practice. It has considerable transformative powers…giving the individual a new perspective on the Self. It retrains the mind…it can purify your past karma and subconscious impulses that may block you from fulfilling you…it balances mental projection…establishes inner happiness and a state of flow and ecstasy in life."
What tools help keep your thoughts and intentions clear? Join the conversation in the comments below, and connect with us on Instagram, Facebook and Twitter!