The Aries Full Moon Eclipse is an invitation to step into the most authentic expression of you. Hannah Ariel Eckhaus explains how this will manifest in your life…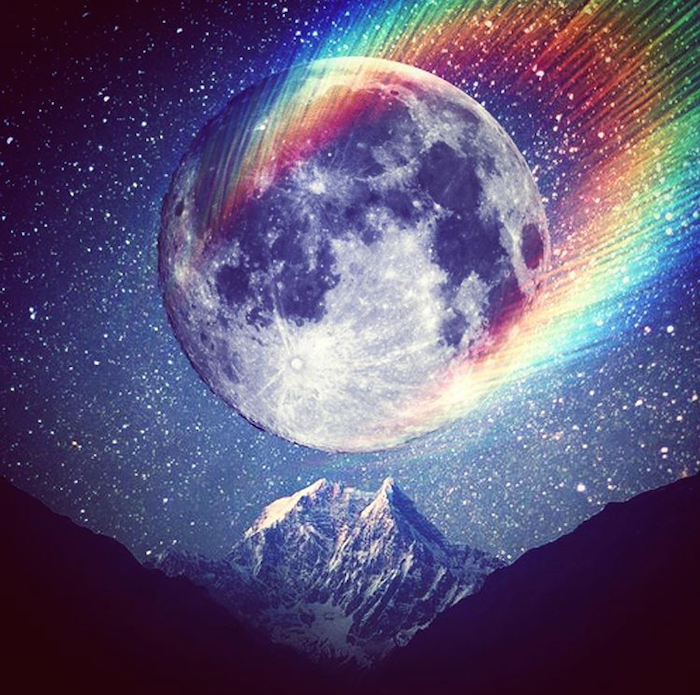 " Fire is the ultra living element. It is intimate and it is universal. It lives in our heart. It lives in the sky…Fire suggests the desire to change, to speed up the passage of time, to bring all of life to its conclusion. To its here-after. It magnifies human destiny; it links the small to the great; the hearth to the volcano; the life of a log to the life of a world… It is a renewal." – Gaston Bachelard, The Psychoanalysis of Fire
On September 27th we will be experiencing the utterly transformative power of a super Full Moon, total lunar Eclipse, blood moon and full harvest moon all rolled into one fiery phenomenon happening at 5 degrees Aries. This will be the fourth and final of a tetrad of blood moons that have taken place across the Aries/Libra axis over the past two years, transforming how we take liberated action, both uniquely as individuals and in relation to the world beyond our self.
Anytime there is an eclipse the Nodes are involved (the points where the orbit of the moon cross the ecliptic); the South Node whispers of our past life while the North Node hints at visions meant to be experienced in this lifetime. On September 27th the Nodes will be aligned with the Equinox, and everyone on planet Earth is bound to experience a great sense of destiny being magnified.
This particular change of season also asks us to step directly into the axis of self/other with the courage carried over from past lives, in order to dignify our future relationship with the world we live in. EXCITING!
We are arriving at a divine moment in time, when the Earth, Sun and Moon line up in such a way that the Sun's light does not illuminate the Moon – instead the Earth casts a red shadow across its surface. It may feel for a moment that you are swimming in waters you cannot name, and yet at this time you are being asked to trust in the next chapter.
This Eclipse will pull on us like an ancient memory that's ready for our full attention. It will ask for your direct participation in life, and to trust that your deepest instincts on this day will be aligned with divine energy. No matter what shows up, emotionally speaking, there is nothing to fear. You are being given the opportunity to boldly answer the call – to confront and resurrect the root of what stirs within you, no matter how unrecognizable may appear.
As the Earth casts its shadow, be mindful that whatever is unearthed from your subconscious that may require re-rooting or re-routing. You are ready! Like an Aries you will feel as if you are born ready. Trust. And remember, as Aries is the first constellation in the Zodiac it speaks to the original impulse, the initial spark that sets the whole story aflame. React authentically from an empowered position of fearlessness, and trust in your destiny.
There is a certain soul-affirming nature to this Moon, as it will not only be conjunct the South Node but the also asteroid Vesta – Goddess of the hearth, protector of the flame, her energy is one of true devotion. Who or what within us is worth protecting? Where and how in your life can you renew your devotion to your soul's desires?
What you experience on a personal level depends on your chart, in particular, where the Aries/Libra axis falls, and whether or not you have planets in any of the Cardinal signs (Aries, Cancer, Libra, Capricorn).
Because Mercury is currently retrograde in Libra, this is a potent time to reflect on the relationships you are currently invested in. Remember too, that relationships do not just come in one form – observe your relationship to your thoughts, habits, a belief systems, health regimes etc. If you are trying to maintain a connection to something or someone you've outgrown, it will become very apparent at this time.
While the scales of Libra seek connections that create a sense of safety, a sense of "I know if I stand here then this (insert person place or thing) will be there," at the other end of the spectrum, Aries asks what can you do to liberate yourself and transcend your current situation in order to manifest your highest destiny.
A passage of time is opening up for you to assert the Self you actually want to be. Again, in which area of life you are being asked to transform and absolutely re-invent yourself depends where this Eclipse falls in your chart. Aries rules the head, so you can also think of this as a time to quite literally blow your own mind and re-imagine who you can be in this lifetime.
For those who have been following the rhythm of 2014's Cardinal Grand Cross, which shook many of us out of limiting self-perceptions, you will find this Eclipse to be a culmination and celebration – a moment to cross over once and for all from who you were into who you will be.
A moment to renew the original connection to your Soul and the destiny it is continuing to form a relationship with. Rest assured that wherever you are being encouraged to take action, or assert yourself in a way you never have before, is a call from your Soul's inexplicable urge to be self-actualized, and ultimately to relate to your life in a way in the most authentic way yet!
Look to see where 5 degrees Aries falls in your natal chart to map out where you can begin to fearlessly take action and where you can begin to celebrate this culmination of energy in a way that will best support your future self:
1st house: show up for yourself in a way that honors how you would like to be seen
2nd house: initiate an empowered sense of your own personal resourcefulness
3rd house: speak your truth, and allow your words to reflect your most authentic thoughts
4th house: find where you feel most at home and know you belong there
5th house: recognize how much you shine, and realize how YOU want to enjoy your time
6th house: actively create a routine that sparkles with your individuality
7th house: your opinion matters; you do not have to be who others need you to be
8th house: transform the ways in which you evaluate your worth – individuate your magnetism
9th house: transform your relationship to the truth; tell yourself the story you know to be true
10th house: aim for authentic recognition out in the world, a personally meaningful reputation
11th house: focus on finding allies who help you shine in your community
12th house: give your longest held dreams a heartbeat of their own
To schedule a personal reading with Hannah, email: [email protected]