The Cancer waxing quarter Moon forms part of a Cardinal Grand Cross. The message? Time to act with integrity and compassion, says Jennifer Racioppi…Collage: Seana Gavin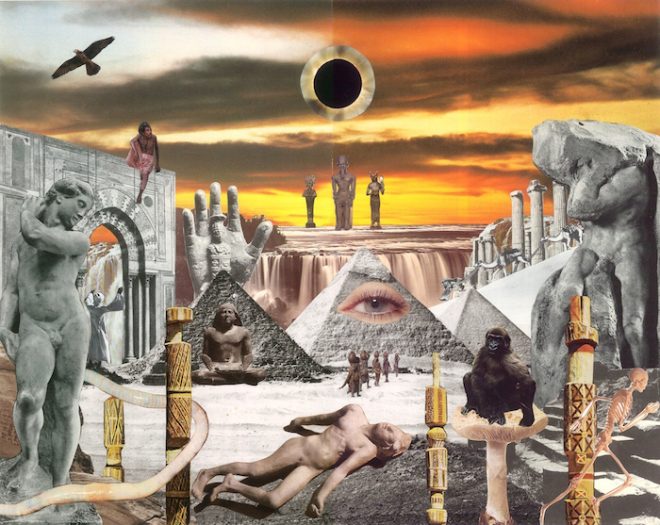 Waxing Quarter Moon :: April 3 2017 :: 2/39pm EST :: 14 degrees Cancer
This Cancer waxing quarter Moon, in the sign that represents the feminine, family, and home, brings more than just a regular Sun/Moon square—it forms part of a Cardinal Grand Cross in the sky. Before I go down the rabbit hole of explaining this fancy terminology, let me express this: this moon offers all of us an initiation, should we choose to see it as such. An opportunity to rise to the next level of our creative power, claim the truth of who we are, and cut away that which does not align with our most vivid and desired outcomes for our soul. Are you up for the challenge? Cause the Universe is sending us a massive dare!
So what's a Cardinal Grand Cross?!
An astrology chart with this configuration looks like a box with a cross in the center of it. It occurs when four planets "square," or form a conflicting 90-degree angle, in the "cardinal" signs of the Zodiac, creating two sets of oppositions.
In this particular case, the Sun at 14 degrees of Aries, squares the Moon at 14 degrees of Cancer, while simultaneously squaring Pluto in Capricorn at 19 degrees. The Sun opposes Jupiter in Libra also at 19 degrees while the Moon also opposes Pluto and squares Jupiter.
And this cosmic showdown happens in the fierce, assertive, and get shit done cardinal signs.
>>>
:: The Sun ::
The Sun, now halfway through the 30 degrees of Aries, holds the match to the fire that's smoldering. Over the last few weeks the cosmos endured an enormous emphasis on the element of fire, and on the opening quarter of this lunation, the Sun in get-it-started Aries pushes us to think about what seeds we want to sow, and what crops we wish to cultivate right now! Opposite Jupiter in Libra, the emphasis is on standing our ground in our collaborations with others. 
:: The Moon ::
The Moon travels through her own domain in the sign of Cancer, the sign she rules. Here, she asks us to reach down into the depths of emotion, and our feminine force from within. She asks us to feel our needs, connect with our capacity to nurture ourselves, and others, and grant ourselves the dignity of our Queendom. Her opposition to Pluto may bring forth an awareness of the places in which we've subconsciously given away our power to please others.
:: The Square ::
This Cancer waxing quarter Moon brings a focus on emotionally driven action. Given this quarter Moon's status within the Cardinal Grand Cross, compassion and wisdom are a non-negotiable! At the same time, the Sun hovers around the same degree of Aries where Venus initiated her retrograde cycle on March 4: meaning this waxing quarter moon and Cardinal Grand Cross will likely highlights lessons of the current Venus retrograde period. Simultaneously, Mercury in his shadow prepares to go retrograde, too, on the 9th. While this cardinal, action oriented Moon asks us to lunge forward, it also presents us with a fierce point of reflection. Embrace the duality and lean in to both.
:: The Message ::
If we embrace the tension and mystery of this Cancer waxing quarter Moon, we may just find our voice and rise. Yet, it's essential to witness and digest what emerges before acting. Staying in the place of the observer allows us to understand how we want to proceed. Allows us to genuinely hear and listen to the call from within, so we can set clear and compassionate boundaries with others. Will it feel smooth? Probably not. However, if we can pause and choose our words and actions with intent, this potent waxing quarter Moon offers an opportunity to awaken and integrate. Worthy of the work, see any tension as a pathway to a higher consciousness. Rise, baby rise.
For more Moon wisdom or to book a coaching session with from Jennifer visit Jenniferracioppi.com. To learn more about how to work with each Moon phase, join our community of likeminded spiritual activists at Moon Club!