Join Numinous founder Ruby Warrington and friends for our New Year, Nu You retreat—literally the most high-vibe way to ring in the new year, ever!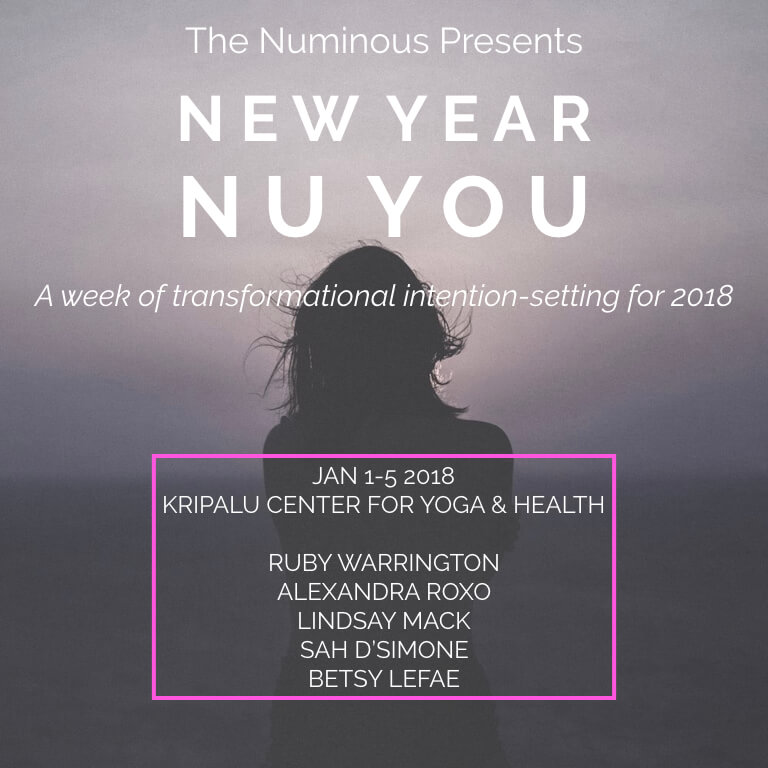 Question: what's the most high-vibe way you can think of to ring in new year?
Here's my answer. I want to welcome this mega cosmic refresh with my arms and heart open wide. I want to make the transition from one year to the next in communion with people I trust with all my body and soul. I want there to be ritual, and ceremony, and for my intention setting to be … intentional.
I want to get quiet, so I can hear my own heart speak. I want to draw my scattered energy close. To fully recharge. I want to learn new things that ignite my inner wisdom. And I also want for there to be big hugs and belly laughs. Delicious food. Cozy walks. I want to be close to nature; all the better for breathing in the brand new 2018 air, and feeling the energetic shift deep in my bones.
Which is what I got to create when the lovely people at the Kripalu Center for Yoga & Health asked me to host a Numinous takeover the first week of 2018. YES, I said, in a hot heartbeat. And lo, our first ever New Year, Nu You retreat was born! (Read on for the full story, or skip to the end of the post if it's already a YES from you too, and you just wanna read the line-up!)
Thank you, Numiverse. Because the past few new years have not been the best for me.
I'd always had December 31 pegged as party time. Food and booze with friends. Auld Lang Syne and sloppy kisses as the clock strikes midnight. Going through the motions with all the old traditions (which never really felt like mine). A foggy start the morning after, scrawling a list of half-baked "resolutions" over eggs and a sore head.
And more recently, sober curious new years' spent feeling like a loser for not feeling like a party. Early to bed and long walks under clear blue skies the morning after, speaking my intentions into the ether. The start of something fresh, yes. But lacking a sense of celebration. Of communion.
So, after I said YES to the Kripalu people, I called some more of my favorite humans to ask if they wanted to come try something new this new year, too. They did, and the result is New Year, Nu You—a week of transformational intention-setting for 2018!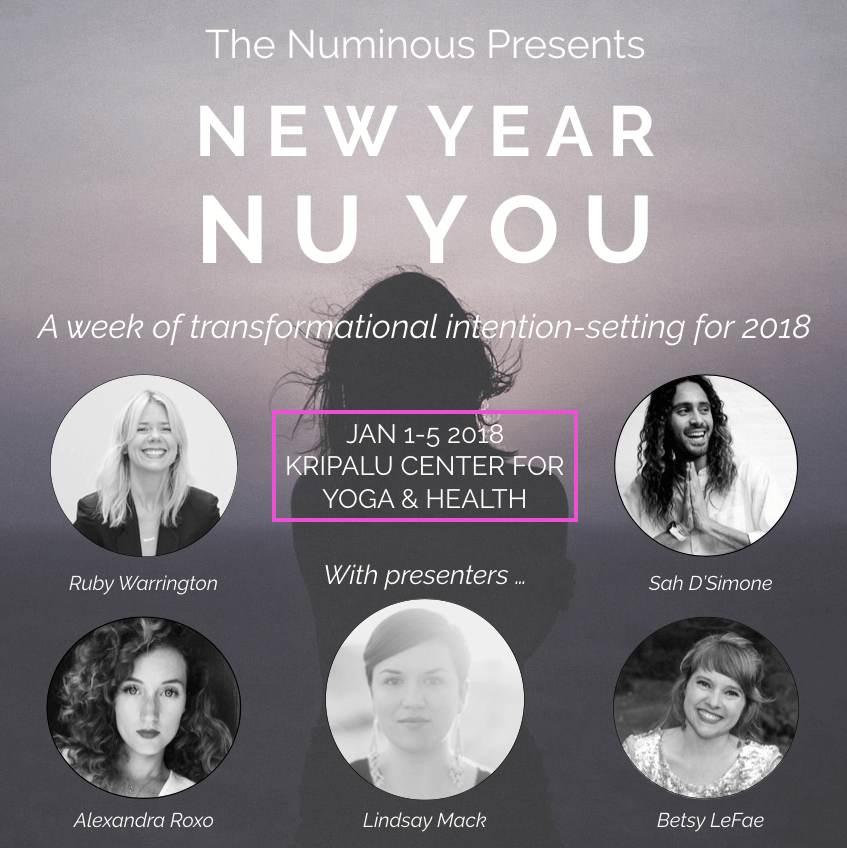 The people I called also happen to be some of the most talented, inspiring and heart-centered teachers I have worked with on my spiritual path. Some of whom are featured in my book, others whom I have co-curated much magic with. And this coming JANUARY 1—5 you get to share in this magic too.
So, what's on the program?
As the great Universal oneness would have it, Jan 1 2018 also happens to fall on a Cancer Full Moon. (And you know how I feel about the Moon). Cancer is the sign of deep emotional healing; of sacred self-care; of family; and of coming home to the comfort of our own selves. And so we will begin with a special Full Moon ceremony, to open our container and set our intentions for the week to come.
We'll then go DEEP with 4 days workshops, ritual, and awakening. Including:
Astrology as Basic Life Skill. Unlocking the basics of birth chart interpretation and a look at how the astrology for 2018 applies specifically to YOU … hosted by me!
Trust Yourself: Intuition 101. A practical guide to connecting to your own intuitive voice and unleashing your psychic super-powers with Betsy LeFae.
Guided Intention-setting Journey. A meditative deep dive into your heart space, using shamanic journey work, visualization, symbolism, and imagery with Alexandra Roxo.
Tarot for The Wild Soul. An immersive journey into soul-centered Tarot reading, learning how to read Tarot for growth, healing, and personal expansion with Lindsay Mack.
The Happiness Method. Ancient wisdom meets modern science and holistic nutrition, as we learn real-world applications for self-transformation with Sah D'Simone.
Spirit Séance: Group Intuitive Circle. The chance to receive your own psychic message from the spirit world in a safe and protected environment with Betsy LeFae.
Heart to Heart: Connection as the Sacred Path to Love. Discover a deep practice for unlocking our most authentic self-expression, heartfelt truths, and intimate relationships with Alexandra Roxo.
The Sacred Wheel. A Tarot journey into 2018 to discover the Tarot medicine for the year to come with Lindsay Mack.
Meditation and Breathwork. A practice to begin to rewire your brain with new habits, to heal trauma, settle the mind, and become more present and emotionally intelligent with Sah D'Simone.
Story Medicine. We close with a ritualized, open-sharing circle, to leave us feeling seen, valued, and inspired to continue on your journey, also hosted by me.
(Get full class descriptions HERE + presenter bios HERE).
And all in the beautiful, nurturing surroundings of amazing Kripalu, one of the premier yoga and wellness centers in the US. Set in 100 acres of beautiful grounds, we'll be fueled with three meals per day from the renowned Kripalu Kitchen. All guests will also have access to daily yoga and other movement classes, plus access to the sauna, fitness room, outdoor hiking trails, and more!
The cost of the Numinous New Year, Nu You program is $375, with accommodation starting at $460 per person (including all food and additional workshops). Plus, there's plenty of room for you to bring all your friends! Read more and explore all the options HERE.
Can you think of a better way to begin your new year? Didn't think so. 2018 we are COMING TO GET YOU …