The Cancer Full Moon opens a portal of transformation, if we can process our feelings, get inspired, and stay present in the now, says Sandra Sitron.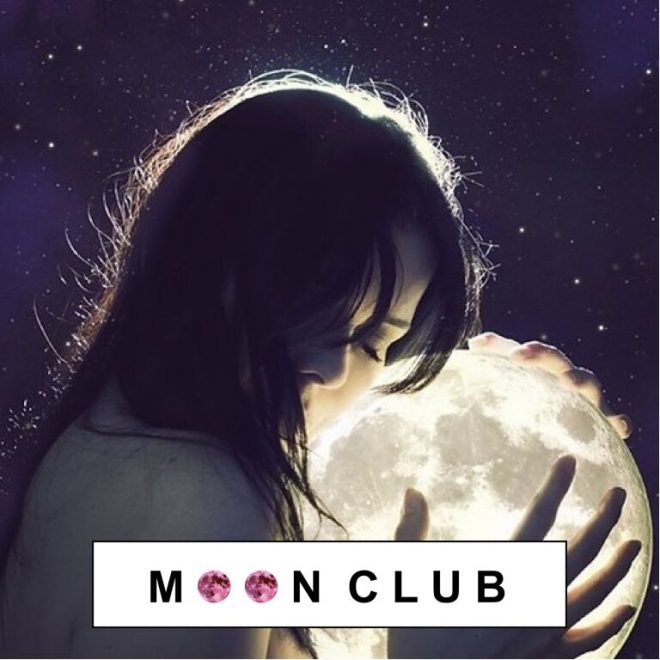 Wolf Moon :: January 12 2017 :: 6.36am EST :: 22 degrees Cancer
This Moon is like a lullaby. She sings, "Find the softest part of your psyche. Open there just a little bit more. Somewhere there is a vulnerable part of you that is ready for a change. It's time to heal. Shed a protective layer. Turn a wall into a ladder."
You are in a moment of incredible growth. The Cancer Full Moon is offering you an opening. It's transformational. The Cancer Full Moon is opposite the Sun in Capricorn. Capricorn is ambition and Cancer is nurturance. The Moon is the ruler of Cancer and she is nice and comfy in her sign right now. Yet this energy can feel so loud. Emotions come to their full blossom or their full boil. And the Cancer Full Moon chart is packed with heightened astrological energy. Let's delve in…
***
The Moon and It's Message
Pine trees in the moonlight.
Trees standing straight and tall, like you. The trees house an internal drama. There is a veil of peace and serenity, yet within each tree is a Universe. Cells multiply. Moss grows and birds sing. Sap flows and insects die. For the tree, time is different. Maybe it's more like a series of rings and less like a straight line. Your message is to root yourself down and hold yourself up. Remind yourself that nothing is as it seems. The Cancer Full Moon wants you to remember that everything is more complex and more simple than you think. Capricorn Sun is Father and Cancer Moon is Mother. Hold yourself like a baby and let yourself truly experience the mysteries of the world. On this first Full Moon of the year, you are an infant. Let yourself be in awe of the enigma.
***
Moon Inconjunct Saturn.
Scaffolding.
The Moon is in her own sign and inconjunct Capricorn's ruler, Saturn. Your feelings may get hurt. The squishy, vulnerable parts of you may feel like they are spotted by everyone. You can't hide. Your old stuff is ready to be drawn out and healed. But the process may be downright frustrating. Find a structure for your emotions. Here's one:
Step 1: Forgive yourself. If your emotions are causing behaviors you aren't too proud of, accept it.
Step 2. Define your feelings. What is this feeling called?
Step 3: Identify the pattern. When was the first time you felt this way (high school or before)? If you can't answer that, try this one. Name three character traits of the person(s) involved. Who else in your formative years also had these traits? A parent? Yourself?
Step 4: Go back and hug the child/teenager part of yourself that needs the hug. You are an adult now. You can nurture that inner child and tell them it's going to be okay. Sit the little imaginary version of you on your lap and rock them.
Step 5: Process. This could mean different things… journaling, apologizing, writing an affirmation about how you would like to feel, or talking about it.
This 5-step process can be used whenever high emotions feel frustrating. Keep at it. It brings together the nurturing nature of the Moon and the structural energy of Saturn and the Capricorn Sun.
***
The Grand Cross Pattern
Stuck in a doorway.
The Grand Cross pattern is made up of Sun and Pluto opposite the Cancer Full Moon and squaring the opposition of Jupiter Uranus. Two oppositions. 4 squares. It looks like a giant square in the sky with a cross in the center. It's a cardinal grand cross. The cardinal energy is initiative. Cardinal means "hinge," which describes walking through a doorway into a new beginning. A new door opens. But the grand cross itself can feel like stuck energy. It's like you being pulled in four different directions. Whatever portal you need to walk through on your healing journey, this is you standing in the doorway.
You've got your arms and legs outstretched and clutching to the door-jam. It may feel scary. It may feel like there is something on the other side that you shouldn't see. Something will either push you through or you will retreat. Who's to say which is better for you at this moment? The important thing for now is that you honor your experience in this moment. Your arms and legs are the grand cross. There is a sense of being pulled in many directions. How do you stand in the middle of this storm? How do you hold your center? How do you breathe through it? You need an anchor. It needs to be spiritual. It needs to be inspiring.
Which brings us to our next clue…
***
Venus Conjunct Neptune
A magic wand.
Venus is exactly conjunct Neptune. These two are buddying up and creating a Thor's Hammer aspect pattern with the Moon and Jupiter. Don't underestimate the powerful energy that you are emitting at this very moment. You're sending out vibrational beams that are attracting more of the same to you right now. Find a way to funnel your energy. Make yourself into a magic wand.
Enchanting, lovely Venus and Neptune together can help you to transcend. If the balance is out of whack for you right now, you may find yourself locking into the lower vibes of Neptune—drugs, alcohol, bewilderment. Keep yourself inspired. The verb "to inspire" means both to fill with an animating, quickening, or exalting influence, and to draw in air.
Do both. Focus on your breathing. And then find something that inspires you by engaging your sense of purpose. Use this inspiration to funnel your thoughts and emotions. This is how you activate the power of the magic wand that the Cancer Full Moon chart is presenting you with. How to connect with your higher-self. Probably you do this through meditation. Maybe you listen to inspiring music. Maybe you create something. You will have to get out of your typical thinking-cycle for a handful of moments. Keep leading yourself away from the swirling thoughts. You will keep returning, but you can keep leading yourself away. Focus on the moment. Like when you're making your coffee in the morning. Or washing your hands. There is so much magic in the moment. The "now" will help you move through the doorway to the next stage of your healing journey.
***
Summary: This is a powerfully energetic time. Allow your feelings. Get ready to change and heal. If you feel stuck, pulled in four different directions, vulnerable, or confused—that's okay. You will move through the doorway by processing your feelings, inspiring yourself and staying present in the now.
The below suggestions are for self-inquiry by sign to help you work more deeply with the energies of the Cancer Full Moon. For a more accurate reading, check where 22 degrees Cancer falls in your birth chart, and also read for that house…
Aries or 4th house.
In what area of your life do you wish for more security? How old is the part of you that wants security? Can you give more empathy to that part of you?
Taurus or 3rd house.
What would you like to be able to believe in? What is stopping you?
Gemini or 2nd house.
What are you building in your life? What is your most valuable asset when it comes to this task?
Cancer or 1st house.
What would you like to say "Yes" to? What would you like to say "No" to? What is blocking you from asserting your desires?
Leo or 12th house.
Ask yourself, "what feeling am I not allowing myself to acknowledge?" What comes up?
Virgo or 11th house.
What are your hopes for the future? Who in your community will support you?
Libra or 10th house.
What are the structure or systems in your life that you are ready to simplify?
Scorpio or 9th house.
Can you make a commitment to explore a new place or philosophical idea this week?
Sagittarius or 8th house.
Where in your life can you let go of control? What does the idea of spiritual surrender mean to you?
Capricorn or 7th house.
Who do you think you could be more open with? How might that change the relationship?
Aquarius or 6th house.
Is something stopping you from feeling grounded? If so, what?
Pisces or 5th house.
What can you do to bring more playfulness and lightness into your life?