Since 2012, we've been in it for the cosmic long haul. The Pisces Waning Quarter Moon wants you to acknowledge the end of this cycle of soul-shaking change, and to courageously meet your life exactly where it is, says Jennifer Racioppi. Collage: Seana Gavin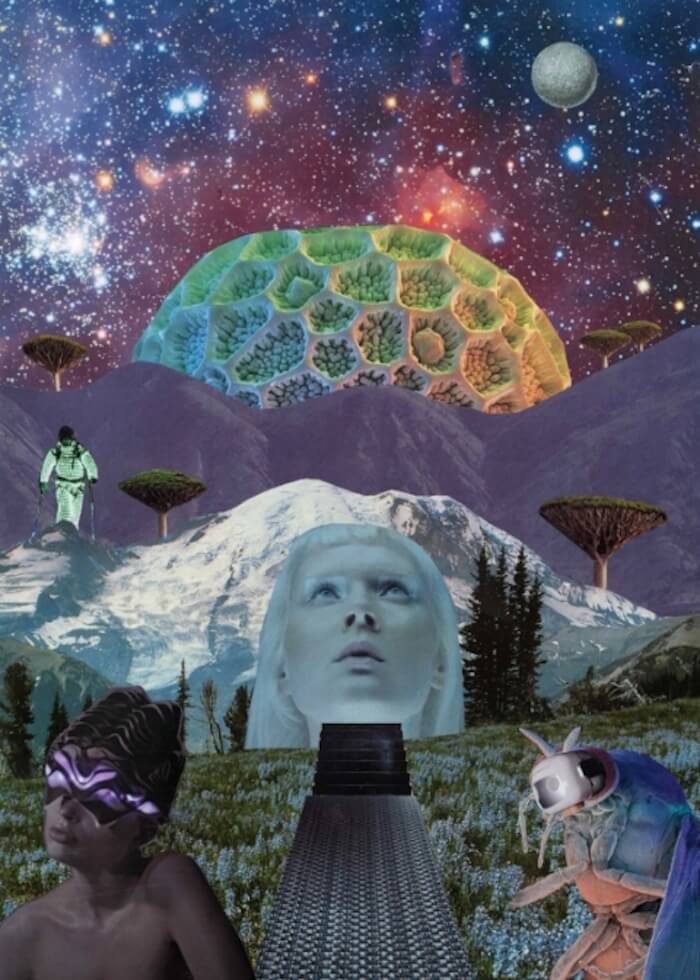 Waning Quarter Moon :: June 17 2017 :: 7:32 am EST :: 26 degrees Pisces
It's been a tumultuous cosmic time, moon beams. And this latest lunation marks the culmination of some serious soul work …
In the midst of June 15's Saturn-Sun opposition (a.k.a. one of the toughest days of the year), and just before Saturn's June 18 opposition to Mercury (ouch o'rama), the Waning Quarter Moon in Pisces offers both a call to action, a clearing, and a point of culmination after a two-plus year cycle …  
Think back to March 20, 2015, when we experienced a solar eclipse at 29 degrees of Pisces—the last degree of the last sign of the zodiac. This eclipse occurred on the heels of the final of 7 exact squares between Uranus, who represents change and revolution, and Pluto, who represents power.
The Uranus-Pluto Square took place between 2012-2015, representing one of the most tumultuous astrological events of our entire generation.
These seven squares rocked life dramatically for all of us, regardless of our sign … 
And the final one of these squares happened just days before 2015's Pisces Solar Eclipse, which opened up the Lunar Gestation Cycle that this current Waning Quarter Moon closes. The 7 Uranus-Pluto squares signify so much of what this decade represents: large-scale sociopolitical and religious change.
Now, this Pisces Waning Quarter Moon asks us to acknowledge the significance of this MASSIVE change on a global and personal level!
:: The Sun ::
With the Sun at 26 degrees of Gemini opposing Saturn in Sagittarius, and simultaneously squaring the Moon and Chiron (the wounded healers), our issues are up for examination.
In astrology, the Sun represents our identity and vitality. When the Sun opposes Saturn, as he did on June 15, we can expect to possibly feel under the weather, under pressure, or consequently extremely focused. When the Sun squares Chiron as he will on Monday June 19, our wound steps forward as a massive teaching!
Be bold. This is the time to meet life exactly as it is so that you can integrate and rise. If you do, you can make huge gains.
:: The Moon ::
Between now and the initiation into a new cycle that comes with the upcoming Cancer New Moon on June 23, we have some serious work to do.
Even though the Moon is in Pisces, a sign that loves to escape, it's time to to conjure the courage to face everything and see it for what it is.
In doing so, you'll reap the benefits of the seeds you planted in March 2015, and uncover new marching orders as they relate to your life purpose.
:: The Square ::
This Waning Quarter Moon packs a punch. It reveals both our wounding and our purpose, while simultaneously shining a light on karma set in place two-and-a-quarter years ago. Since this cycle corresponds with the ending of the Pluto square Uranus epoch, it's been heavy to say the least! 
But here's the good news: we also stand to reap massive rewards right now, as a very potent Lunar Gestation Cycle comes to a close. The karmic lessons of the past two years have strengthened us and shown us how to step into our power in radical new ways.
:: The Message ::
With pure chaos unfolding around the globe right now, many shades of sadness are present. Simultaneously, on an individual level we need to reconcile personal pain to step more fully into our power, passion, and purpose.
On this extremely potent Waning Quarter Moon don't write anything off as coincidence. Instead, look backward and unravel the patterns unfolding in your life. Stand in your strength and commitment to the light. The world needs you more than ever, especially as our societal pain feels so razor sharp.
Don't run and hide. Instead, be brave and look your pain in the eye. Next week, we move into an entirely new cycle. In the meanwhile, a new iteration of your life purpose reveals itself. Do NOT miss the significant power of this moment!
For more Moon wisdom or to book a coaching session with Jennifer visit Jenniferracioppi.com. To learn more about how to work with each Moon phase, join our community of lunar lovers at Moon Club!