With the recent cosmic uproar caused by Uranus' game-changing sign shift, the 2018 Virgo Waxing Moon is so welcome. Use this earthy energy to lean into your desires, allow for easeful progress, and make your dreams real, says Jennifer Racioppi ….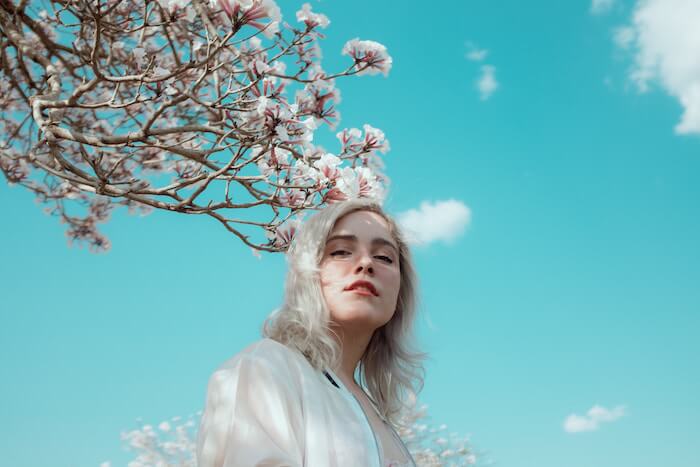 Waxing Quarter Moon // May 21 2018 // 11:49pm EST // 1 degree Virgo
Each Waxing Quarter Moons offers a moment to reflect on what has been seeded since the last New Moon. Think back to the most recent New Moon in Taurus on May 15th. What have you been growing?
With the Sun now in curious Gemini squaring the Moon, the 2018 Virgo Waxing Moon marks an opportunity to tune in to your desires, allow for ease, and gracefully overcome obstacles that stand in the way of manifesting your dream …
>>>
// The Cycle //
This Waxing Quarter Moon hollers back to the Great American Eclipse of August 21 2017. It's been nine months since that massive eclipse shook things up—the appropriate gestation time to see the fruits of intentions set then. Just like babies in utero, Moon intentions have gestation periods as well. So look back to the Great American Eclipse, and ask yourself what intentions have been budding since then.
>>>
// The Transits //
Given the recent disruption caused by Uranus exiting Aries, the earthy trine between Uranus, now in Taurus, and the Virgo Moon is a welcome, supportive aspect. Use it to your advantage to help solidify progress and gains.
With Mars now in Aquarius, making a perfect angle to the Sun in early Gemini, allow for ease, motivation, and progress. In the days following the Virgo Waxing Moon, good-luck Jupiter makes an applying trine to Neptune, the planet of dreams, to support the manifestation of our desires. This aspect perfects on 5/25—lean into the winds of growth and abundance!
>>>
// The Square //
This Virgo Waxing Moon provides a stepping stone from curiosity (Gemini) into service (Virgo). While the Moon in Virgo might lean in the direction of perfectionism, now's not the time to let the pressure to be perfect win. Instead, allow the Sun in the earliest degrees of Gemini to inspire curiosity and creativity, and lean into the Virgo Moon for support and devotion to your exploration.
>>>
// The Opportunity //
After a drama-drenched exit from Aries into Taurus, Uranus aligns perfectly with this Virgo Waxing Moon, inspiring you to lead your most revolutionary life.
Now's not the time to fall into the trap of perfection (a Moon in Virgo tendency after all). Instead, go after what you most desire and allow Mars, who trines the Sun in Gemini, to support your ambitions. Despite the Moon traveling in fastidious rule-abiding Virgo, permit yourself to step out of the box and into your authenticity.
Think back to the Great American Eclipse of August 21 2017. What intentions did you plant then that you see sprouting now? How can you add even more positivity and mojo to your intended results? Allow this Virgo Waxing Moon moment to uplift and inspire. It hasn't been easy (at all!) so lean into the plentiful support now at hand and claim make your dreams a reality!
For more Moon wisdom, or to book a coaching session with Jennifer, visit Jenniferracioppi.com.