Stressing out about scheduling the month ahead? Put your planner aside & lay out the perfect tarot cards for May 2017, says Melinda Lee Holm.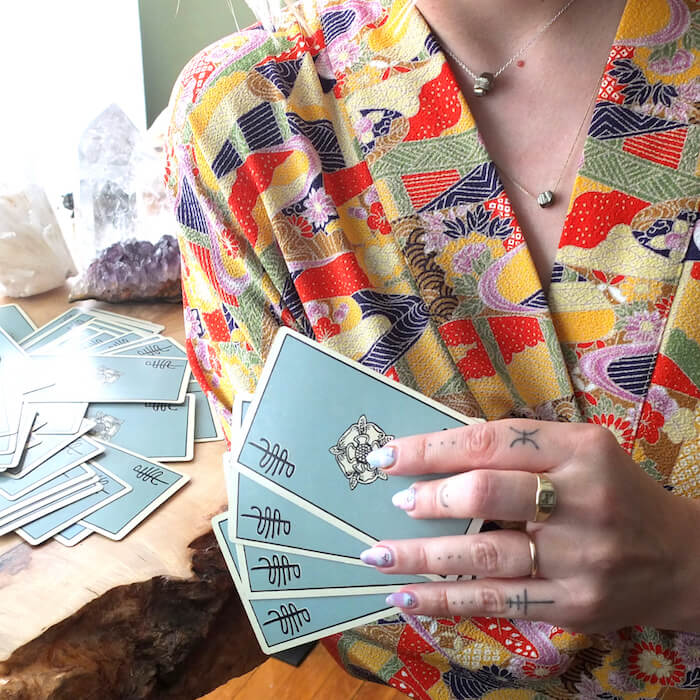 May is a fertile season for embracing your power and exploring duality! Throughout this month, we will be asked to examine what kind of power we value, how we can expand our vision of our own power, and how to embrace, honor, and cherish aspects of ourselves that seem in opposition to one another.
Meet this month's guides for creating, manifesting, and coming into balanced relationship with all that is …  
>>>
:: 5/01  International Workers Day—7 of Pentacles :: 
The month kicks off with May Day or Beltane- a traditional northern European holiday celebrating the coming of Spring with rituals of fertility, abundance, and heaps of flowers and foliage. In 1904, it was also designated as a day to demonstrate for laborers' rights.
The Rider-Waite image of a worker tending the vines is a perfect guide for honoring both the abundance of nature and the beauty of labor. Pentacles are the suit of Earth- that wonderful grounding element that connects us to the physical world and our animal natures. In the 7, the work has been done, the soil turned, the vines tended, and the result is a healthy crop of pentacles. Clad in marigold and sky blue, the figure revels in his power of creation in partnership with the Earth and the intuition that led his hand.
Calling in the 7 of Pentacles: 
Get your hands dirty! Gardening connects us to the fecundity of the Earth and to labor. 
Work hard, but don't overdo it – end your work day at a reasonable time. 
Light a candle in an earthy scent like tomato vine or moss. 
Eat fresh, locally-grown fruits and vegetables.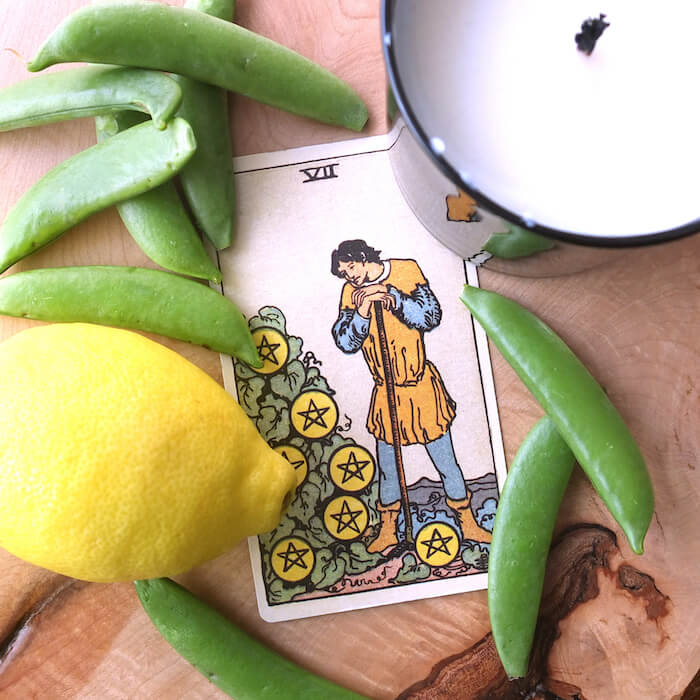 >>>
:: 5/03  Mercury Stations Direct- The Magician :: 
Rejoice! Mercury stations direct on the 3rd, bringing to a close 3.5 weeks of (often unexpected) insights about the recent past (and a lot of panic about glitches in technology). Now, armed with all of the new information we've dredged up, we can get start pressing forward with newly laid plans by calling on the Tarot's great manifestor- The Magician.
In Golden Dawn teachings, The Magician is associated with the planet Mercury, so there is a natural alignment here that can really help push things along if we listen closely to the messages received during retrograde. Drawing on the power of the Earth and the Heavens, The Magician taps into his natural attunement with the Universe to vibrate his vision into existence, opening infinite possibilities. With a little guidance, you can step into his enchanted shoes!
Calling in The Magician: 
Use your magic words! Write down goals in the present tense as if they have already been achieved.  
Wear Pyrite jewelry – the stone is a master of manifestation. 
Dress for your dream life.
Eat foods seasoned with cinnamon – the spice accelerates mastery and magical abilities.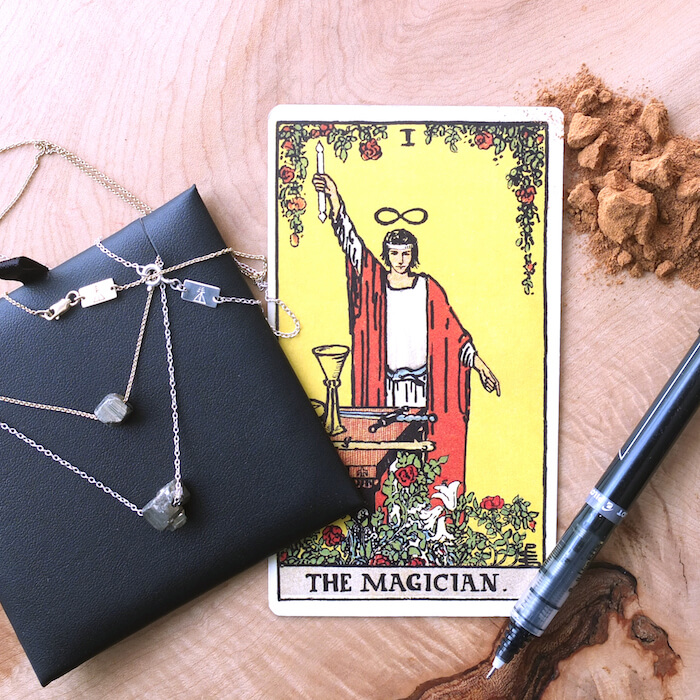 >>>
:: 5/14  Mother's Day- 6 of Cups :: 
Whether you are a mom or share a connection with a biological or chosen maternal figure, this is a day for honoring and appreciating the feminine nurturers around and within us. We can often get stuck in a role of mothering or being mothered, and have trouble balancing our giving and receiving. This Mother's Day, we call on the 6 of Cups to remind us to care for our care givers, and to take in the love we need to replenish ourselves as caregivers.
The 6 of Cups carries the energy of emotional harmony and balance. The figures in the card are out of balance proportionally, but the larger figure seeks to restore harmony by giving a flower-filled cup to the smaller figure. All of the cups bear a single white flower, which strongly resembles an enlarged jasmine blossom- the flower of purity and sensuality. The lesson here is that true and pure beauty is found through actively balancing the relationships in our lives.
Calling in the 6 of Cups: 
Perform random acts of kindness – and receive them gracefully from others!
Carry a Chrysocolla, the Goddess stone, to replenish the energy of the Divine Feminine. 
Wear jasmine perfume. 
Care for your mom or moms, biological, legal, or chosen.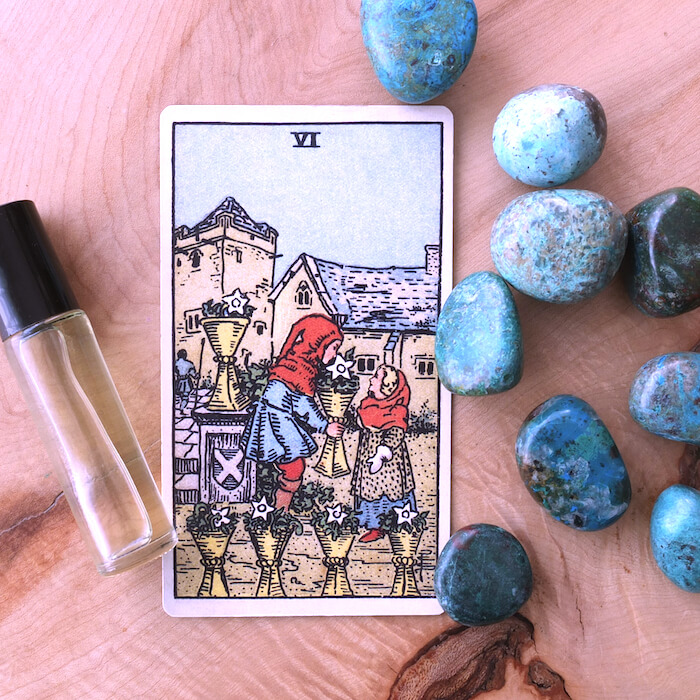 >>>
:: 5/21  Sun Enters Gemini- The Lovers :: 
Twin season! The Sun's entry into Gemini brings openness and flexibility to any stale routines, and teaches us to see all sides of an issue and not to press too hard for a solution that isn't working.
The myth of Gemini follows a pair of twins with the same mother, but different fathers. Since one has been fathered by the god Zeus, he is immortal. When his mortal brother dies, he begs his father to keep them together and Zeus obliges, making both twins immortal, living together for eternity in the constellation Gemini, separate but perfectly paired. In our mortal lives, Gemini teaches us to allow conflicting sides of ourselves to co-exist in harmony. We can be a business mogul AND a dreamy poet, a driven creator AND a grounded homemaker. To find how to live in this duality, we look to The Lovers.
The Lovers shows two figures standing beneath a bright angel. Early interpretations positioned this card as indicative of romantic love, but modern Tarot scholars view the card's energy as one of perfect pairing and ideal relationship- whether romantic, professional, or creative.  The core of the wisdom here is to see that excellence – in relationship or in ourselves – can only be achieved when each part is celebrated for its individuality and not consumed by the whole.
Calling in The Lovers:
Wear contrasting colors. 
Make an exquisite corpse drawing or poem with a friend.  
Explore foods with savory/sweet combinations. You can start with cayenne spiced chocolate or prosciutto wrapped melon and go wild from there! 
Include others in activities you would normally do alone like reading with a friend, or walking with a group …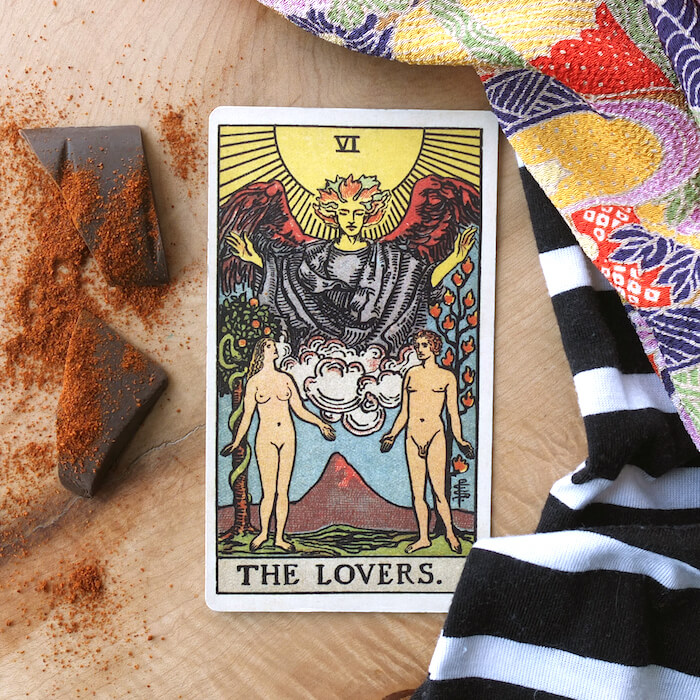 >>>
Want more tarot magic? Book a session with Melinda here, and make sure to follow her on Instagram and Facebook.