THE 2017 CANCER NEW MOON WANTS YOU TO LOVE UP ON YOURSELF
Settle into your cozy zone and wrap yourself in a cosmic hug. The 2017 Cancer New Moon wants you to harness the power of your feelings and know that you are worthy of some super sweet loving, says Sandra Sitron.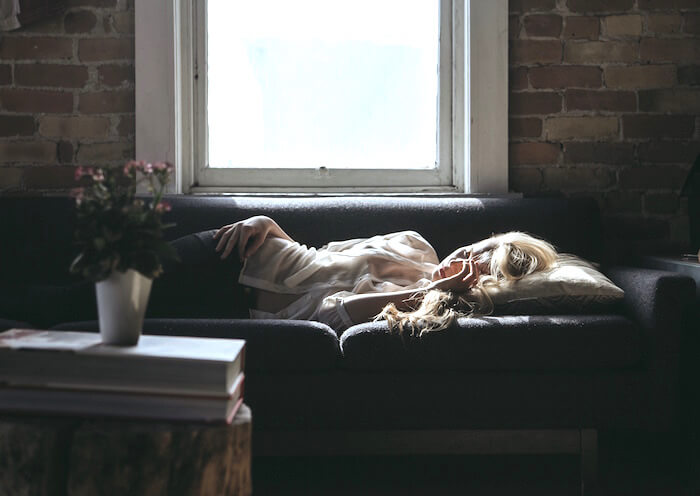 New Moon :: June 23rd 2017 :: 10:32 pm ET ::  2 degrees Cancer
This New Moon wants you to learn that you have emotional stability—you can feel your feelings, express your feelings, process your feelings, and move on.
Just as the waves of the ocean keep on coming, you can let yourself ebb and flow. The ocean tumbles and moves but it is vast and powerful. Allowing yourself to process your feelings can give you power and security too. 
Carry a basket. Fill it with nostalgia. A glass jar filled with a dream. A fragment of a memory. The outline of a kiss. A love note and sticky lollipops and glitter that won't go away. Devoted puppies, a collection of ribbons, and a foggy window. Put your love for others and your love for yourself into the basket. Put the basket on your alter as an offering to the Moon.
The Cancer New Moon has got you gathering up the memories of things that help you feel close, nurtured and taken care of. Cancer collects nostalgia because it feels like home. It feels like nurturance. The metaphorical basket holds proof for your subconscious mind that you are loved. 
Let this energy help you set intentions for loving yourself, nurturing your family relationships, and settling into your cozy home zone. Learn to nurture your inner child. By taking care of that little one, you build up real emotional security within yourself. Bring your inner child to work with you. Bring her to yoga. Take him grocery shopping. Remember a time when you needed nurturance and visit that baby version of yourself with a kind word and a hug.
Let this moon phase inspire you to wrap yourself in a bear hug and hold yourself tight. You are dear. You are darling. Find a way to believe that you are worthy of nurturance and love just because you are alive.
Affirm this truth for yourself and let the gossamer moonlight of it shine out of the cracks in your armor … 
>>>
New Moon conjunct Mercury
A spider writes words in a web.
The nurturing New Moon is drifting close to quick-witted Mercury. This aspect inspires us to communicate the message of our heart. Speak what you feel.
Charlotte the spider from Charlotte's Web is a maternal friend who nurtures Wilber the pig and saves his life through quick wit and well-placed words. What part of yourself do you need to rescue with your words or thoughts? What matter of the heart do you need to speak aloud? What emotion could use a little logical reframing?
>>>
New Moon conjunct Mars
Riding a zip-line.
Momentum is building. At this Moon phase you get an opportunity to set intentions in motion. The conjunction of the Moon with Mars is going to put some serious fire behind these intentions. Craft them well.
Stay focused on your goal, just as if you are riding that zip-line. There is one route to take, so fly! Don't get distracted by unnecessary aggression or self-flagellation. There is too much energy that can be used to plant new seeds and help them grow.
>>>
New Moon square Chiron
Handfuls of cotton swabs.
The cotton is clean and you are ready to tend to those old wounds. The New Moon is giving side-eye to the wounded-healer Chiron. Chiron reminds us of our old wounds, so that we'll remember to heal them. The sensitive Moon may not appreciate Chiron's relentless assertion that the past must be healed. But she'll agree that this Moon-phase of fluid emotion is a good time to get those feelings moving.
Seek out cathartic release. Find the energetic, spiritual, mental, physical and emotional support that you need. Remember that most kinds of healing — whether it's a bruised knee, a broken heart, or an ancestral wound — are like peeling the quintessential onion. Take steps and allow it to happen in its own time. Let the New Moon energy help you nurture yourself in the process.
>>>
Use the questions below to dive deeper into the lessons of the 2017 Cancer New Moon. For a more accurate reading, calculate your chart for free here and see which house holds 2 degrees Cancer …
Aries or New Moon in the 4th house
What thought needs to change for you to feel more at home in your body or in your space?
Taurus or New Moon in the 3rd house
How can you activate your curiosity? Write down three questions you would like to investigate the answers to.
Gemini or New Moon in the 2nd house
Is anything blocking you from developing your self-worth?
Cancer or New Moon in the 1st house
What are your goals for leadership this year?
Leo or New Moon in the 12th house
When do you need to get out of your own way? What blocks are you allowing to confuse things?
Virgo or New Moon in the 11th house
What are you ready to contribute? How are you feeling called to be of service?
Libra or New Moon in the 10th house
What structure do you need to create for yourself this week?
Scorpio or New Moon in the 9th house
Make a list of the books, quotes, authors, philosophers, teachers and resources that inspire you. Keep it as a reference.
Sagittarius or New Moon in the 8th house
What are you ready to release? Find a kundalini yoga kriya online to help you divine the answer.
Capricorn or New Moon in the 7th house
Is there a relationship in your life that could benefit from more balance? Would it be helpful to set a healthy boundary in this relationship?
Aquarius or New Moon in the 6th house
What healthy habits are you ready to begin with a view to committing to?
Pisces or New Moon in the 5th house
What can you pour the heart and soul of your creativity into today?
Want more wisdom? Book a reading with Sandra here.