MY MYSTICAL LIFE: BURNING MAN PREP AND A COSMIC CONNECTION
Seem like everybody is deep in Burning Man prep? I'm getting ready for next week's super intense Virgo New Moon Eclipse… Club SÖDA NYC images: Katrin Albert
:: MONDAY ::
A reiki session with Jessica Brodkin—an energy healer I met recently who used to work for the CIA, and does stand-up comedy on the side. My kinda Material / Mystical gal! And as well laying like a TON of crystals on me (including a perfectly clear quartz Ganesh on my second chakra), what I loved about the way Jessica works is that she also provided a running commentary about what was going on. I really love the concept of reiki—a mystical healing energy that we can all learn how to channel? Yes please!—but since the effects are so subtle I can often leave a session wondering, did anything just happen?!
But as Jessica got my chakras spinning (fave takeaway: "I'm not sure how to describe this except to say your sacral chakra is now looking on fleek"), she also spoke highly intuitively about issues I'm currently facing, gave a cool book recommendation, suggested some crystals for me to work with, and helped me say a forgiveness prayer. Overall, I left feeling like I'd had a total energetic tune-up. Find out more about Jessica and book a session at Loveandlightservices.com
:: TUESDAY ::
Club SÖDA NYC! Biet Simkin and I had an amazing turn-out for our second big Soda event, which (of course) we had timed specifically to coincide with the Sun's move into Virgo—sign of health, wellbeing, and service. This is the month to really connect to the concept of how a healthy body and mind allows us to most efficiently show up and do our dharma. And, as we head towards next Thursday's Virgo New Moon, now is the perfect time to let any and all unhealthy habits (physical, mental, emotional and spiritual!) just fall way.
The 9/1 New Moon is also a solar eclipse AND Mercury will have just gone retrograde. Add in a formidable T-square (the Moon, Sun, Mercury and North Node in Virgo will square Mars and Saturn in Sag, and oppose Neptune in Pisces) we are talking some intensely karmic and unpredictable REBIRTH energy out there. I for one intend to be clean and clear and fully on my A-game!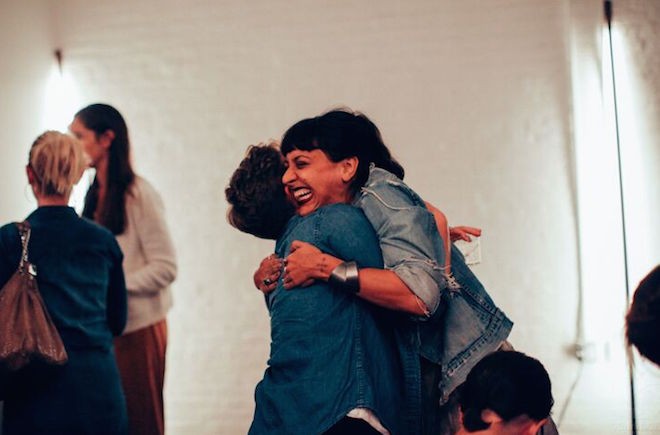 :: WEDNESDAY ::
Some of my most mystical moments are found in the experience of deep, soul connection with my fellow humans. Doesn't it feel like MAGIC when that chemistry happens? In love, at work, and in our most precious friendships. I took two hours out for lunch today with a friend who makes me feel that way—and time stopped, the cosmos aligned, and it fed me more than a thousand hours of reiki. Heaven on earth.
:: THURSDAY ::
OMG. Got news that Cara Delevigne and her sister Poppy have ordered two of our Vinyasa sweatshirts to take to Burning Man. That is all.
:: FRIDAY ::
In fact, for all you Burners out there, may I point you in the direction of some Numinous reading for your journey to the Playa. See you there next year!
How To Survive Your First Time At Burning Man
Is Burning Man A Spiritual Game Changer?
26 Life Lessons My Burning Man Experience Taught Me