In a special Valentine's Day Edition of her monthly column, Holy F*ck, Alexandra Roxo tells us how reclaiming your "single" status can lead to the greatest love of all.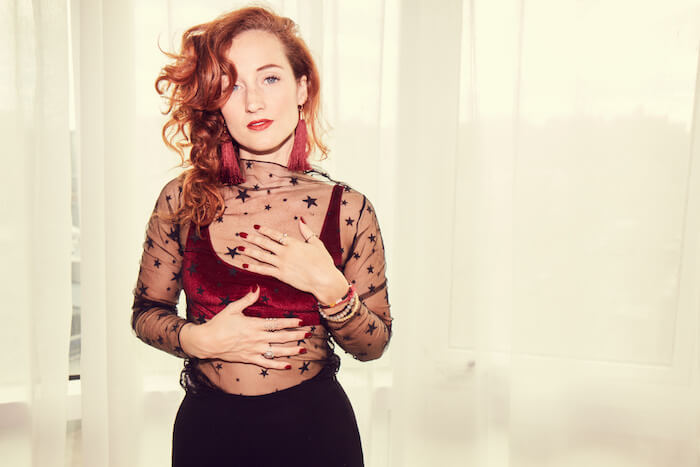 From "intimacy grad school to solo initiation 
From age 21 to 32, I was in "Intimacy Grad School," aka back-to-back relationships without breaks. Yet there were certain parts of myself I was not integrating. I always had trouble staying dedicated to my spiritual practice with someone traipsing around the bedroom while I was mid-meditation. I also hid some of my weirdness and wildness in certain moments. But more than anything, I hid my mystical.
But for the past two and a half years, I have been single and working on myself deeply, alone. I needed to be by myself to REALLY vow that I would never abandon my practice for anyone, ever again. And I also know that the subsequent career growth, shamanic initiation, and unfolding of myself, had to happen solo so I could define myself as ME and not as WE.
>>>
What are you really in love with?  
In these years, I have gone deep into both the pains and joys of being "single." And part of this process has been about realizing that the word "single" is problematic to begin with. The word implies a LACK of something. And it implies that if you aren't in a partnership, you aren't whole in some way. Cause let's face it- knowing if someone is "single" or not ties into old school traditional ways of viewing relationships and love and sex.
What if instead of saying "I'm single," we said "I'm currently in love with my book writing!" Or "I'm loving my besties so hard right now!" Or "I'm doing some major healing work." Because chances are you are deeply loving and in partnership with MANY things in your life, with or without a romantic love.
When we define ourselves based on LACK we set ourselves up for suffering, pain, anxiety, depression. When we define ourselves based on what excites us, makes us feel alive, connected, sexy and real—then we reprogram ourselves for success!
Now, that doesnt mean it's not okay to want Love, or partnership, or a family. Allow that yearning. Always! But there is a difference between wanting something from a strong grounded place versus wanting something from a desparate clingy place outside of ourselves. One feels REALLY good to claim. The other feels like anxiety in the body.
Read on for 5 ways to swap your "single" status for "in love with so many other things" …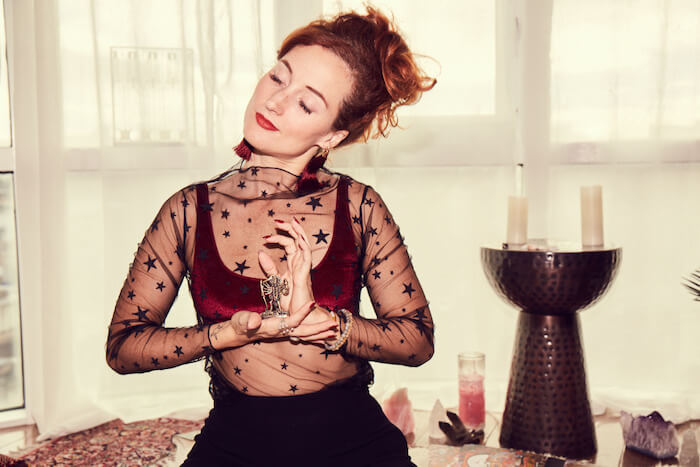 1// Stay connected to your heart. There is no better time to get to know the deepest of your Heart's desires than when you have time and space. Get to know your blocks. Your barriers to Love. Your yearning. Your longing. How can you ask another to enter your Heart if you don't know your own Heart? DO your work. Now is the time
*Easy ways to begin: Journal and/or meditate daily. Make a Pinterest boards of "What Makes you feel Alive" or "What Turns you On" and most of all BREATHE. Learn to let your belly hang loose and let breath travel through your body for a hugely more connected experience of living.
2// Change your words, change your reality. Change your WHOLE vocab around dating, sex and love. No more "Honestly there are just no good men in X (swap X for your city)." Or, "Gosh dating in LA is so hard!" New Yorkers say the same. Small towners say the same. Your language CREATES your reality.
*Easy ways to begin: Try focusing on the good stuff—"Wow! I met two amazing, conscious men last week." Sounds cheesy but it will reframe your experience! When someone does something kind for you, like opens a door or offers to help you at the store, take notice. And say it aloud: "Wow so sweet this guy carried my groceries!" It's a SIMPLE practice but it can move mountains.
3// Reclaim your solo sex practice. This one can get super hard. But if you're walking around horny all the time and unfulfilled, you will be like a starving animal on the prowl.
Take back your sexual power instead of waiting for someone to enter your life and get you off. Yes, it's not the same. But you are going to feel so yummy and juicy if you start this process. Folks are gonna tooooootally look at you differently in Whole Foods. Trust me.
*Easy ways to begin: Take your masturbation practice up a notch. No more lazy vibrator in sweats to an old porn nights. Put on lingerie. Burn a candle. Buy some new toys. Explore something new on your own. Buy some erotica to read in the tub. Go to a ropes class.
4// Get clear about your REAL values. Many times we "think" we know and then someone comes and we're all googoo gaga for them and wake up 6 months later like "whoops, our values are not aligned" because we didn't define and clarify what we wanted. So take this time to dial in your business and get clear on your desires.
*Easy ways to begin: Get to know yourself—not the you from last year. What are you into right now, what do you want more of in your life, what are your hard Yeses and hard Nos in love and sex and relating?
5// See the whole world as your soul mate.  This is *advanced* spiritual practice my Loves!  But you can let love flow through you ALL the time. In every old man's smile. Each caress of wind on your cheek. You see, there is no separation between the Beloved and You and your Whole Life. This is the shit the mystics talk about. Rumi. Hafiz. This is real deal work, and focusing on this will let your Heart be met ALL THE TIME.
>>>
Alexandra Roxo works with clients one-on-one, both in person and online, and focuses on sexual healing, sensual embodiment and empowerment! *Parts of this piece were edited from Alexandra's "Sex Goddess" monthly column on Horoscope.com—check out her other work HERE.