"Everything, even fashion, is a transference of energy." Janelle Corpuz Hethcoat, the designer behind KE7H3R, talks fashion as self-love with Ruby Warrington…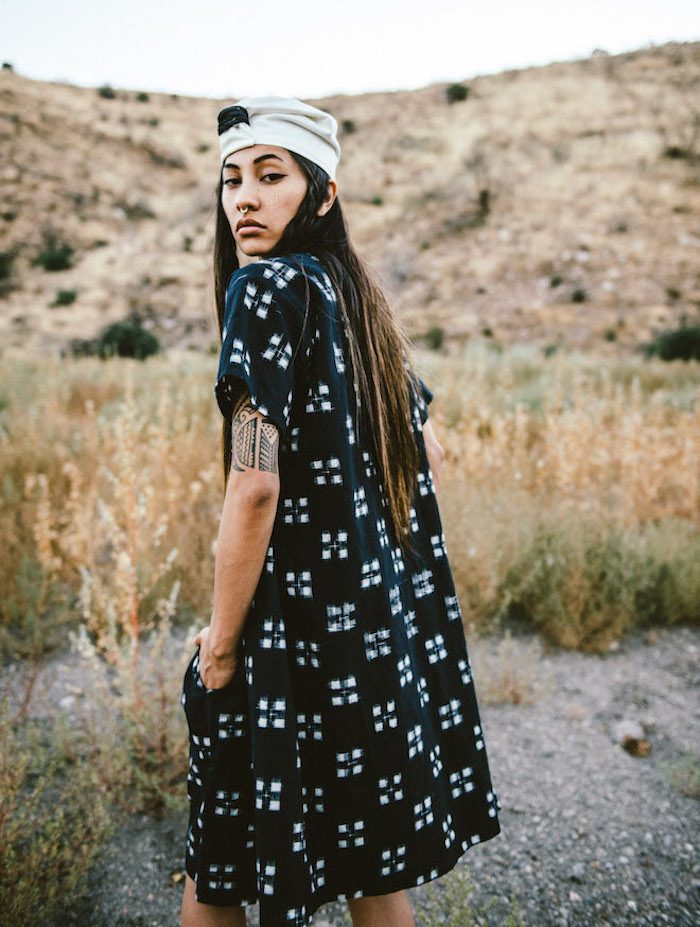 It's not often I come across a fashion brand that aligns as perfectly with our philosophy at The Numinous as KE7H3R by L.A. based Janelle Corpuz Hethcoat, which is chic, modern, and has a sustainable as well as a spiritual and social mission. So when Janelle approached us about helping support her launch for Fall '16 it was a no-brainer. When I actually got to hear the full story behind the brand, it made me feel even more proud about helping Janelle realize her vision. Read on to get the full scoop on a label to love for ALL the right reasons…
RUBY WARRINGTON: What's your background and what brought you to fashion?
JANELLE CORPUZ HETHCOAT: I'm a Filipino American, female born and raised in Los Angeles. As for fashion, I went through about 12 years of catholic school where we had to wear uniforms and I think that really fed my need to be visually creative when it came to the way I dress as an adult. In my college years I was a biology major (my very strict Filipino parents wanted me to be a doctor), but I had a lot of older friends who worked as designers. After seeing what they did I was just dead set on being creative for a living. So after many semesters of deliberation I finally said, "Fuck it, I don't care what my parents think!"—and I changed my major to fashion.
RW: Was there a defining moment for you deciding to launch your own line?
JCH: Last year was crazy. I went through so many hard and character-defining things; a hellish breakup, I got sober, my dad passing away from cancer, losing my job, and finally, finding and marrying my soul mate. One defining moment of many, was going out into my backyard, after maybe weeks of not getting out of bed from depression. I sat there and the sun hit my face and I kind of said to myself, "Well… what now Janelle? After all this what are you gonna do?"
And I guess the voice of my higher self, or maybe my father, told me to just make something with my hands. To stay in the sun and make something. So I started making patterns, cutting fabric, and then sewing up styles in my backyard. I would put the clothes on and post them up on Instagram. People would respond in the comments or text me like "I want one of those! Can you make me one?" and that's how KE7H3R was born.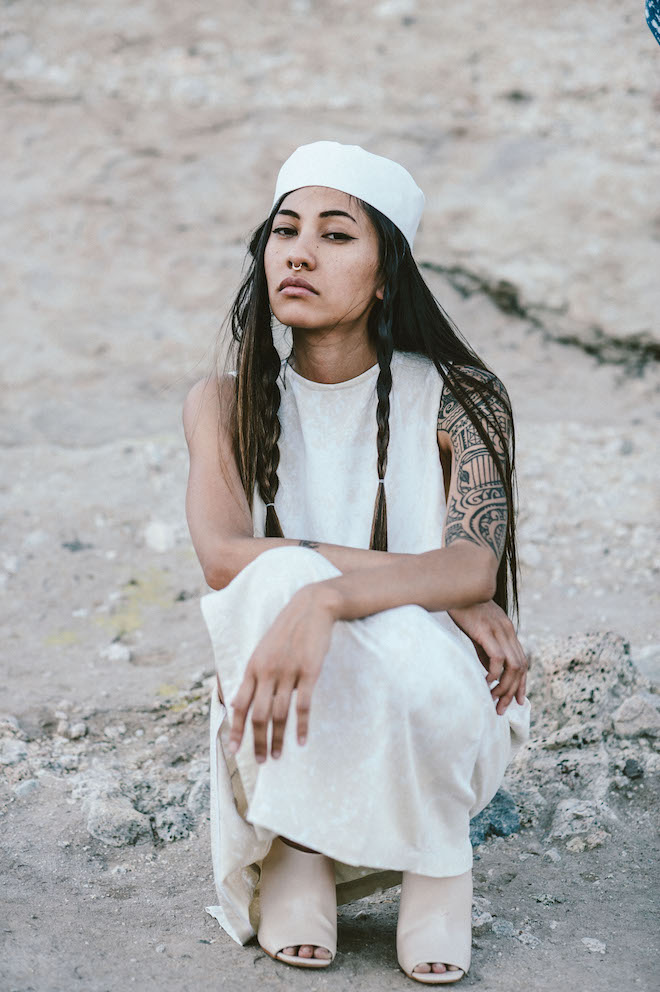 RW: The name KE7H3R comes from your study of hermetic qabbalah – can you explain what it means?
JCH: I'll definitely try! In quabbalah, the Tree of Life is a symbolic description of how the universe came into existence. At the top of the Tree is something called the Kether, which is described as the source of all divine creation. An easier way to visualize this, is to place it on top of your own body—envision Kether as a ball of white light that sits right above our heads, like it's that divine power that gives us our best ideas, leads us to do our highest good, and guides us to our purpose.
Kether is also associated with the Fool card in the tarot, which I associate with any project where you really have to follow your heart and take risks. I actually pulled the fool card in a reading with myself in my backyard. So when I named this line KE7H3R, I was just honoring the message. I replaced the 7 for T and 3 for E because 7 and 3 are my magic numbers.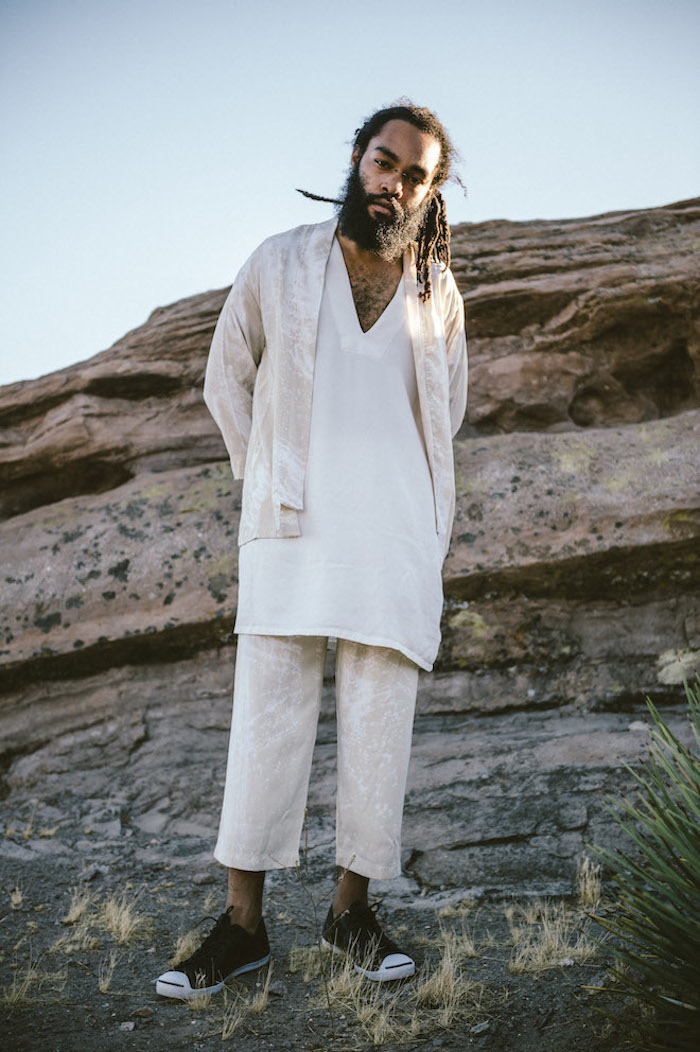 RW: And how about the brand's motto: "- IS +"?
JCH: It means "Less is More"—a motto that means a lot to me. As a brand we stand for both minimalist design and the idea of a capsule wardrobe. We feel that it's more important to have a few finely made pieces that you can wear forever, than a million poorly made pieces that you'll throw away at the end of a season.
This is important for a lot of reasons. The first one is the damage that fast fashion is doing to our environment. The second is the harmful and inhumane work environments that this type of large scale fashion subjects people in overseas factories to. And finally, the harm that fast fashion or consumerist fashion is doing to our self esteems…especially for women.
Keeping up with "trends" is exhausting and unhealthy, and suggests that your external purchases are what lead to happiness. A minimalist approach meanwhile, means less time thinking about what you can or should buy, and more time thinking and being grateful for what you already have—including the people around you and the experiences you can be enjoying.
RW: How do you shop for fashion personally?
JCH: For the last two years I have literally only bought my clothes second hand. Or I make them! I will buy the occasional something new, when it comes to stuff you really can't buy second hand like swim suits, yoga wear, underwear etc. In this case, I will buy locally made stuff when I travel, or special hand crafted things on etsy.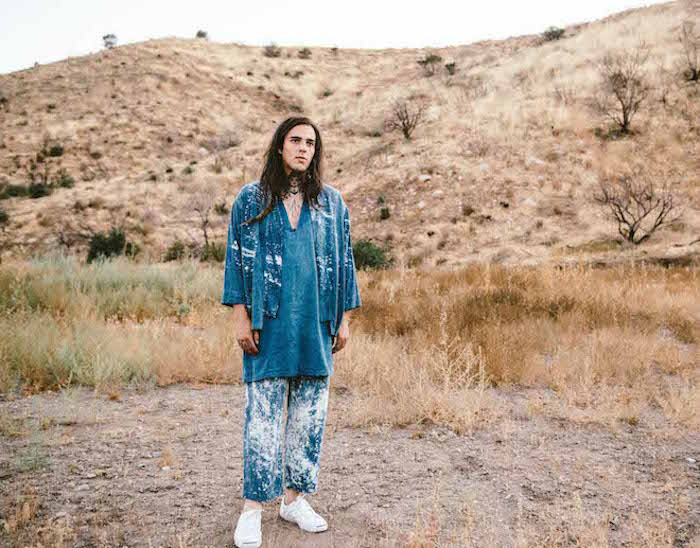 RW: How can your fashion choices become a self-love practice?
JCH: I think fashion is like food. You don't want the mystery, pumped full of hormones, genetically modified thing inside your body, right? Think about the energy that is put behind creating what you are placing on your body, as your expression and reflection of yourself.
Everything, even fashion, is a transference of energy. When you choose products that are made ethically, you are showing loving concern for the world, which in turn is an act of self-love—because in saying that the rest of the humans on this planet deserve better you are also saying you deserve better.
There's also what I call "status buying"—when you buy that thing that's totally impractical and uberly expensive, just to "look" a certain way to everyone around you. I would do this a lot when I was younger, because I thought buying super expensive stuff made me look more successful, more professional, or more advanced in life. I shelled out $800 for 6-inch high YSL pumps that I couldn't even walk in. And after I would feel like shit.
And so I think your fashion choices can become a self-love practice when you are able to honestly answer: Am I comfortable in this? Does wearing it make me feel like I can be myself?
Discover more and shop the collection at Ke7h3r.com