Gabriela Herstik meets Goth queens Sisters Of The Black Moon, and delivers some style tips for dressing the part in the summer heat…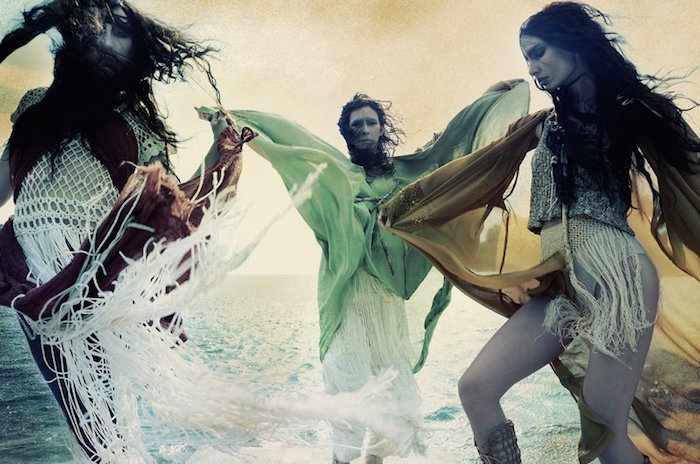 Sisters of the Black Moon first opened their "matte black gates" in February of 2010, when a road trip turned into an epiphany. Founders Sara Larocca-Ramm, Alecia Marcum, and Rachel Hunt found the path they were on was no longer serving them, they decided to shift course – and so the numinous universe of SOTBM was born.
With a careful edit of designers, all with an occult and metaphysical aesthetic, SOTBM has cultivated a community of like-minded people while creating an ethical shopping experience. Think everything from exaggerated black capes to quartz and moonstone jewelry and constellation candles.
But perhaps most notable is SOTBM's own unisex label – the current theme of which is EMBERS, with the emphasis on more structural pieces than previous collections.
We love the Moon-white crop tops and floor length skirts with harness details, and the stark black cloak dresses and in sheer, airy tunics. For all the dramatic undertones, there's a sense of ease and versatility to the collection, which is designed to take the wearer from day-to-day tasks to gatherings and rituals held under the full moon.
More than anything else, the goal of Larocca-Ramm, Marcum and Hunt is for the souls who cloak themselves in SOTBM to feel confident, comfortable and empowered – a nurturing energy that's amplified when you learn all three women are mothers. Check out our edit of their online store below, as well as 5 styling tips for summer Goths!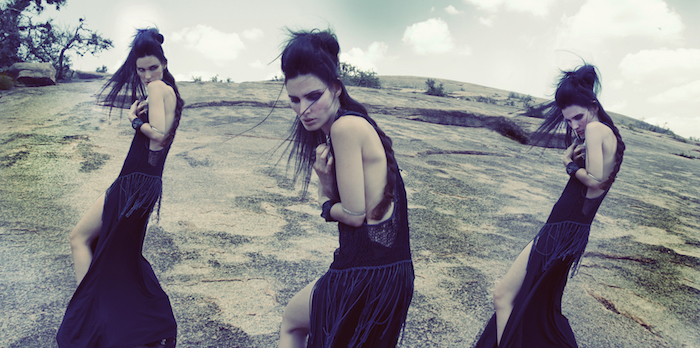 :: Play with proportions ::
When it's sweltering out, the last thing you want is layers of fabric clinging to your skin. Play with proportion instead. Shorts or a skirt with chunky black boots are a sure fire way to look dark and not overheat. A good pair of leather ankle boots or combat boots will look extra edgy, especially when you're showing a little leg.
:: Go sheer ::
Goth doesn't mean layering on the heaviest black fabrics you can find. Instead, try layering sheer fabrics over one another – a great look, especially when they're both in airy black. If you're feeling extra spunky, a sheer top with a sheer bra is an empowered look.
:: Light leather ::
Whoever said leather isn't for summer was completely misinformed and needs a talking to! Leather looks sexy when the sun's out; plus, it's the ultimate form of fashion rebellion. A leather choker feels especially appropriate with 90's inspiration in full swing, while a good pair of leather shorts is equally sexy-tough.
:: Makeup mania ::
If you really don't want to cake on layers of foundation, commit to your summer Goth look with a bit of smudged black eyeliner, a slinky cat eye and some dark oxblood lipstick. If you're more adventurous try a full-on black lip and some striking brows. Oh, and never tan. Meowww.
:: Always accessorize ::
Keeping your outfits simple and adding dark accessories is the ultimate way to stay Summer Goth. Tie some long black sleeves around your waist, grab a vintage black wide brimmed hat and load up on occult inspired jewelry. Think onyx and quartz, paint your nails black, grab your favorite pair of pointy black boots or heels and you're off!