This week, Numi founder Ruby Warrington witnessed the birth of two very special (Leo!) projects and learned all about the Rainbow Warriors…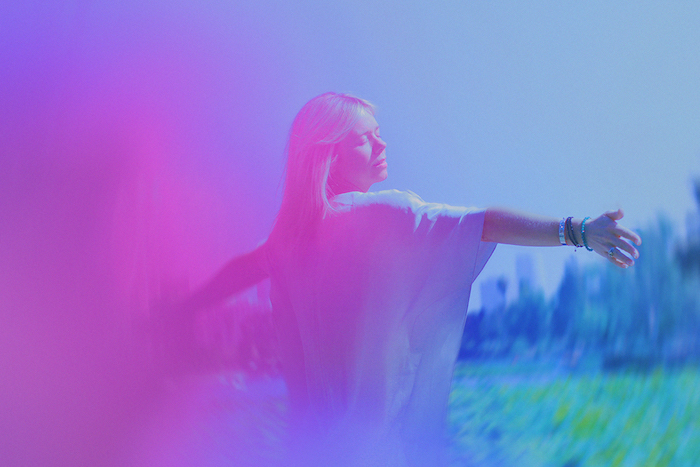 I went out on the road (to happiness). I was in LA most of this week for the launch of a project I've been working on for Buick – the 24 Hours of Happiness Test Drive. And seriously, how progressive of a major corporation like them to focus on wellbeing as one of their core values going forward, the "red thread" that will run through their communications going forward. My role was to help them create content for the campaign – namely this podcast on how happiness is a choice from Harvard happiness researcher Shawn Achor; a custom, mood-elevating in-car scent blended by Moon Juice founder Amanda Chantal Bacon; a 10-minute pre or post-drive guided meditation by Jeff Kober; a pressure point massage technique to ease tension behind the wheel by Dr. Dot (one of the most amazing women I've ever met btw); and even an in-car yoga sequence by Maroon 5 and One Direction's on-tour instructor, Chad Dennis.
We're talking serious high vibes! And besides this being kind of a groundbreaking concept for the motoring industry (right?!), how amazing to get the opportunity to put these potentially life-changing tools into the hands of mainstream drivers all over America. And my feeling that this was actually some lightwork in action was confirmed 100 per cent at the launch event. Themed around colour therapy, the ACE Museum in Hollywood was transformed into a factual RAINBOW of mood elevating hues for the night (see entrance below), and if you've been following our Instagram account, you might have noticed how I've been feeling about rainbows recently. If not, read on 'cos you're gonna love this…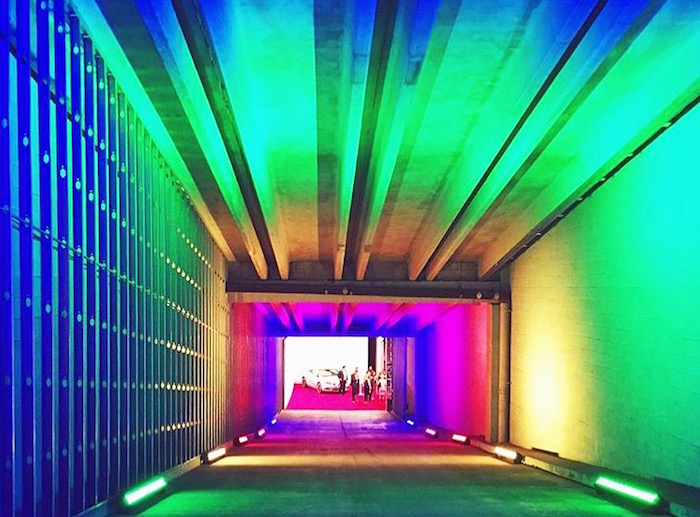 I learned more about the Rainbow Warriors. A month or so ago, I began seeing rainbows EVERYWHERE. Like everywhere. In the shower, on my yoga mat, while I was doing the dishes. On billboards, and hey, all over Facebook, as everybody rainbow'ed up their profile picture to celebrate #LOVEWINS! When I mentioned this to my friend Aly, she told me about the Rainbow Warriors, a prophecy from Native American tradition that a generation of children would one day be born whose destiny it was to bring in light and love for the healing of planet Earth.
Um, WOW. You can read more about the Rainbow Warrior prophecy here, but as I was chatting to Amanda from Moon Juice about this at the Buick event, we simultaneously broke out in goosebumps over the fact that here was a car company channelling the rainbow message loud and strong. Because you could say, OMG, cars = pollution = BAD. But let's just get real for a second. Cars are a FACT OF MODERN LIFE, and if you ever drive, use Uber, or even hitch rides places, please climb down from your high horse. (Plus, the motoring industry is not NEARLY as big a polluter as the commercial meat production industry. Something else to think about.) As Amanda and I both agree, real progress always begins with LOVE. And in my eyes, with their happiness campaign Buick are showing some serious love for their drivers, and therefore our planet.
I party-hopped over to Yoho House. A.K.A. the brand, spanking new Wanderlust center in Hollywood. And wow, serious WOW! Housed in the site of the old Golden Bridge, we're talking four-floors of pimped-to-perfection yogic bliss, from the 200-person studio space, shaded patio and farm-to-table restaurant on the ground floor, up to a custom pine-clad roof terrace, via cosy library hangout, intimate, candlelit workshop spaces…it's enough to make you wanna move to LA. (Oh, wait, I'm kind of manifesting that one anyway…if you're listening, Universe.)
The center opens to the public this weekend, and you can find out all about how to become a member at Wanderlusthollywood.com/membership
(More rainbows on the wristband to get into the party too…! #rainbowwarriors)