When Fundamentalist threats of Hell left her wanting more, Kate Forristall turned to Now Age practices. But how to explain your spiritual awakening to your religious family? Kate shares her top tips for making the holidays less hellish …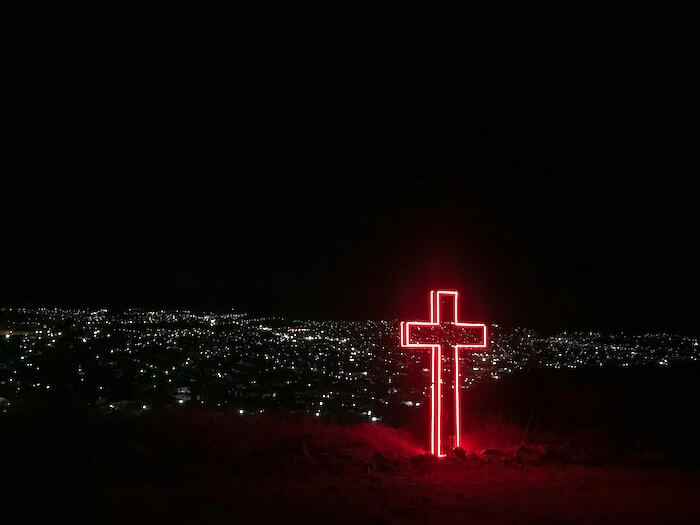 Christmas 2017.  Reaching for a beautifully wrapped present (the gene I didn't get, sigh), I notice my sister Sally give our mother a nervous glance. Given my family's tradition of one-at-a-time unwrapping, there's no hiding what's inside, but I have to smile as I open my package and see an intricately carved wooden box … with a pentagram on top.
I steal a glimpse at Sally's face and feel her telepathically communicating with me in a desperate Tim Gunn voice, "MAKE IT WORK!" I lift the new repository for my tarot deck (pentagram covered by my palm) and wave it quickly, "A wooden box!"
"Who's next?!" Sally chirps, as we simultaneously head into the kitchen to get coffee and put my gift away. When it comes to the spirituality we now embrace, we've decided pick our battles.
///
Finding a faith to set me free … 
At the age of 15, I began attending a church youth group known more for fun and community than hard line theology. Leaders preached the Gospel, but it was as simple as the original version (appropriate for humans without a pre-frontal cortex). The Jesus People movement had paved the way for a faith that was about loving God and loving each other, and I was happy to go along for the ride.
Unfortunately I got hijacked on the way.
In college I met Christians who could recite whole passages of the Bible and never seemed to struggle to obey all the rules the way that I did. They let me know that I wasn't doing it right and by the time I graduated, the shame I felt over my failings was enough to send me right into the arms of Fundamentalism.
There were no sermons about the messiness of life, no Young Adult Group talks about how hard it was to be in your 20s. Floundering was considered moral failure and the threat of Hell was always looming. My goal became security, for myself, and eventually, my growing family, and I lost the delight and wildness of the God I'd met as a teenager.
In other words, I can help you explain things to your conservative mother, because I've been her. But while I forgot the kindness of the Divine, it did not forget me, and over the past 20 years I've managed to unload the toxic institutional religion that held me captive, while finding a faith that set me free.
Such faith means changed opinions about almost everything in life – politics, sexuality, social justice, capitalism, feminism – topics my family has often been less than thrilled that I brought up at the Thanksgiving table. But they were small potatoes compared to announcing I'd fully embraced New Age practices that we once believed were nothing short of demonic.
The new practices of my faith—meditation, spiritual direction, energy healing, multiple sacred texts, astrology, body work, and tarot—came from a period of darkness and spiritual searching, a time when I lost the ability to hear God and believed I'd been abandoned.
Now I can see that I was never alone, that my unknowing was, in fact the gift that pushed me through the Life-Death-Life cycle and into a belief that now sees the Divinity of all things.
///
So as you prepare for Thanksgiving and the inevitable questions about why your life looks different than it used to, here are a few tips I've learned along the way … 
1// "Preach … at all times. When necessary, use words." 
This advice from St. Francis is the best wisdom I've ever found for sharing experiences that have changed my life. If your example is one of serenity, service, love and hope, you'll have no better evidence for the truth of the New Age spirituality you've embraced.
2// The Bible is your friend. Really. 
I know, right? Whether it's the Wise Men who used the stars to find Jesus, God noting the wheel of the Zodiac when conversing with Job, or Jesus feeling the energy leave his body when a hemorrhaging woman touched him, the Bible has an awful lot of examples of "New Age" faith. The word meditate is mentioned 20 times and if you do a Google search you'll even find phrases like "centering prayer" from many corners of traditional Christianity.
3// Because science.
Meditation's benefits are now proven by so much data that if your loved one can't handle it, they probably believe in a six-day creation. Measurable energy fields of everything from the flowers in your garden to the heart in your body have uncovered a universe way weirder than science fiction. Neuroscience has revealed that our brains are supercomputers capable of affecting objects miles away (hello, pray much?) If none of that lands, find an empty room, light a candle … and meditate. At least you'll feel better.
4// Try not to brace for impact.
This phrase has carried my family through many an anticipated rough situation. Neural communication studies show how much we convey before we ever say a word and I can tell you from experience that if you are telepathically shrieking, "I fucking dare you to make fun of my Tarot practice," someone is going to comply. Moments like these are when the rubber meets the road. The Buddhist practice of accepting suffering while trusting its transitory nature has completely changed my life.
5// Baby steps. 
I've always been an evangelist. Whether it was Jesus or toasted pecans in chocolate chip cookies, if I love something, I can't wait to tell everyone I know. But when asking people to expand beyond a fear-based bias, I've learned that you need to move like an acrophobe in a skyscraper – one floor at a time. My mother now knows that I own a tarot deck. We've discussed the astrology of the moment on multiple occasions, and for her birthday, I gave her a book about manifestation. But it's been seven years since I began this journey and my goal isn't conversion. It's that she too would find the path of greatest freedom for her life, no matter what it looks like.
///
My resistance to the New Age movement wasn't because I hated everyone outside my church. It was because I was terrified that it could destroy people I loved. Those who cling to fundamentalism are inordinately motivated by dread – circling the wagons to protect a God they can't imagine being bigger than their sanctuary. Considering how vast and unknowable the Divine is, that's a pretty sad perspective and I've given my kids unlimited permission to make fun of me forever for all the dumb stuff I did that was driven by fear.
Ironically, the greatest thing my New Age practices have taught me is how to deal with the fear I meet in this life. "If I go to the depths of the sea, You are there," says the Psalmist to God, an understanding that no circumstance can separate us from Them—including, no matter how scary it is, spending the holidays with your family.
Kate Forristall is a writer, actor, mother, and lover of stories. Connect with her at #IRL Project, and on Twitter and Instagram.