Strung out on repressed feelings, a health crisis and mental break became an unexpected awakening for Meg Hartley, care of some spiritual shrooming…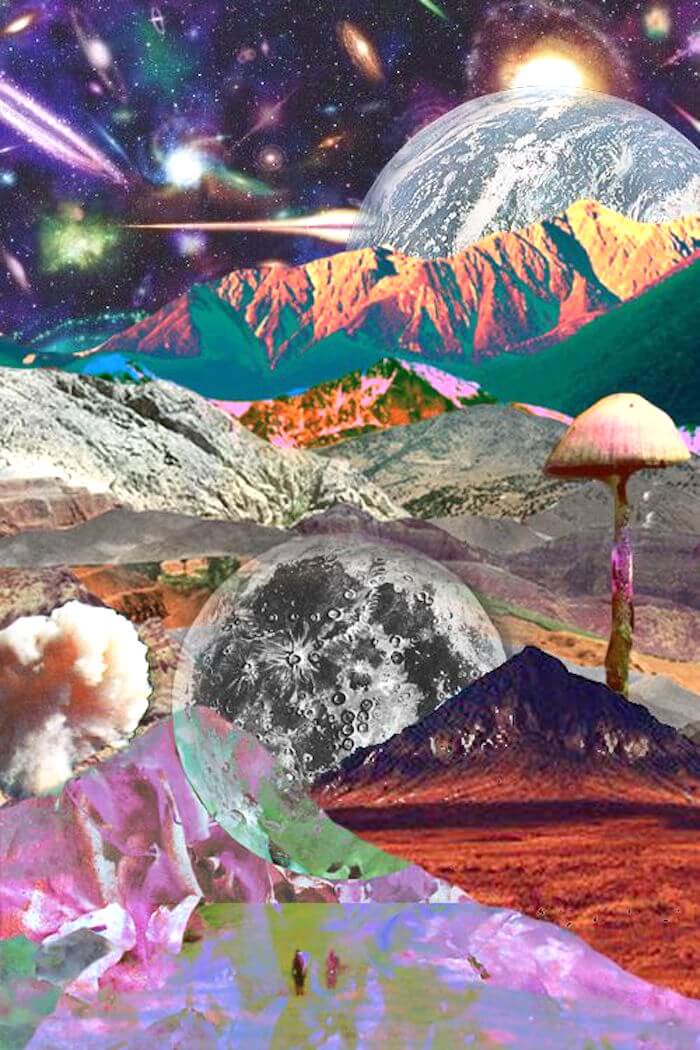 "During my four-day break with the mundane, I connected to a bigger part of myself, which also happened to feel like an infinitely more stable part of myself"—Meg Hartley 
When I was 19, I wasn't in a good place. I had lost my mother to suicide four years prior, and my once-successful "smashing down" of feelings had relentlessly resurfaced into every part of my consciousness.
I usually avoided the pain by staying busy all day, then intoxicated into the evening via copious amounts of marijuana or whatever else was floating around the dorms: 'shrooms, ecstasy, and lots and lots of cheap alcohol.
But late at night, when I'd try my hardest to sleep and fail miserably, I couldn't hide from the pain. I had taken to scratching at my skin until it bled because it hurt less than the storm that wailed inside. It was like there was so much unprocessed pain my mind didn't know where to start. Agonizing thoughts just whipped around in my head, out of control and going nowhere.
I'd soon learn about meditation and mindfulness, which gave me a life raft to embrace during these times. But before then, I'd go home to Alaska for summer break and have a four-day experience a psychologist called a "mental break" and a philosophy teacher called "a preview to awakening."
But to me, it simply felt like a very long dream that showed me true happiness was a real possibility … even for me, which seemed impossible at the time. This set the scene for my subsequent spiritual exploration and gave me a reason to commit to my emotional healing.
>>>
The year was 2002. My first year of philosophy classes in college had finally given form and texture to vague spiritual ideas I'd always had intuitive knowings about. The ideas that this life is an illusion, that humanity is currently experiencing a shift in consciousness, and that we're each here to learn specific things, were presented by different religions and philosophers from all over the world.
This deja vu sense of remembering (that my teacher said was normal, but which sure felt like magic to me!) combined with all the partying left me ungrounded, spacey, and generally disinterested in "mundane" everyday life. I wasn't aware of it at the time, but I also had a B12 deficiency that was hitting mental health symptom levels. In addition to this, there was a cyst growing on my pineal gland, which is known to augment spiritual experiences.
And so, not yet privy to the drawbacks of being ungrounded, and unaware of this explosive combination brewing in my brain, I celebrated my return home by eating yet more 'shrooms with a dear friend.
The experience of taking psilocybin is different for everyone, but in my experimental days it was something that I regarded with reverence––like a really fun church. During every trip, the idea of "God" or a benevolent bigger something, seemed obvious and present to me. There was silliness and hilarity, but also times where I would leave my friends to go sit with my favorite tree for hours, my head filled with streaming thoughts that were ontological in nature- the answers to all of life's big questions, more ideas I'd later study in ancient texts.
And this time, for four days after the mushroom trip ought to have ended, my thoughts remained consistently in the ontological realm––a far cry from my daily headscape at the time, which was mostly centered around losing my v-card and being "too fat." 
In stark contrast, everything I encountered had meaning on top of meaning, and life felt so beautiful that I cried happy tears. From the inside, the experience felt like a blissful and meditative state where therapeutic dreams met real life. Colors became more vibrant as I released dark twisted pains from deep within like a long and satisfying belch.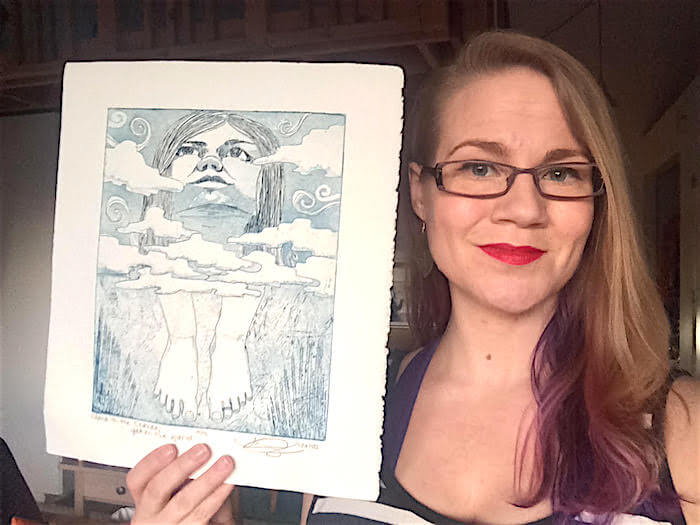 Of course, it's not "normal" to weep from joy at the sight of a mountain that's there every damn day, or to stare at everyday items babbling about "the language of the Universe" and "signs."
Everyone in my world thought I had lost my marbles. When I finally noticed this reaction in others, I very suddenly snapped out of it, shocked at their concern and upset about making an ass of myself. That clouded my vision of the experience, as social acceptance was the form of surrender I was most familiar with at the time. But I now look back on it as being as helpful as it was hugely bizarre: the juice was totally worth the squeeze (it can be freeing sometimes to have people think you're a little nuts, anyhoo!) 
I was immediately changed, and the depression didn't return for many years (not until my B12 levels hit a fantastic new low and a whole new set of challenges revealed themselves). It was like I had been dusted from the inside out, I felt clear and centered in a way that I had never experienced. I carried on with the drug experimentation for a couple more years and nothing like that happened again- something that brought both great relief and a fleeting sense of disappointment.
>>>
During my four-day break with the mundane, I connected to a bigger part of myself, which also happened to feel like an infinitely more stable part of myself.
And that connection––and many times just the memory of that connection—brought a cherished light into the darkest nights of my soul. It also provided the motivation for my subsequent spiritual and emotional journeys: remembering that mental landscape, and knowing that if I stayed on the spiritual path then that sense of peace and connectedness would eventually feel like home.
>>>
Meg Hartley is an Alaskan artist and writer happily replanted in wonderfully weird Portland, Oregon. She loves really great trees, cashew ice "cream", mysticism, and is totally obsessed with mindfulness. Her new book is called How I Lost All My Fucks—a one-month experience that will have you losing all yours! Follow her on Facebook, Instagram, and Twitter.