The higher the hair the closer to Goddess! Alexandra Roxo chats with hair shaman Andi Scarbrough about gem combs, crown chakras, and beauty work as ministry.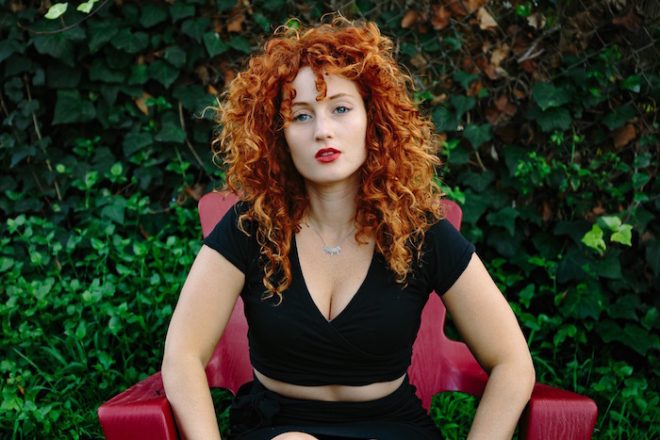 "Your hair becomes an offering to spirit to catalyze the internal change"- Andi Scarbrough 
Hair identity is a HUGE part of our self-expression, especially for women. Our hair reflects our cultural and ethnic background, the subcultures we are a part of, and even our spiritual and political beliefs. Hair has both been part of sacred and ancient rituals, and has been used to repress and humiliate women. Through all of it, our locks have held incredible power.
But like most things sacred , hair rituals have been commodified. We see a Super Cuts on every corner and the mass homogenization of hairstyles that's been dictated by celebrity and popular culture more than anything.
So what about reclaiming HAIR as another sacred as hell space for ritual, transformation, ceremony, tribe, and lineage? Stylist and hair magic maker Andi Scarborough is doing just that!
>>>
I'll admit, I was nervous (aka panicked) about letting someone cut my hair. But when I arrived at Andi's salon, she scooped me into her chair with a quieting presence. As she began to run a rose quartz comb through my frizzed out mop, I felt myself loosen. I realized just how tight the control I had around my hair was.
As she gently asked me a few questions, I found myself revealing my whole "hair story" to her. I shared all the times I was ridiculed and the shame I still carried. All the times I had tried to tame this hair and the point when I started making my hair red.
As she counseled and intuited my hair story and my hair needs, the tears began to flow. As she snipped, she reminded me of all the old Loves, the stories, the pain, everything that was releasing with the hair falling to the ground.
I cried for the rest of the day. I was shedding. I let myself shed the old layers. I let myself release.
Post cut, I sat down with Andi to hear more about her work …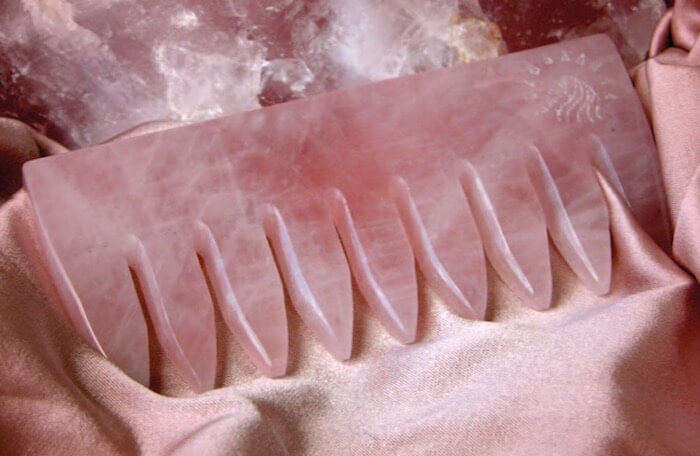 Alexandra: How do you describe your work?
Andi: Women's Health just quoted me saying "I believe this work is a sort of ministry." Part of me still thinks this is hysterical! I had an experience when I was a little girl where a woman faith healer came to the church and told me that I would go into ministry. Then, I promptly left the church.
It's funny to me how your purpose finds a way through you, no matter what you try to do instead. Your ministry is the vehicle that you use to deliver your message and in that sense, mine is a beauty ministry.
My work is about clearing out the shrapnel from the crown chakra. That clearing allows you access to the divine wisdom you already have. You don't need a guru. You don't need any of that. It's about remembering the god source within.
Alexandra: That's beautiful. I love that.
Andi: This is the part where I do feel like it becomes more of a ministry, rather than energy work.
Alexandra: After your work clears the crown chakra, how does it help align people with their soul curriculum?
Andi: I was talking with a client recently about her curly hair. She was telling me how she straightens her hair because she wants it to be more manageable. So, I asked her "What part of you feels like you're hard to manage?"
It's interesting because the way you do one thing is the way you do everything. The way you choose your hair color or your hair texture are all echoes of the stories that are already in place. We're only choosing what we think is available to us.
Alexandra: I can talk about my hair without it being emotional, but the actual physicalizing of the experience brought things up that were very emotional. When you were doing my hair, I felt safe enough to share my hair stories and history- it felt like a ritual and like a therapy session.
Andi: Like ceremony. We do our hair so that we can be seen the way we think we need to be seen, and it's the piece that we correct externally. It's like makeup over a blemish. Rather than clearing out whatever the clog is, we wanna just sort of gloss it over and cover it up and make it look sort of nice from far away.
But our hair is actually a time capsule. You're literally carrying around a diary of every experience, every hormone flux, everything you've eaten, everything you've not eaten, every time you were sick. It's all physically there with you.
Alexandra:  Wow, yeah. I never thought about it quite like that.
Andi:  That's why you get haircuts when you have big life stuff happening, or you want big life stuff to happen.
Cross culturally, the hair symbolizes so much. Whether it's the Native Americans wearing their hair long and braided to ground them back into Mother Earth, or not cutting your hair in Kundalini so that you have a longer antennae to spirit, or in the way it's cut in some Tibetan rituals and Hindu rituals. It's a sacrifice. One of my favorite examples of this ritualistic aspect is when girls go to college. Often, they'll sacrifice that high school long hair as they step into womanhood.
Your hair becomes an offering to spirit to catalyze the internal change, or to let spirit know how serious you are about the internal change.
For appointments with Andi in LA, please call 310-751-4484 or email  [email protected]. Due to the sensitive nature of this service, online booking is not available. More information and service pricing is available at www.andiscarbrough.com. And be sure to follow @crown_works for hair rituals, treatments, and processes!