MEET BROOKLYN'S FITNESS WITCHES
Wanna get jacked up on magic? Bess Matassa explores workout as ritual with fitness witches Shanda Woods and Russ Marshalek of New Jack Witch…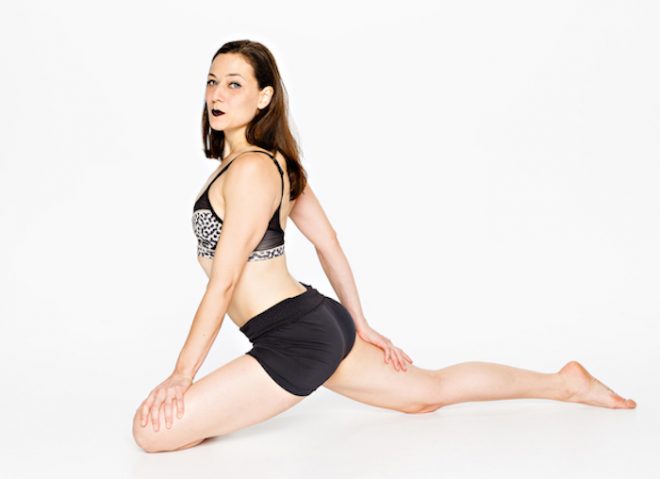 "The working of the human body is in and of itself a magical process"—New Jack Witch 
Inside of a dimly-lit warehouse on the Greenpoint waterfront, New Jack Witch is making sweaty magic. Musicians. Witches. Fitness Instructors. This is where Russ Marshalek, an excitable, feline moon prince, and rooted revolutionary Shanda Woods, craft seamless, full-body enchantment—that also gets you ripped.
What exactly is their signature "Fitcraft" session? As I strip down and start to move to a soundtrack of goth rock, witch house, and Twin Peaks instrumentals, it seems deceptively simple. Combining yoga and cardio, it's a minimalistic workout that thrives on repetition.
But as we continue through our reps, the energy begins to shift. "You've got your own back," Russ repeats. "You're fucking alive," commands Shanda. I begin to experience an invigorating collision between light and dark, and a deep sense that feeling good and strong in my body can coexist with the widest, rawest range of emotion.
Post session, I sat down with the fitness witches to talk rockstars, ritual, and a workout that's both wonderful and strange.
**Set the mood for your workout (or read) with New Jack Witch's signature playlist for The Numinous. 
>>>
TN: How did you each come to your fitness practice? And when did it merge with witchcraft? 
Russ: The torture and torment of being the "fat kid" really fucked with me, and was the beginning of a lifelong flirtation with an eating disorder. To quiet my anxiety, and strike the balance between my deep-fried youth and my anorexic high school years, I started exercising. Combine that with a deep disdain for the patriarchy, a seed first sown through Anne Rice's Interview with the Vampire, and you have the foundation.
When I moved to New York 7 years ago, I had a really intense period of unemployment that found me focusing on both witchcraft and fitness for self stability. And the more I worked on both, the more the two became vital facets of my everyday that I can't really separate.
Shanda: My witchcraft and fitness practice have been intertwined for as long as I can remember. I'm a member of the Chickasaw Native American Tribe, and other parts of my lineage are from Ireland, so my blood is steeped in the craft. And I have always been physical—playing competitive sports since elementary school and practicing yoga since high school.
I also loved playing nontraditional "yoga" music in my classes, and got hooked on the energy of a room full of people working to change themselves. So I've forged my own style that blends my personal history with lessons from all of my great mentors.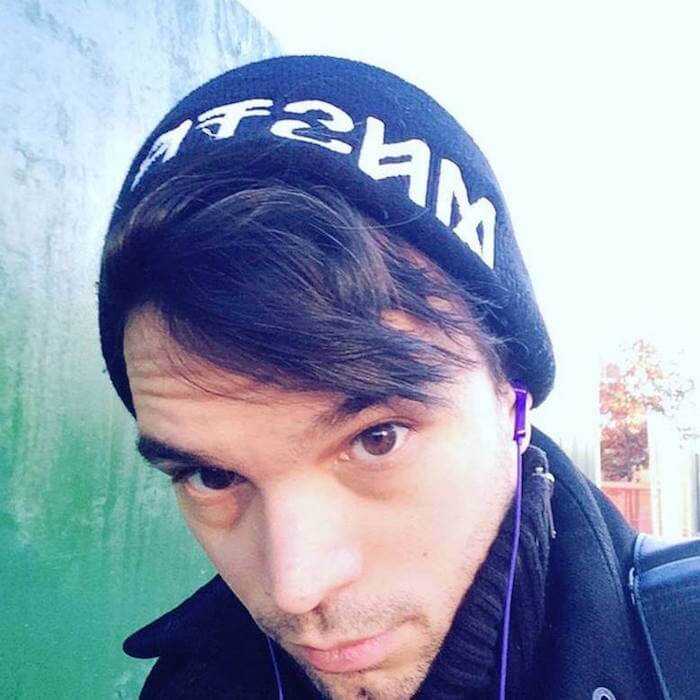 TN: Both of you mention a dissatisfaction with existing fitness culture that led you to your current practice. What was lacking for you? 
Russ: The "new year, new you" concept sold by gyms everywhere actually removes the agency and ability of the individual, and places "fitness" as some unattainable goal. Self-care and working out should simply be present in everyday life. You don't need a "new you," you just need to actualize your intentions. You're perfect and you're strong and you're powerful. That's what magic is about for me, too. 
Shanda: Turning the art of helping and healing people into a commodity or ego-boosting strategy is what I really cringe at in the industry. Not to say you shouldn't make money as a fitness professional, or that you can't become well known, but those should be additional outcomes of helping people, not the goals.
I also believe that a lack of authenticity inspires the perpetuation of stereotypes, which leads to less variety for people who may not subscribe to the mainstream ideals of what "fitness" is. This is where we come in—we provide an honest version of ourselves, so others that are not seeking mainstream content or delivery can find a place to belong. 
TN: Tell me about some of your early icons and inspirations in both worlds. Who are the "patron saints" of New Jack Witch? Who do you see as your audience?
Russ: For me, this traverses boundaries. It's Janet Jackson in Rhythm Nation—force, grace, power, intention. Gordon White of Rune Soup fame is another, for his combo of magic and political theory with pop culture observation. Grant Morrison. Tori Amos is our Ultimate Mother Witch. Michael Macneal of MonsterCycle is the fitness person who has inspired me the most. And my wife, Vanessa Irena (the third facet of New Jack Witch), inspires me daily to be a better person and a better witch.
But our patron saints are all those witches getting their fingers dirty, planting and growing and renewing and sweating and fucking, every day. I think our audience is everyone who wants to exist outside the currently established systems. Those for whom magic and fitness are both methods of creation and self-improvement, or those who want to align to that frame of mind and learn how.
Shanda: My mom and her best friend of 40+ years (who recently passed away, but is still here to guide me from the other side) are huge influences on my connection to the craft. As far as athletes, I've always loved the Williams sisters and any athletes or yogis that are rebellious and caring, sharp but kind. And patrons who speak to me through NJW are the Goddesses Isis and Diana.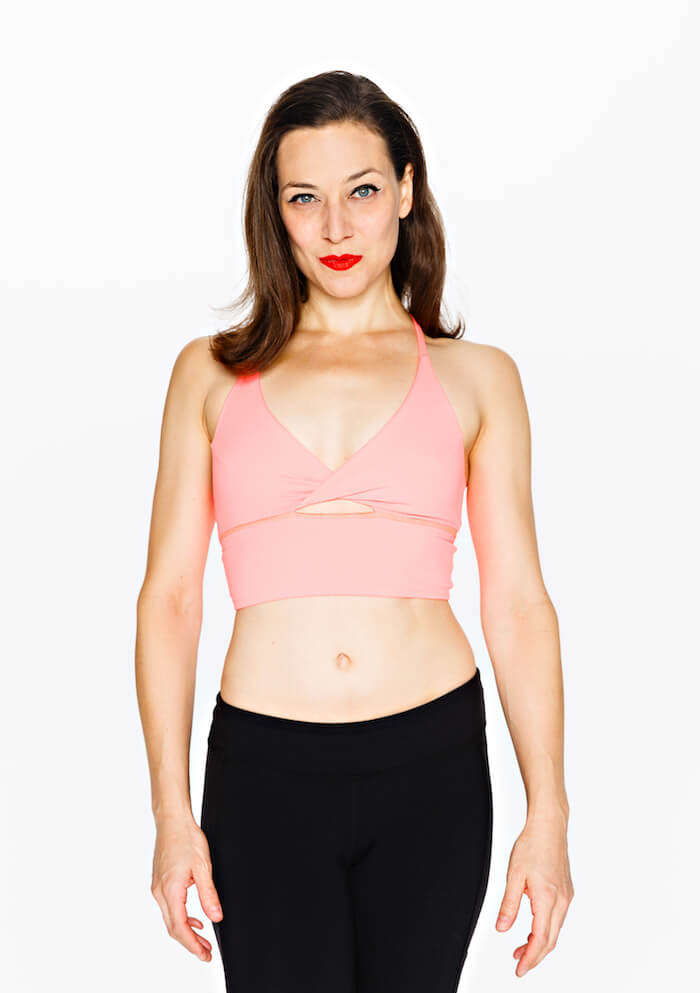 TN: People often discuss the "mind/body" connection, but what's the relationship between making magic and working out?
Russ: Magic uses the body and mind, as does exercise, and both require centering, intention, and the synching of the two. Think of breathing. Really. Your mind has your body do it subconsciously. It's a brilliant trick when you think about it! When you're in tune, both magic and exercise are like that—the two moving as one.
Shanda: Magic is learning how to control and manipulate frequencies, elements, and energy. Fitness is learning how to control your personal frequencies, energy, and breath. To me, they both address the strength and ability of the individual to transcend the artificial disconnect we've been conditioned to believe in—melting and coalescing mind, heart, spirit, body, and the physical external world, in order to manifest a desired outcome or reality. 
 >>> 
TN: You're both musicians also. How does your music-making feed into your witchcraft and your fitness practice?
Russ: Music is ritual, fitness is ritual. It's about creating a spell, setting an intention, and eventually enacting a change, be it large or small. In our music and our workouts, ultimately it's about creating a spell to get from point a to point b, to reach the desired intention and response.
Shanda: Just like magic and fitness, music is the art of controlling or manipulating frequencies, energy, and emotions in order to produce a visceral emotional connection or shift in consciousness. They are all the same thing, just in different forms!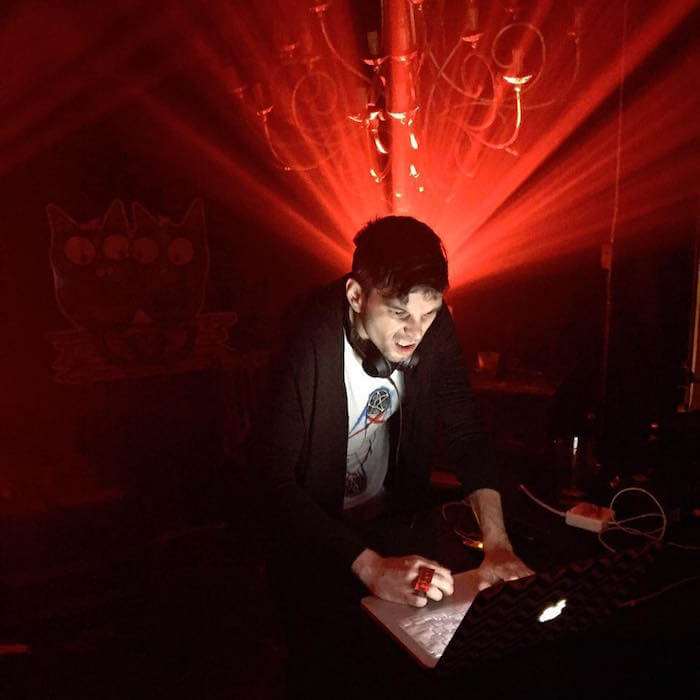 TN: You mention wanting to "rebrand" the notion of the "rockstar." What do you mean by that?
Russ: The concept of the rockstar has meant egotistical, out of touch, slobby, etc. Yes, we drink, and we have fun, and there's a certain glamor to the showmanship of the music industry, but we're also engaging with our bodies daily to keep them strong and healthy. It makes us better performers, humans, and witches when the main tool we have (our body) is sharp.
Shanda: We are trying to show people that caring for yourself and finding your power is one of the biggest things you can do for yourself and the world. There is an archetype of the rockstar that doesn't cherish this internal divinity. It's an outmoded archetype of self-abuse, unnecessary decadence, and an egocentric notion that's not based on service, which is really what all musicians and teachers offer through art and knowledge.
While indulgence or the use of substances isn't always a bad thing (witchcract is often connected to entering a trancelike state either through meditation or substances, after all), indulgence to an excessive degree is counterproductive to lifting the spirit.
>>>
TN: Some people think of goth culture and music as dark or cynical. What myths would you like to dispel about both witchcraft and about the music you use during your sessions?
Russ: Well, first off, there isn't any separation between "darkness and light." And once you start saying things like "I don't fuck with that dark shit," well, you're already off to a highly misguided start. Both goth and witchcraft celebrate the lightness in the dark and the darkness in the light. Playing Godflesh's "Streetcleaner" in a fitness class puts a huge smile on students' faces.
Shanda: I believe that there's a clarity that comes from practicing ritual or fitness, or creating music, when you approach them through a lens of innocent excitement. I believe everything should be viewed with an open heart. Vulnerability allows for the truth to filter through easier than upholding a wall of judgment. When you break down the walls, nothing but truth is left, and that's where real growth and change can occur.
>>>
TN: What are your personal definitions of a witch? A fitness instructor? A musician?
Russ: A conjurer. A creator. A fighter. The definitions for all have been too rigid for far too long.
Shanda: Wavelength manipulators.
>>>
TN: How do you want people to walk away from a Fitcraft session feeling? 
Russ: To steal a phrase from President Bartlet: Ready for "what's next."
Shanda: Empowerment, which is the knowledge of and faith in their own beauty and strength, backed by an infinite sense of self-love.
Learn more about New Jack Witch here, and check out their upcoming Goth Cycle + Yoga Class on Saturday, February 25 2017 at The Monster Cycle Limelight: 47 West 20th Street, New York, NY, 10011