Ready for a radical reset? The 2017 Leo Solar Eclipse wants you to drop the ego, fire up your heart space, and turn your true love into empowered action, says Sandra Sitron … Main Image: Spectra Art Space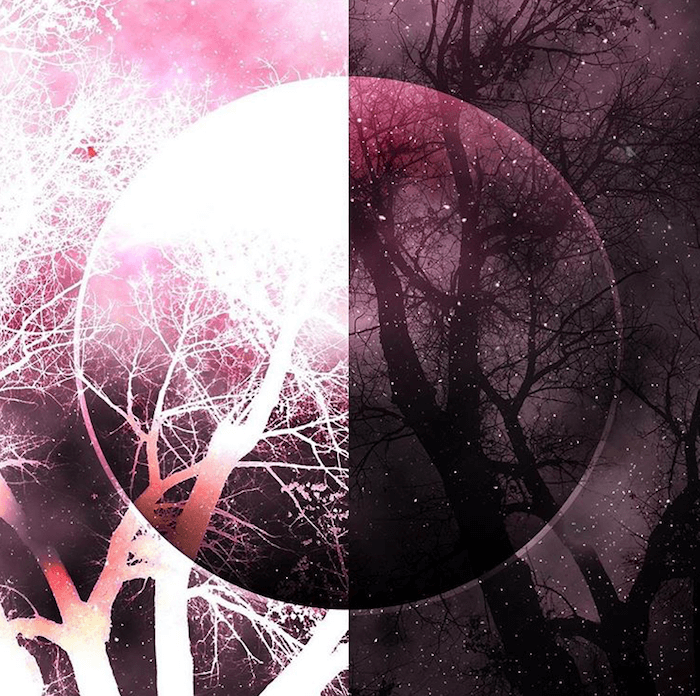 New Moon Solar Eclipse :: August 21 2017 :: 2:30pm ET :: 28 degrees Leo 
An eclipse is like a huge inhale. A complete exhale. And then stop. Hold your breath. At the next inhale it seems as if even your cells spin in a different direction.
At the next inhale everything will be different …
Eclipses are about reset. Something must be let go of. Something new must begin. The way that you recalibrate yourself now— both in your private inner world and outside in the public world, matters. The effects of this reset may not be fully felt for six more months. But the calibration is happening now.
During this Leo New Moon, the Sun and the Moon line up, as they do at every New Moon. But now they are also in direct line with the Earth. The Moon's shadow falls over the Sun. The Sun appears darkened. The light of the core energy source is "extinguished." In the void of light, new seeds can be planted. A new code can be written.
The Leo New Moon Solar Eclipse wants you to drop your ego and let true love shine out of your heart center.
Leo is the sign of fiery love. All fire signs take action- fire only exists in the activity of the dancing flame. Leo shows that it's not enough to just love. It's necessary to bring your love into action.
It's time to put love in the driver's seat. Go somewhere. Do something. Use ALL of the four elements to manifest change in the world. Use your words (Air element), use your action (Fire element), use your resources (Earth element), use love and prayer (Water element).
The path forward is not simple. A paradigm shift is never easy. The energy of this New Moon is high. There's a shortage of patience and a high potential of being triggered.
You need a plan, so you can move in alignment with your intention. How do you want to act? How do you want to be? Decide how you will take care of yourself, how you will confront your beliefs, how you will take action in the coming months, and how you will follow through on this plan.
Let the calibration and reset that is available for you now be fully intentional.
>>>
New Moon conjunct Mars
A bunny dives into a hole.
Fight or flight. The bunny flees instinctually. What do you do instinctually to keep yourself safe? Do you hide out and keep silent? Are you a fighter?
Mars brings the energy of action and aggression to this Moon. At this time of heightened fire energy make sure to keep yourself safe, but don't let that stop you from taking action. Meanwhile, make sure to monitor your aggression.
>>>
New Moon conjunct Mercury
A tidal wave.
We are thinking and communicating A LOT during this New Moon, and our thoughts have their own momentum, like a tidal wave. Break up the momentum by noticing the unconscious beliefs that fuel your thoughts, feelings and behaviors. It's important to know which beliefs are running the show.
Ask yourself what belief is underneath an uncomfortable feeling. At what age did that belief get formed? Can you have compassion for the part of you that formed that belief? Can you replace the belief with a new one?
>>>
New Moon inconjunct Chiron
Missing puzzle pieces.
This New Moon will bring opportunities to confront old wounds. Notice where you get triggered. Notice where you need to heal. It may all seem futile.
How can you solve the puzzle if pieces are missing? With enough attention, effort, and creativity nothing is impossible. Keep coming at it from different directions and you may find the healing you are looking for.
>>>
New Moon in a Grand Trine with Uranus and Saturn
The pillars of the temple.
This aspect is the New Moon's saving grace. We are staunchly supported by the Great Awakener Uranus who may introduce a new paradigm, and Saturn who may provide the structure to implement it.
The only danger is that too much harmony can result in complacency. Stay mindful of a tendency to think that someone else will "take care of it." Say a prayer to invite forward positive change and deliberate integrity within yourself and within the world.
These potentials are activated. The only thing left to do is take action on them.
>>>
The study questions below are to help you get deeper into what the 2017 Leo Solar Eclipse means for you. For the most accurate reading, look to which house holds 28 degrees of Leo in you chart and use the question for that house. 
***New to your birth chart? Calculate yours for free HERE …
Aries or New Moon in the 5th house
What new creative practices will you put into action now?
Taurus or New Moon in the 4th house
Do you feel safe enough to be yourself? Why not? What do you need in order to experience more safety, comfort, and nurturing?
Gemini or New Moon in the 3rd house 
What do you need to be thinking about in a new way?
Cancer or New Moon in the 2nd house 
What will remind you of your self-worth?
Leo or New Moon in the 1st house 
What new changes are you inviting forward?
Virgo or New Moon in the 12th house 
How can you tune into your intuition this week?
Libra or New Moon in the 11th house 
What can you do to build your network? Challenge yourself to take some action steps.
Scorpio or New Moon in the 10th house 
What are new risks you can take in your career? What kind of expansion might taking these risks bring you?
Sagittarius or New Moon in the 9th house 
What is your mission statement?
Capricorn or New Moon in the 8th house 
What are you willing to release? Write it down. Burn the paper.
Aquarius or New Moon in the 7th house 
How can you be more diplomatic?
Pisces or New Moon in the 6th house 
What new healthy habits are you ready for?
Supercharge your eclipse season transformation with a powerful virtual Astrology + Breathwork practice led by Sandra Sitron and Erin Telford. August 21 2017. Details + sign-up HERE.