In search of the deepest act of spiritual surrender, Alexandra Roxo gets bound and discovers boundlessness with the ancient art of Shibari bondage …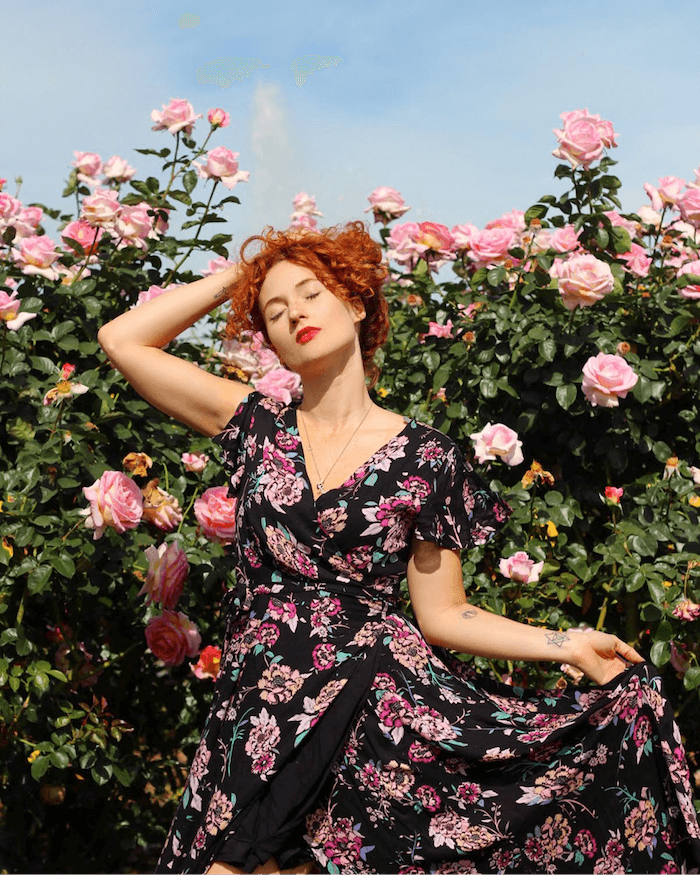 "Shibari (Japanese Rope Bondage) can be erotic, intimate, loving, sexy, quiet or raucous, meditative, artistic, insightful, transformative—all depending on the people engaged and how they both feel at the moment" – Victoria Blue
>>>
I am always on the hunt to find ways to get free, to go wild, to let loose, and to go deeper into myself. Over the last 15 years, my search to explore the depths of my sexuality and spirituality has taken me everywhere from witch camp in the woods of Oregon, to working as a dancer in a truck stop strip club in New Mexico, to banging a drum at a Rainbow Gathering in West Virginia, to an orgasmic meditation circle where I had my clit stroked by an old Indian man … and SO many other places and practices.  
Drugs. Sex. Spirit. Art. It's been a lifetime of exploration that started the first time my mom pulled Louise Hay off the bookshelf when I was 7, and the first time I kissed a boy, and girl, at 8 … 
So for an explorer of depths who hasn't left many stones unturned, I am always seeking something new to try and am always ready with a big fat YES! 
>>>
WOMEN TYING WOMEN 
My next yes fell straight into my lap after my dear friend Kyp Malone (who played the "urban shaman" in my web series "Be Here Nowish," and whom I consider a Yoda of sorts), took me to a dinner party, introduced me to a woman in the corner named Victoria Blue, and said "You two should talk."  
It all remained a mystery until months later. I was on the bus back home from 3 days of steeping and soaking in the magical Orr Hot Springs of Northern California and I suddenly thought to myself: I want to be tied up. This was especially random after spending 3 days in a tub reading a book about Jesus' mystical life. But the words were clear and from my heart.
I'd been tied up by lovers before and engaged in a fair amount of BDSM in sex, but I knew there was something more here that I wanted and I began to investigate the ancient form of Japanese bondage called Shibari. Whereas other types of BDSM include performed dominance or submission, or the giving and receiving of pain as practice, Shibari is a fine art. Comparing a "50 Shades" rope scene with Shibari would be like comparing an IKEA rug with one from a Moroccan souk. 
Interestingly, when I googled "Shibari LA" and the first thing to pop up was a workshop called "Women Tying Women" with none other than Kyp's friend Victoria as teacher! The next day, the magic continued when I walked into my 5Rhythms class and a cute woman ran up to me, handed me a card, and said  "Come to 'Women Tying Women!' My friend Victoria Blue is teaching!" "She has one private session left. Do you want it?' 
FULL. BODY. YES!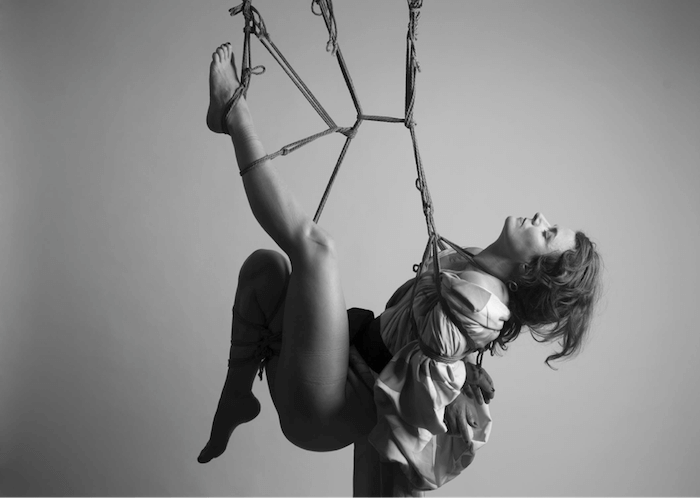 >>>
GOING OFF LEASH 
So why did these words spring from my soul and why did I even want to be tied? Perhaps there is some past life witch healing there. But really, I think it's because I crave deep surrender. And I crave deep catharsis.  And I long to become art as often as possible … 
How many places in your life can you TRULY surrender in? By surrender, I mean LOSE YOUR MIND. Let go of the reins. My friend Andi calls it "going off leash." When you go "off leash" you slip into an altered state of ecstasy and sometimes agony and the mind goes quiet. Void.
Mind-blowing, expansive sex is a place one can find surrender. Meditation can be. Some good old fashioned tequila and a night of all night dancing with some MDMA licked from a tiny plastic bag in a Brooklyn bathroom worked in my late 20s. Plant medicine ceremonies too. Dance can be ecstatic and deep. But being tied up seemed like a depth of surrender and catharsis that my soul needed now.
Even though I'd been "off leash" many times, I was still nervous before going to see Victoria. Because not only was I going to be tied, I would also be suspended. Not like suspended from school—like suspended from the ceiling off a rope. Yes, this may conjure some morbid images of hanging corpses, but I thought of it like making myself into an ornate chandelier hanging as a centerpiece.
I told Victoria I wanted to be tied in a pose of expansion—heart opening, if possible. She quietly blindfolded me … 
>>>

BOUND & BOUNDLESS 
I closed my eyes and Victoria began to play a German instrumental album that was integral to my sexual awakening in my early 20s. Out of all the music in the world she chose the goth band that the first person who ever tied me up used to play, and whom I had learned some of the most beautiful and fun things about sex at the age of 23. This moment of kismet softened my heart like butter, and as she tied me I felt myself starting to relax after being reminded of the divinity present.  
She bound me tight, hands up and open, back arched up, heart to the sky, one leg extended, and one folded. I let the ropes hold me. They were tight. Not soft and sweet. I began to turn into pliable flesh with no other option but letting go. I was like an infant. Helpless. Paralyzed almost. But the more and more I was tied, the more and more relaxed I felt. Like someone was caring for my soul.  
Then she hoisted me up and I lay back, being held only by this rope around my waist, floating in the air. The whole of my weight resting on one piece of rope. Completely bound. Angelic even. And that's when the full surrender and deep catharsis began … 
Tears streamed down. Then they broke into deep, deep sobs from some place inside me that I had never met before. And moans of pain mixed with joy. Of release. Of heartache and heartbreak. I hung there. The pain escalated until the discomfort quieted the mind in the most nurturing way. The only thing possible to do was breathe.
I sobbed and breathed until I reached that edge that I have loved to flirt with for so many years. I whispered to her: "I'm at my limit" with tears streaming down my face and my chest. And then, ever so gently, Victoria pulled me down. She stroked my head and told me that I stayed up there a very long time and that I was very strong. As she pulled the ropes off me, my body felt lighter and freer than it had in ages. I felt my consciousness move into every cell. I could breathe into corners where breath hadn't touched. I felt alive.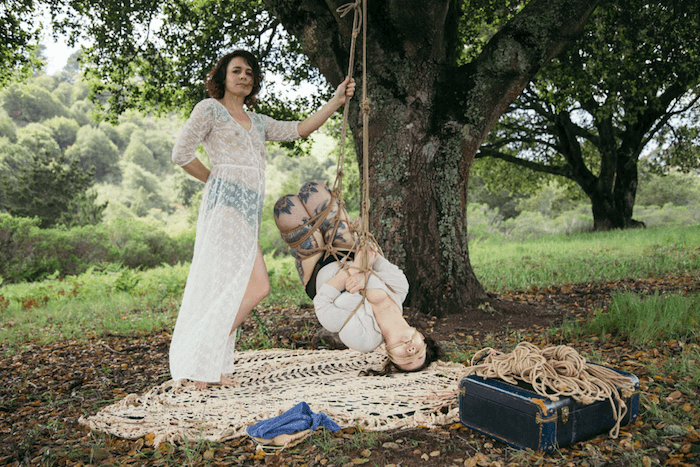 Discover more about Victoria's private sessions and group classes HERE, and join she and I this October for a two day overnight retreat in Topanga that will bring together Shibari, Shadow Work, Storytelling, and Sexual Healing. If you're interested in this deep work, add your name HERE and we'll send out applications and full retreat info in a few weeks.