A SACRED SPACE RITUAL FOR VALENTINE'S DAY
Laurey Simmons of The Colourful Dot Boutique, shares a sacred space ritual to open your heart this Valentine's Day…
Beyond the chocolates and red roses, Valentines Day for me is a precious reminder to keep our hearts open. As psychotherapist and spiritual teacher John Welwood says, our heart's true purpose is really: "to be an open channel through which great love flows into this world."
One of my favorite ways of opening this channel is by spending time in my sacred space. A sacred space is simply one corner of our home environment where we keep beautiful objects that are special or sacred to us. The space can be as large or as small as you want. Even if you only have a small section of a shelf, this too can be a perfect place to make your sacred space.
Keeping a sacred space is a precious gift to our soul, a reminder of how we want to be in the world, a mirror reflecting back to us our Inner Beauty.
Read on for a sacred space ritual for an open heart…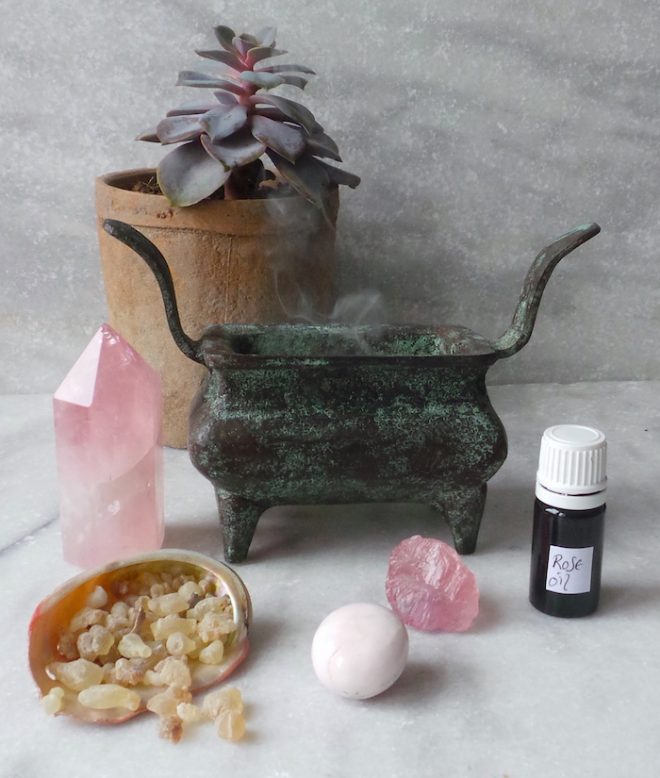 1. First thing to do is to cleanse the energy of your space. One of my favorite ways to cleanse is by burning Frankincense resin. Dropping a few pieces of the resin onto a burning charcoal disc allows for the heavenly smoke to rise and fill the surrounding air. Breathing in this aroma, I find my mind-chatter settles, my body relaxes, and my energies become grounded.
2. With the theme of Love in mind, I'll be adding a few drops of Rose Oil into my diffuser. The combination of Frankincense and Rose Oil smells seriously divine! Rose of course exudes love and beauty, both visually and through her perfect scent. Did you know that Rose essential Oil has been proven in studies to reduce anxiety and produce deep levels of relaxation?
3. Now for some visual beauty. Nothing opens my heart more than beautiful objects from Mother Nature, especially crystals. Three pink, heart-centered stones I'm working with a lot at the moment are Rose Quartz, the mother of Love stones; Mangano Calcite, which radiates the energies of the heart in a very gentle, nurturing, and soothing way; and Pink Morganite, also known as the Pink Emerald, and a wonderful tool to help cultivate qualities of the heart, like compassion. I also love to add fresh flowers to my sacred space—in this case, either fresh pink roses or a bowl of dried pink roses.
4. The next step is to connect to the energy of those who radiate an open heart or Unconditional Love. It could be a spiritual teacher, a historical or mythical figure, a friend or family member. At the moment, the chosen beings of light in my sacred space are Ram Dass, Maya Aneglou, Thich Nhat Hann, Joni Mitchell, and Heqet (the Ancient Egyptian goddess and symbol of new life). Ideally, print off some small images of these people so they can beam their light right back at you from the heart of your sacred space.
5. An open heart is only truly open if we can keep it so in challenging situations. With this in mind, I like to have an object in my sacred space that symbolizes this challenging situation or person. This practice is taken from one of my spiritual teachers, Ram Dass, who spoke about his own puja table and how he'd have pictures of his teachers there, Buddha, Hanuman, Maharajah, Mary, and how every morning he would greet them with love. This included a picture of one of his most difficult people, Caspar Weinberger, President Reagan's Secretary of Defense. An alternative to a picture of a specific person is simply to include a broken or damaged object. I sometimes use a decaying leaf to, reminding me of those spaces in my heart that sometimes struggle to stay open, allowing feelings of compassion towards that situation or person that challenges us.
6. To finish this ritual, I love to place my hand on my heart and set a little intention: to keep the people who inspire me and the beauty, especially the beauty of imperfection, in my heart throughout the day, so I can be a more compassionate and loving person in the world. I also recommend placing your hand on your heart throughout the day, especially if you ever feel it closing up. This simple gesture can bring you directly back to that inner space of Beauty and Love.
Discover more about Laurey and her work at The Colourful Dot Boutique, an online sanctuary for Inner Beauty. Pre-order her new book, The Inner Beauty Bible: Mindful rituals to nourish your soul
, today.