In keeping with the vibes of Virgo season, Meghan Wallace James' guide to Lunar Feng Shui reveals how powerful intention setting starts at home …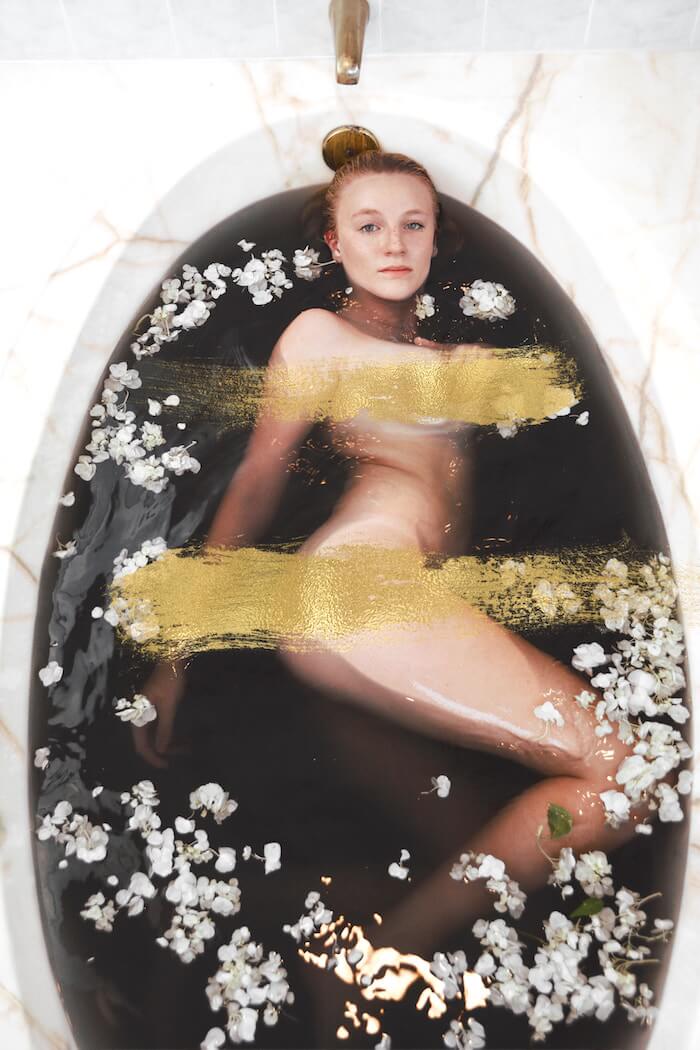 The New Moon offers us the chance to use darkness to initiate insightful alignment in both our inner and outer worlds (especially true during Virgo Season, the zodiac's queen of divine detail!)
Let's start by bringing back the concept of boudoir—a French term that includes the master bedroom, closet, and bathroom, and designed for deep withdrawal and privacy. For this lunar cycle, we'll start with the master bathroom. In its most romanticized context, a bathroom is a place to leisurely commune with Higher Self: a space to practice self care while contemplating the mysteries of The Universe …
Follow the steps below for each moon phase and sync your space with the cosmos! And if you want more time to prepare, you can plan to begin your Lunar Feng Shui experiment with the October 8 Libra New Moon …
///
// NEW MOON// Embrace the mess & purge the past. 
1// During the New Moon phase, sit in quiet contemplation in the heart center of your boudoir. Feel into this space and internally inquire: How would an infusion of elegant minimalism and cleanliness bolster my energy? How would a streamlined bathroom positively influence my energetic imprint within my home and beyond?How does the lunar cycle provide an inherent rhythm to a beautifully powerful reset? Answers will come. Give gratitude. Then, in the name of Beauty, enter your bathroom…
2// Turn on the lights, and your 'energy detective' eyes. What do you see? Which metaphors are visible? Embrace the mess – yes, your mess. In divine right timing, dedicate the time to move out of your bathroom before moving back into your bathroom. Take an old sheet and lay it in the hallway to protect the floor. Empty everything out of the bathroom, placing all toiletries, cosmetics, towels, you name it, on the sheet. Allow the sheer bulk to resonate.  Your bathroom was holding all this energy for you. Energy that is likely somewhat damp, moldy, grungy, or expired.  "Thank you dear bathroom."
3// Now it is time to deep clean. Even if you are blessed with a cleaning service, today this is your job. Play chants, or eclectic world music to lift the stagnation from every nook and cranny. Scrub: scrub the sink, scrub the shower, scrub the bath, scrub the toilet. Clean inside the medicine cabinet and any drawers. Get on your hands and knees and do not miss a spot. Here's the kicker: you are not just cleaning your space, you are cleaning your subconscious as well. So, clean until it becomes a graceful moving meditation. When you are done, open the window(s) and apply smoke medicine: Smudge your bathroom. Smudge your body. Heck, smudge your whole home.
4// Next, head back to the sheet holding all of your items. Let go of what no longer serves you, no longer captivates you. If you would not use the product on or in your body, rinse and recycle the container.  If something carries a negative emotional trigger – no matter what you paid for it, or who gave it to you – donate it. Keep the toilet brush and plunger out of your bathroom; these are unsightly, unsanitary and should live with the other cleaning supplies in your home, for like items prefer to live together.
5// Wipe down your remaining products. Wash the towels in a hot water cycle, take the hair out of your hairbrush, wash the cup holding your toothbrush, rinse the trash can, rinse and fill the soap dispenser … you get the idea. Place what remains back into your bathroom, with thoughtful consideration of your self care routine. Perhaps a fresh placement makes more sense? Remember, like items do best together. Aim to cultivate some empty space, which is a place for fresh energy to land, particularly if you are calling in Love & Abundance.
6// Finish with a shower, and then ideally an Epsom salt soak. You will sleep well tonight and likely have vivid dreams. Keep a notepad and pen on your bedside table, to capture any downloaded jewels.
///
// WAXING MOON// Get ready for an upgrade 
Whew, with your bathroom purged, cleaned and realigned, what special touches could you now add? What 'daily gems' could be upgraded? 'Daily gems' are the household items we interact with on an everyday basis – the pretty hand towels and dry brushes of the world. They should inspire and uplift us, subliminally reinforcing: "I have a beautiful home; ease and grace surround me." Easy, affordable upgrades in your bathroom can make a huge impact on your mood, such as a new shower curtain, a vibrant bathmat, or a bud vase with a single clipping from your yard.
Please do not overlook your cosmetics kit. Consider fewer products, all natural and high quality. Consider a signature scent for the upcoming crispness of Fall. Consider a new candle, to add a fire element to a very watery part of your home.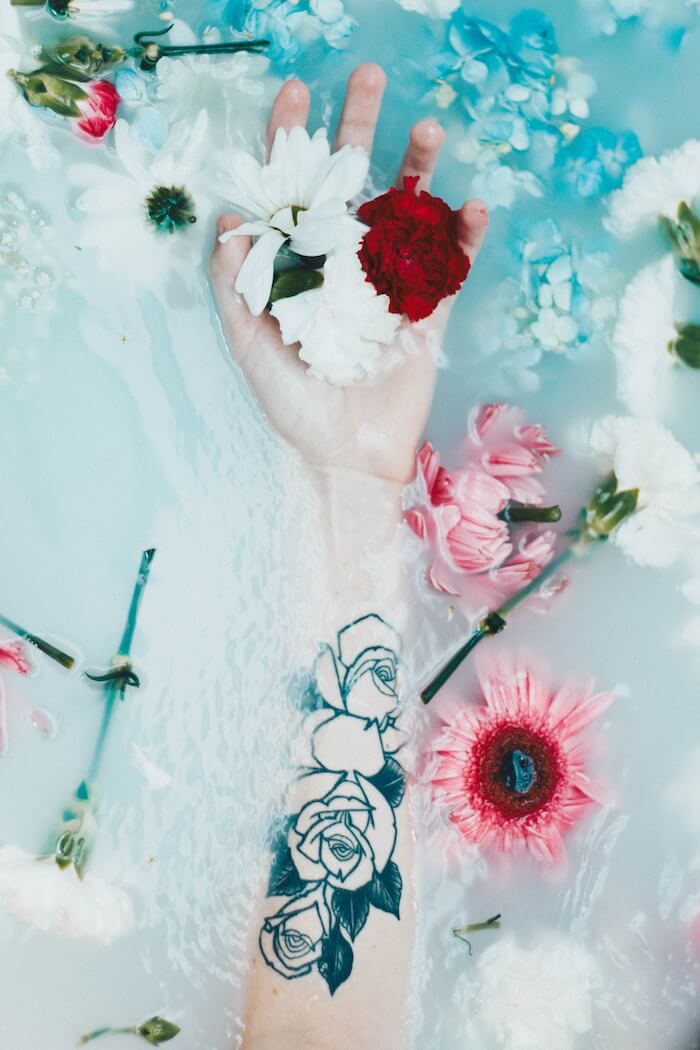 ///
// FULL MOON// Celebrate the spatial shift 
This is the easy part: revel in the Oasis you have created. Reflect on your morning and evening beauty routines … do they feel more luxurious? Has anything shifted in your life since revamping your bathroom? Do you feel lighter and brighter perhaps? Hopefully you find yourself lounging in your tub even longer, dropping in some essential oils, lighting your new candle and using this time for decadent insight.  Marvelous ideas are birthed when we are inspired by what we see and sense.
///
// WANING MOON// Revise & refine
You are sensing the correlation between visual metaphor and lived experience. With that in mind, is there another layer of purging that could happen? Do you truly need seventeen face creams? Do you really require that storage unit, adding bulk and taking up precious floor space? Make one final pass of your bathroom before moving onto a new spatial aspect of your Boudoir, or your home at large, with the next New Moon. Just wait and see… This work is addictive and effective. Your home will soon be completely activated and in tune with Luna!
**BONUS: Where does your boudoir fall on The Bagua? Use the chart below to discover! A Bagua is a Westernized Feng Shui energy map of a space, using the front door as a point of orientation, dividing the area into nine equal sized zones – or 'guas'. Each gua has a name and energetic correlation, material element, color family, as well as a variety of other associations. …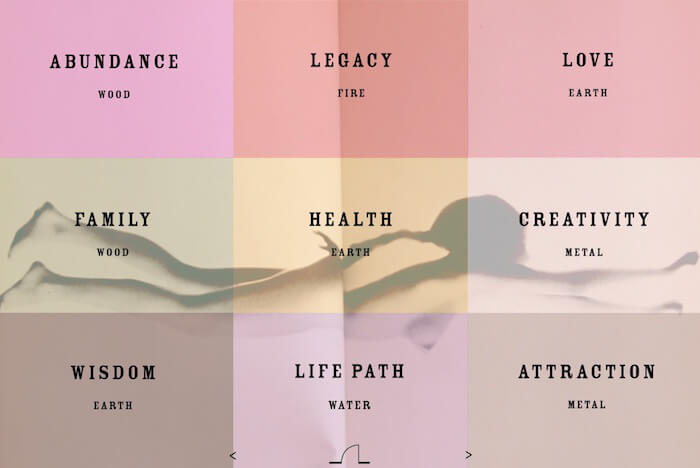 Meghan Wallace Jamesis a mother, manufacturing engineer, Parsons-trained fashion designer, stylist, and healer – bringing it all together with her bicoastal Modern Feng Shui Consultancy. Meghan is honored to offer The Numinous readers a 10% discount with code NUMINOUS, for this lunar cycle ending October 7, 2018. Ready to Begin Again? Connect with her at meghanwallacejames.com and follow her on Instagram.