While our solo work is oh so vital, Alexandra Roxo tells us that colliding with another can take us even further. Date night can even become your soul's mirror …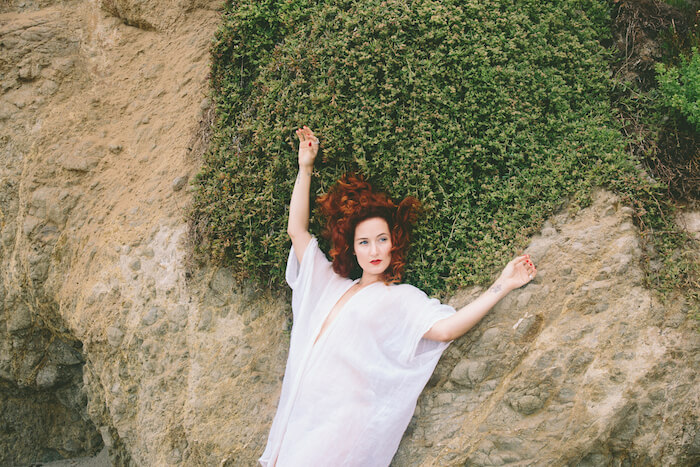 Whether you're in partnership or single, when you're able to clean the dirt of old stories and receive your truth, you can let your relationships be a clear mirror for your soul.
And a date is a perfect way to see where you are on your journey on any given day, in any given moment …
It can be with your husband. A stranger. A boyfriend or girlfriend. If you walk in with intention and clarity, you can see how much you are accepting all of yourself: where you are tight and holding, where you are closed, where you have grown. Treat it like a ritual. A ceremony.
Whatever stories cloud your mirror, here's how to start to scrubbing and seeing yourself without the scar tissue, warning labels, and caution signs …
>>>
3 DATES + A HOMECOMING 
After some soul searching and radical up-leveling at Burning Man, I returned to L.A. and decided to hop back into the dating scene to see what I attracted …
Date 1: Sacred Sluts & Shadow Work
My first mirror was a director, Reiki healer, and angel speaker, who told me stories of BDSM clubs in Europe, had erotic poetry on the walls, was kinda Goth, had been to Burning Man, and fed me banana pudding.
I was staring at a mirror of an old version of self, the hipster meets healer meets artist who likes to party but talks to Angels. But the difference was that this man was accepting ALL these parts of himself, especially his kinky side. Though I am happy the "hipster me" was put to rest, colliding with him made me realize that I was still struggling to mix my BDSM side with my Mother Mary side, my Goth side with my sacred side.
I left the date, cried for two days, and never heard from him again.
But what I'd learned was that it was time to accept and love my Sacred Slut, Radical Queer, Kinky Freak … who is also creative, deeply spiritual, pious, artistic, and a Spiritual Teacher.
I felt like a part of me had come home out of the shadows … 
>>>
Date 2: Wood Chopping & Clear Channel Intensity
I arrived at a beautiful house, and a man began to chop wood and made a fire for us in a ceramic fire pit.
As he then lead us through breathwork and we journeyed through the elements, I wondered if he'd Googled me. Did he know I loved to practice ritual?! It didn't matter. It felt good nonetheless.
As we laid on an oriental rug by the fire, turned on our sides and gazed into each other's eyes, my body shivered and shook. And then we danced. We prayed. We sang. We painted.
WOW. This is how I LIVE. Ceremony, ritual, intensity, intention. And because my mirror had been foggy and not reflecting out my whole self, I had rarely been met by the people I dated in that fullness.
Seeing the beauty of my life reflected in this person was moment was a gift and a miracle for myself. My fave books on his shelf, my anthem "Higher Love" playing, an arrow tattoo on both of our left ribs.
I understood that I wasn't seeing my wounds anymore because I was accepting myself. With all my flaws and stories. And so he was able to be a clear mirror for me.
>>>
Date 3: A Man Named "God" 
I didn't think my new picture of myself could get any sharper. But as we change, our mirror changes too. After doing a 3-day intimacy intensive, something shifted in me, and my capacity and definition of intimacy and love expanded even further.
During the following week I met three men whose names meant "Who is Like God," and decided to go on a date with one of them. 
This person was consciously devoted to spiritual practice, and our date became a moving meditation of connection, not even a date at all. Few words were needed. Clothes stayed on. But we went into ecstatic states.
He saw where I was holding back and invited me to share my Fullness. I saw where he wasn't trusting himself and I helped him to trust.
We spent our time in a fluid dance together, a type of date I never thought was possible! Putting it into words seems silly. Like describing the shape of raindrops. Or trying to gift someone a jar of laughter.
And this is where my soul is now. 
4 STEPS TO TURN YOUR OWN DATE NIGHT INTO SOUL WORK 
STEP 1. Work on radical self-acceptance. This means stop trying to change and fix yourself. Be willing to see yourself fully so you can be met in your Wholeness. With all the mess.  All the trauma. Cellulite. Credit card debt.
Write the Mess a Letter: What do you HATE about yourself? What is hiding in the shadows that you think isn't socially acceptable? Bring it all up to the surface and then LOVE it so so so hard. Write it love letters. Affirmations. Make it an altar. Buy it an outfit. Treat that part of you like a Queen.
>>>
STEP 2. Resource yourself. If you're single, get clear about what is of value to you and bring it to yourself until you are completely "resourced."
Fill Your Own Cup: You want safety? Make a list of what makes you feel safe and do those things. You want someone who texts back? Start being more consistent with your own communication skills. You want more sexy fun? Bring it to your SELF. Fill your own cup.
>>>
STEP 3. Be clear about what you want. Own it. Claim it. And be ready to attract a few "Mirror Cleaners" —a.k.a. free teachers! Just be safe and take care.
Say it Out loud: Clear shame about what you want by telling yourself aloud. You want your hubby to role play doctor with you? Or your date to meditate with you? GREAT. Get comfortable with it by writing it down, saying it aloud to yourself, and lastly, sharing with friends—but only when it feels solid for you.
>>>
STEP 4. Be ready to step into practice. When you are on "the path" EVERYTHING is practice. This doesn't just happen in yoga or kundalini class or meditation time. LIFE becomes your daily yoga.
Gauge Your Presence Level: Start giving yourself a 1 to 10 in terms of Presence Level on every coffee date, work meeting etc. Then at the end of the day ask yourself "How could I have gotten more present?" Did I need to scream, nap, dance, cry? Bring more rage? More warrior vibes?  Start practicing.
And most of all, remember that "the work" of being fully met doesn't have to be laborious (and it doesn't have to conform in the least bit to society's ideas about partnerships or an outcome driven process—years of birthdays and cuddling and make outs and camping trips are all extra).
The GIFT is being met in a moment. And then being able to see the reflection of how far you have come.
Alexandra is a writer and spiritual teacher who works with clients one-on-one in person and remotely. Join her in LA next week on 10/11 at Free People Santa Monica for a Practical Love Magic Workshop, and on 10/14 at Saje Wellness for Love, Sex, and Other Things (use CODE Alexandra for $10 off!)