Time for another shamanic closet clear out – PLUS sound baths, breathwork, and the latest in the plant-based revolution…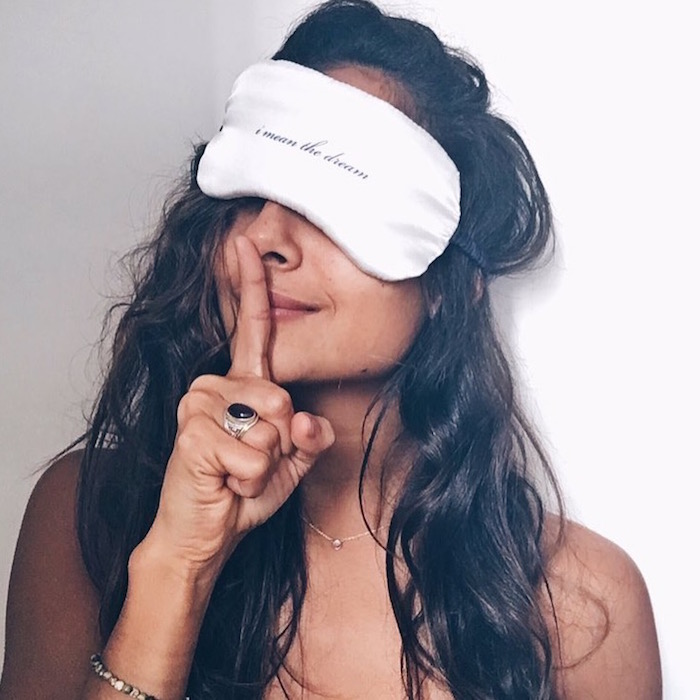 :: MONDAY ::
Skype date with beautiful yogini Shona Virtue (above) – a.k.a. one of the main reasons we are RE-LAUNCHING OUR YOGI SWEATSHIRT LINE! Shona picked up a couple of the original (v v limited edition, pretty much sold to friends-and-family only) sweats, and has been on at us to make more ever since. So we listened. And they're going on sale reeeeeealy soon! The pic is a behind-the-scenes peak from our photo-shoot this week. Sign up for our newsletter to be the first to know when they go on sale – and maybe win one too!
:: TUESDAY ::
I hadn't actually planned anything special for Eclipse night, and so I figured a last minute invite to a sound bath meditation hosted by Well+Good co-founder Melisse Gelula and her friend Summer Rayne (real name) sounded just about perfect. Plus the sound bath itself was being performed by Sara Auster – whose name had literally crossed my radar three times in the past week. It was beautiful, and a precursor to further group meditations in Summer Rayne's Brooklyn apartment. So let's just talk about the apartment for a moment…The girl is plant CRAZY, and has created an actual. Freaking. Urban jungle in her home. Full story (on her basically teaching me how to cure my "black thumb" – since I seem to kill anything green that enters my auric field) + pics to follow in a future post…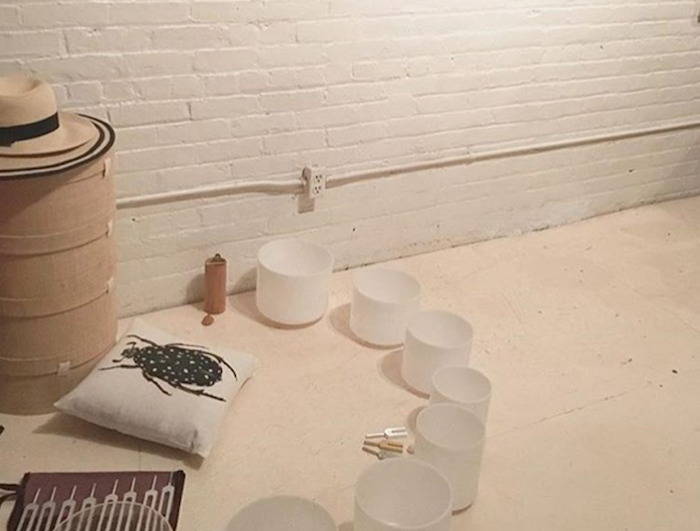 :: WEDNESDAY ::
Psychic closet clear-out! I first enlisted the help of a psychic to help me to an energetic blitz on my closet a couple of years ago, and having moved twice since then things had been getting kind of messy again. Enter Colleen McCann, a stylist-turned-shaman, who essentially does this FOR A LIVING. To kick our session off she read my crystals (yes this is a thing), and used my birth chart details to map my Ba Gua – kind of feng-shui-meets-human-design (I know!!) to map the power places in my apartment / wardrobe. Then we hit the rails. Not enough red (my power color), and everything needs to be reorganized by clothes for my behind-the-scenes vs. front-of-camera life (to invite more "front of camera" opportunities in). To finish, Colleen ran her hands over every piece – and anything holding any extra dense energy had to go, to create space for more high-vibe alternatives. Including a pair of McQueen stilettos, beautiful but wicked painful relics from my "old life" (and which are currently sitting in the Eleven Consignment boutique on NYC's First Avenue, just FYI).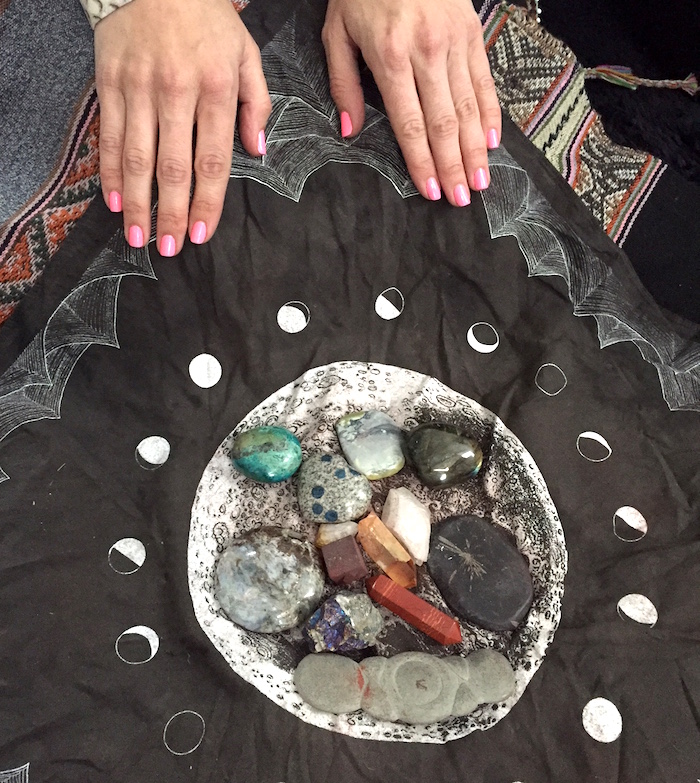 :: THURSDAY ::
JUST YES RAVI DEROSSI – the vegan restaurateur dedicated to bringing plant-based eating to the hipster masses. Like in his East Village tiki bar Mother Of Pearl, where vegan chef Daphne Cheng has just launched an entirely meat-free menu of bar snacks and small plates. I met Daphne there today to talk future Numinous projects (she also hosts supper clubs at her space Exhibit C – sign up for info about what we've got planned) and got to sample a ridiculous Edemame Spring Rolls and King Trumpet Mushroom Crudo. #plantpower #futuroffood
:: FRIDAY ::
Date-night with Erin Telford – because, Breathwork. I've written many times about how much I love this incredibly healing, vibe-raising, multiple-crygasm inducing pranayama workshop, but it's not something I do on the regular. Rather, my body will just be like "GO. NOW" whenever some stuff has come up that needs to be breathed out. Like, y'know, the Friday night following a FULL ON Pisces New Moon Solar Eclipse…Click the pic below for Erin's upcoming Breathwork schedule