Healers and empaths – sometimes you gotta give yourself some TLC, as recommended by Deborah Hanekamp… Artwork: found on Pinterest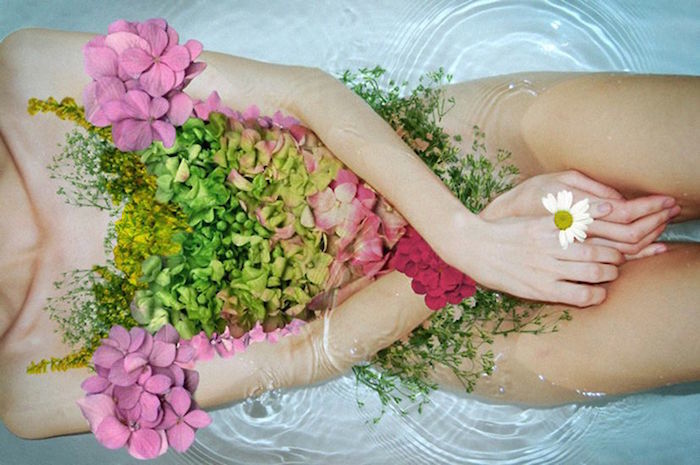 This bath is medicine for the empath, some healing for the healer, and a way to soak up the power and presence of your own energy.
Taking a ritual bath combined with the self-healing treatment of Reiki has been a gift for me over the past 15 years working as a Medicine Woman and Reiki Master. And my heart is fed by sharing it now, for it is essential for Reiki Practitioners to regularly balance our chakras, clear blockages and call in our abundance as light workers.
I believe that the more people there are practicing Reiki, the more peaceful the world will be. To effectively share the enduring magic of Reiki, we must strengthen our "Reiki muscles" – beginning with self-healing, self-care, and personal ritual.
:: INGREDIENTS ::
Fresh pink roses, rosemary, and basil, to cover the surface of the bath water
Baking Soda: 1 TBSP
Apple Cider Vinegar: 1 TBSP
Epsom Salt: 1 Cup
Crystals of: Peach Moonstone, Fluorite and Amethyst
Cedar Wood, Jasmine and Rosemary essential oils: A few drops each
Combine all ingredients in a tub of water as hot as you can stand
:: RITUAL ::
Clear your energy by smudging your body with sacred Palo Santo smoke, including the soles of your feet and back of your head
For practitioners of Reiki 2 and up draw Se Hey Ki over the tub water
Step into the bath and dunk your head under the water
Place the Peach Moonstone crystal on your solar plexus, the Fluorite on your heart chakra, and the Amethyst on your third eye
Begin a self-healing treatment, combined with deep, rhythmic Ujjayi breath
When your self-healing treatment is finished, dunk your head under the water again and chant the sounds of the seven chakras from root to crown; LAM, VAM, RAM, YAM, HAM, AUM (the crown chakra's sound is silence).