Only in the places of discomfort can we experience true healing, says Alexandra Roxo. PLUS 5 ways to find your edge…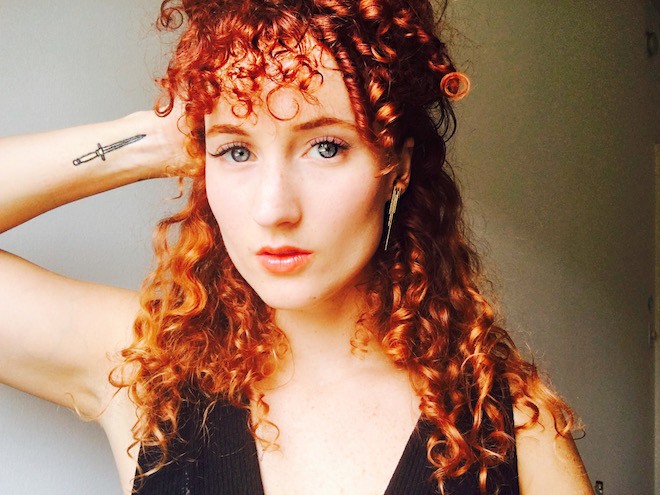 "There must be something deeply disturbed about a person who wants to be flogged or spit on." As my friend said this I nearly spit out my kombucha. It was a sunny day and we were sitting on a blanket in the Bay area, having some girl talk, munching on goji berries, having just completed two nights of plant medicine ceremony together.
I started to feel sweaty and hot which means my deep soul was having a freakout. I put my cup down, took a deep breath summoning massive courage and said: "I disagree. It can also be about a person wanting to push their edges. It can be a game, power play, fun, and a vehicle for catharsis. Something beyond the human polarities of 'right' and 'wrong.' Just as enlightening as any other medicine that pushes you to your edge and into a place of expansion."
Let's be real, in a lot of spiritual circles we tend towards the light and white, the higher chakras, high vibes…And well, usually as far away as possible from the dark, scary underbelly of things. Be it talking about BDSM or deep wounds, many of us shy away. After all, IG posts that are dark/revealing and heavy, usually get a lot less likes than the ones that are bright and all "I'm floating up here with my Spirit team!"
Well I say…Fuck. That. In the past few years I've found the scary bits—the "nevers," the edges, the parts that make my heart beat fast—to be possibly my biggest teachers. Lately I've been wanting to talk about them more and more among circles of women whose faces might go white as an angel's wing if I said something about squirting being transcendental. But ladies, the time has come! (And yes squirting, and even fisting, can be transcendental. But more on that another time. Or just DM me, lol.)
>>>
You know those friends who push you to your edge? Usher you out of your cozy wozy comfort zone full of sheepskin rugs and Palo Santo, into a scary dark place you cannot control and force you to pull down your "Everything's okay!" mask? I LOVE those friends. In the moment, I hate them for "making" me hitchhike with a creepy Mexican man on a beach in Oaxaca into the jungle.
Or for saying: "I saved you a spot on the three-day plant medicine retreat where we'll be fasting and sleeping under the stars. Bring a poop bucket!" Or for calling me out on my shit. HATE THAT. But I really LOVE it. Thank Goddess for the friends that help you to your edge.
I recently signed up for an online course called a "Relationship Detox" with Perri Gorman. On Perri's intake form you get to say to what level you want to be pushed. I checked off "HOT ORANGE" or something. Basically as hot as possible. (#overachiever!) So in class the other day, when I had to say what conclusions I had come to after making a relationship chronology, and I started rambling, "Well, we were dating and he said some really mean things but you see I've been meditating and doing a lot of WORK on this for months. Many healers. I really feel great about it now!" She stopped me mid-sentence.
"No you don't. Pull off your mask, get in your pussy and tell me the story again!" I was taken aback but I knew immediately what she meant. I breathed through my mask, told the story again, deeply rooted into my truth, shared all the embarrassing parts, tears running down my cheeks, feeling such a huge catharsis: the feeling of being grounded deeply into my body. And then Perri told me: "Ultimate kindness is to risk saying something the ego may detest but that the soul is craving." Which a wonderful teacher like that can make happen.
So forget smiling pleasantly with a namaste! Let's get messy together. Hold space for each other to WAIL. Ask real questions to women who have birthed many babies. Talk about fucking. Sob until snot is running into our mouths. Have multiple orgasms that make us scream uncontrollably and then weep in a puddle of our own fluid. Not be afraid to pull down our masks.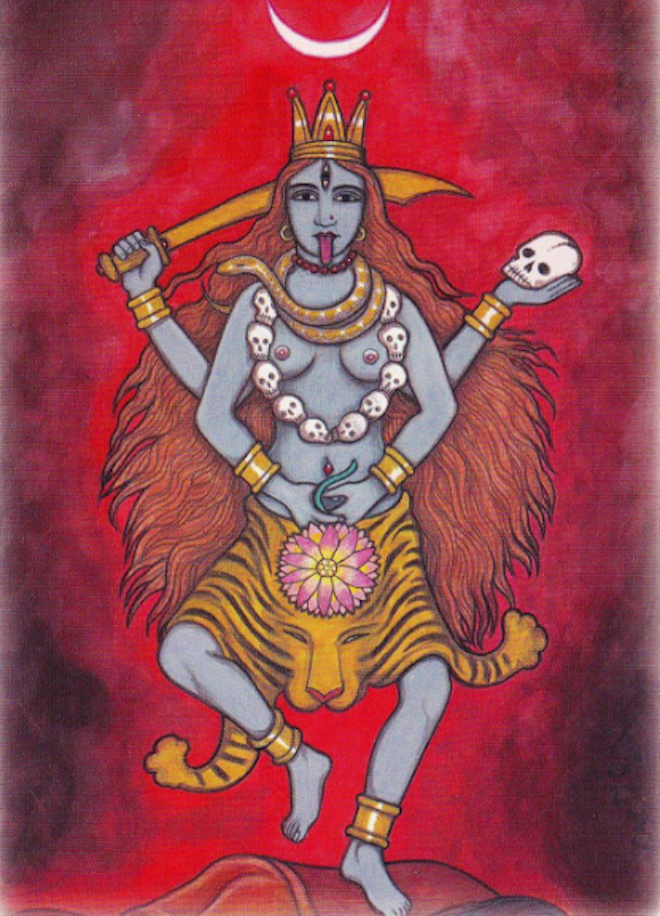 Be it a paddling to the ass, or a projectile purge into a bucket in a room full of people or simply allowing yourself to feel anger, it's only at the edge that we'll find the collective catharsis we are looking for—a massive reconnection into the present of our bodies. And especially into our pussies. Into the force which creates life. Pushing us past our edges into a new land, the land of growth.
I try to push an edge every day. Last week I drove for an hour while still on mushrooms. A few days ago I admitted to a room full of people choking through sobs my deepest darkest shadows in love and relationships. I kissed a snake on the lips a few weeks ago. Just finished 40 days of chanting to Kali. Who knows what tomorrow will bring!
:: 5 WAYS TO FIND YOUR EDGE ::
1. Make a list of all the things that make you uncomfortable, or that you said you would never do or say or be or admit. This could be getting naked in front of someone. Crying in front of someone. Admitting to yourself your heart is closed off and you need help. Going on a vision quest. Camping alone. Now get to know that list. Put it on your altar. Start to allow it into your consciousness.
2. Break it into steps. Maybe it's opening a Tinder account and asking someone out. Or spending time alone. Maybe it's working out in a sports bra instead of a t-shirt. Signing up for a primal screaming course. A tantric sexual healer. Not exercising for a few days. Everyone's edge is different! Start small and BREATHE through it. If it's not making your heart beat fast, then it's not an edge.
3. Ask for help. I could not have done this alone. Find a friend who helps you find your edge. Or a coach. A teacher. A witness. Someone to keep you accountable and help you and hold you when you cry.
4. When it starts getting tough do not abandon ship! There is a point in the work where we wanna say "Okay cool! I think I've got this and I'm gonna take a break." Don't do it! Push yourself just a little more. When you make it over that hump it is going to be glorious I tell you!!!
5. When in doubt go back to your pussy and breathe into your roots. Dance alone naked. Shake it off. Keep going. Cry through it. Do not give up. Umm, yeah, Earth hasn't given up on us though we've pillaged her. Our bodies keep going after disease and childbirth and self-hatred and eating disorders. We owe it to ourselves and to the grandma's that came before us to not give up and get too comfortable.
And P.S. Remember your edge is your own. Do not compare to the friend who did ayahuasca 366 times in Peru. Do not worry about your friend who saw Jesus when she was cumming. Your journey is about YOU. And in your dark personal corners, you could find something so magnificent…you really have NO idea!
If you wanna go deep and investigate your patterns with love, sex and relationships, join us for The Numinous: Re-write your Love Story Retreat July 15-17th in upstate New York! We're offering an early bird special while Venus is in Gemini of $50 off EACH if you bring a friend (#healinghangdate time!)